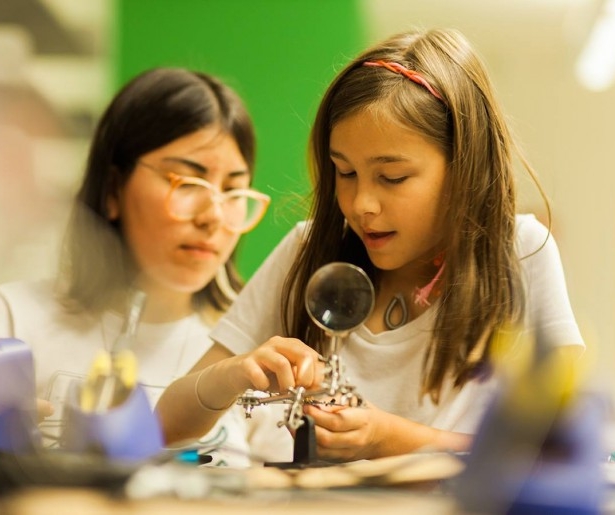 This month, two organizations are collaborating to close Louisiana's wage gap — or to at least empower young girls to feel confident entering traditionally male-dominated vocational fields.
"We get asked a lot of times what is the reason we're doing this," says Maya Ramos, co-founder (along with Flor Serna) of the Electric Girls program, which teaches girls ages nine to 14 the fundamentals of electronics, audio, programming and design.
Serna founded Electric Girls in 2014 based on a thesis paper she wrote in response to her experience as a female audio engineer. Her now-partner Ramos was the first female that Flor trained at Loyola University's recording studio. "She was majoring in computer science and audio technology, and I am a music industry major also studying piano," says Ramos.
"I knew I wanted to do audio technology, but I was completely in shock as a freshman when I showed up and there were 20 guys and I was the only girl. It was never something that discouraged me though; if anything it was a motivation," she adds.
Ramos wanted to bring what she learned from that educational experience into the real world. "Only 12.5 percent of electrical engineers are women and less than five percent of audio engineers are women," she says. "It would be great if those numbers increased, but it's not particularly [Electric Girls'] goal to get that up to 50 percent. We want to just create a space where girls feel like they can be leaders and capable of anything. We hope it just gives girls confidence, a sense of identity, and a curiosity to learn more."
Ramos adds, "If they are 10 years old and soldering, then they are already doing something a lot of my college-aged friends have never done."
The students in the Electric Girls group meet with female instructors who provide support and mentorship in taking apart old electronics and building new machines, designing and programming electronic "pranks," and experimenting with circuit-bending – like, say turning electronic toys into experimental synthesizers. As their skills and confidence increase, each girl earns badges and becomes a class mentor.
This weekend the most experienced Electric Girls will show off all they have learned, and also pass on some of their knowledge to other girls at the 66<100 pop-up store, otherwise known as Less Than (1612 Oretha Castle Haley Blvd).
The numbers 66<100 represent the wage gap: according to the store, Louisiana women make 66 percent less money than men in the same jobs. Less Than uses a "pay what you're paid" pricing model, charging men full price, while women pay 66 percent of the price of all items in the shop. The Less Than concept was then founded by graphic designer Elana Schlenker via the organization's first pop-up, 76<100, in Pittsburgh, PA in April 2015.
The shop's temporary New Orleans location, led by artist Tammy Mercure and small-business owner Rebecca Diaz, features work from more than 70 local and national female artists and makers including locals Debbie Anderson Rusher of Shanga Designs, Sarah Baird, Osa Atoe, Holt McCall, and Happy Village, alongside national participants including designer/artist Keetra Dean Dixon (New York/ Alaska), illustrator Grace Danico (Los Angeles), ceramist Angel Oloshove (Texas), among others.
And this weekend, Less Than will also feature Electric Girls, a program that launched its first summer camp at Loyola University this summer via Launch 4.0, a local integrator for startups. Since then, says Ramos, "We've been teaching workshops at St. Martin in the Idea Lab. We bring in all this equipment: toolboxes, soldering irons, all the wires—we have a traveling workshop basically, and essentially create a maker-space every morning before the girls show up."
With the Electric Girls program still in its infancy, the creators can't use workforce numbers to tell if they're making a statistical difference. "As of now we're just measuring success in whether they come back," says Ramos, who is happy to report that, "Thirty-three percent of the original girls came back to do it again."
Funded in part by The Platforms Fund (a collaborative effort of Press Street, Ashe Cultural Arts Center, and Pelican Bomb) Less Than is open 12-7pm Tuesdays through Sundays all through November. For more information on the shop, visit it's website.
The Electric Girls demonstration and workshop will take place this Saturday November 21, from 10am to noon. For more information on the program, visit Electric Girls.
Image courtesy of Electric Girls.