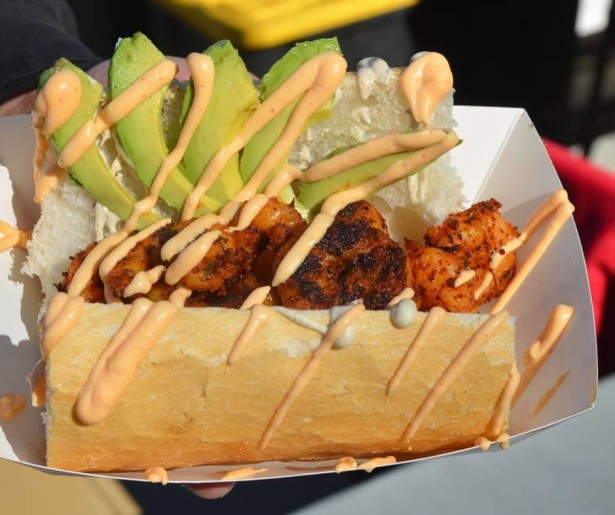 SHARE
Few sandwiches define a city as swiftly as New Orleans' beloved po-boy. The simple combination of meat served on baguette-esque French Bread with a crisp crust and fluffy center was first dished out to striking streetcar workers in 1929, and has proliferated the region ever since.
And on Sunday, November 22nd (10am-6pm), the 9th Annual Oak Street Po-boy Festival returns to celebrate our adored version of the submarine sandwich.
Two main stages of live music, over forty different food vendors and food trucks, and a large arts market take over the 8100 to 8800 blocks of Oak Street. What began as a small celebration of about 1,000 residents in 2007 has grown into one of the city's signature fall events, with attendance hovering close to 50,000 in 2014.
Festival coordinators made noticeable improvements last year to pedestrian traffic flow by placing a music stage off the main drag at the corner of Leonidas and Willow Street. Such expansion helps incorporate more of the surrounding Riverbend neighborhood into the event, while also giving attendees a little more elbow room with which to chow down their po-boys.
And holy moly does this festival bring the goods on the po-boy front, with gourmet sandwiches from various vendors, some of which you only get your hands on once a year at this very festival. Some highlights:
Jack Dempsey's "Lake Pontchartrain Soft Shell Crab po-boy" (a classic).
Boucherie's "Corned Pork Belly Reuben po-boy" with sesame sauerkraut and duck liver mousse (!).
Parkway's "The Babymaker po-boy" with fried oysters, applewood bacon, and melted cheddar cheese
Seither Seafood's "Rock 'n' Roll po-boy" – that's sushi-style with blackened shrimp, avocado, cucumber, and dragon sauce.
Pizza po-boys from Pirate Pizza NOLA, where rectangular slices of pizza are used as the breads for the sandwiches.
GW Fins' "Fried Maine Lobster Po Boy" (it's exactly what it sounds like).
And this writer's personal favorite, "The Godfather po-boy" from
Vincent's Italian Cuisine:. That's brisket, meatballs, and Italian sausage topped with mozzarella cheese, basil, and red sauce (it's decadent, trust me).
Along with a thriving arts market curated by Where Y'Art, the festival also supports local artists/businesses by incorporating Oak Street shops and restaurants, such as Blue Cypress Books, Cowbell, and the Maple Leaf, which hosts the festival's official afterparty from 6pm-9pm.
Just like in year's past, local musical favorites such as Jon Cleary & the Absolute Monster Gentlemen, Los Po Poy Citos, Tank & the Bangas, and Rebirth Brass Band, will all be performing in the afternoon. For a full music lineup, click here.
The Po-Boy Fest is free and will go on rain or shine; the weather looks sunny, but chilly for the event this year. For more information check out the Oak Street Po-Boy Festival website.
Image courtesy of the New Orleans Po'boy Preservation Festival.