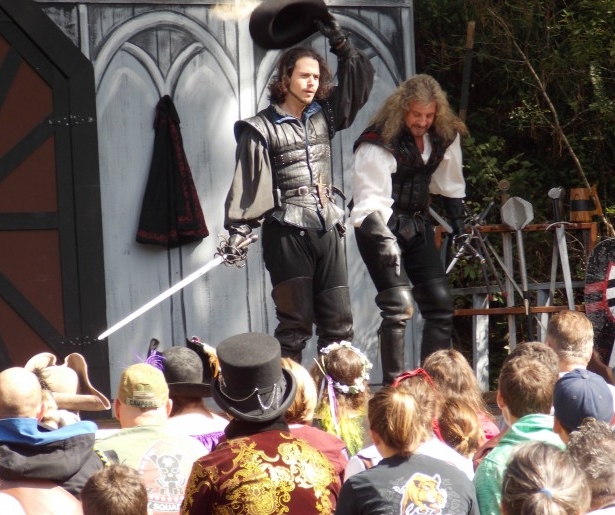 Here ye! Here ye! All are summoned, by order of H.M. the Queen, to visit the Louisiana Renaissance Festival.
Nestled in the backwoods of the far empire of Hammond, LA, across the Lake of Pontchartrain, is the land of Albright, setting for the Louisiana Renaissance Festival. For six weeks in November and December, Albright is transformed into a fairgrounds replete with lords, ladies, jesters and rogues, the Queen, even a dragon.
Alvon Brumfield, part-owner, says the Louisiana Renaissance Festival its roots in his old magic shows. "I was performing magic shows in the military, and my boss came to me, and said, 'Want to go to a Ren Faire?'"
Uncertain, Brumfield visited the Arizona Renaissance Festival, and he was hooked. He began researching opening his own faire, determined to bring some of that magic back home to Louisiana.
Louisiana Renaissance Festival, also known as LARF, is now in its 16th year. And with twelve stages and over 100 shops and merchants scattered across the six-acre village, the event has gotten bigger than ever.
Jousts happen twice a day at the Joust Arena Green. Champion Sir William returns, to tackle new opponents on horse and on foot.
At the Queen's behest, there are also sword fights and brawls (not for the faint of heart). Knights fight to win the favor of the Queen and the ladies at court. These clashes can be pretty dramatic, but some of the other shows are notable for other reasons.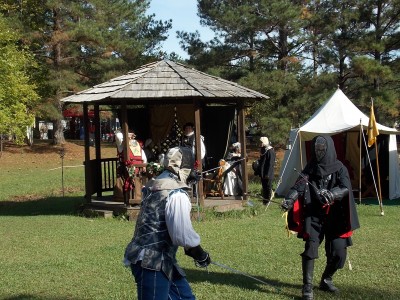 Enter Randal Scott, with partner Michael Moody, in their show The Duelists. This show has the normal arsenal you'd expect of a sword-fighting demonstrations – short swords, broad swords, spears, even an ax – but Scott and Moody fight with a little more flare.
Think a bawdier Cliffs of Insanity that references 90's shows. "We try to make it fun for everyone," says Scott. And they deliver.
As fun as watching people play with swords is, there is also an educational aspect to LARF. Amongst revelers and eating things on a stick, actors and demonstrators from the Renaissance Living History Center recreate many aspects of 16th century life.
In total, over 600 costumed people work to make the village of Albright come alive. And there is a commitment to the authenticity in the living demonstrations and in the exhibitions.
Falconry, a popular pastime amongst wealthier 16th century folks, is one of the most stunning exhibits at LARF. A falconry exhibition is held daily on the Joust Arena Green, where you can see owls, falcons, hawks, and even a macaw in action.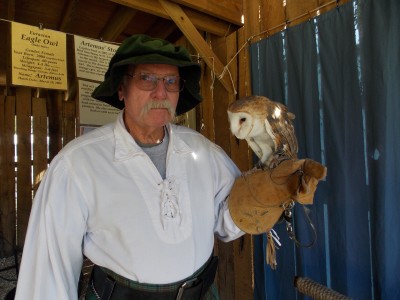 Visit the Dragon Watch Forge to see modern-day smiths using a fire and bellows to make swords the old-fashioned way. If you like what you see, you can always purchase one of the swords in the Forge's shop.
And no overview of a faire would be complete without mentioning the food. LARF definitely delivers tasty treats, including all manner of fried things, and, of course, faire-staple turkey legs.
If you don't think your stomach can handle "authentic food," worry not; LARF also hosts several, more modern tastings. These are ticketed events, but they're well-worth the extra money, if only for the opportunity to be served by a roguish knight or handsome lady.
Whisky and wine tastings are on Saturdays, beer tastings are on Sunday. As an added bonus, you can have Royal Tea with the Queen herself Sundays at 2pm.
While it is not required, it is in the spirit of the event to dress in costume. If you don't just have a kirtle or doublet and jerkin lying around your house, there are several booths at LARF that will be happy to rent to you.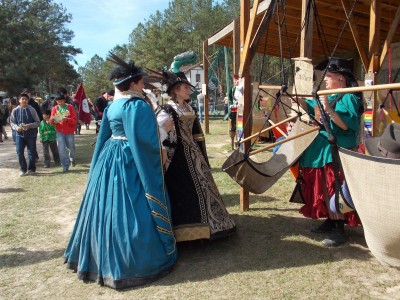 You can also come on one of the Festival's themed weekends. Themes include Celtic Weekend, Time Traveler's Weekend, and Romance/Princess Bride Weekend. On each day of the themed weekends, a costume contest, judged by the queen herself, will be held.
Doctor Who and Assassin's Creed costumes might not seem "Renaissance," strictly-speaking, but they're welcome. "With all of the video games, movies, TV shows out, you get a lot more of the not-strictly themed costume at faires," says Randal Scott.
Alvon Brumfield embraces it. "We're trying to make it a fun, welcoming atmosphere," he says. "We accept everyone."
And Brumfield's secret to fun at the Festival? "Come early and wear comfortable shoes."
LARF is open every Saturday and Sunday from now until Dec. 13. Gates open at 9:45am and close at 5PM each day. Admission is $18, $10 for children 6-12 years, and free for children under 6.
LARF also offers discounts for military veterans, police officers, and groups, as well as multi-day packages. Details and events schedules can on LARF's website.
All photos by LB Kovac.