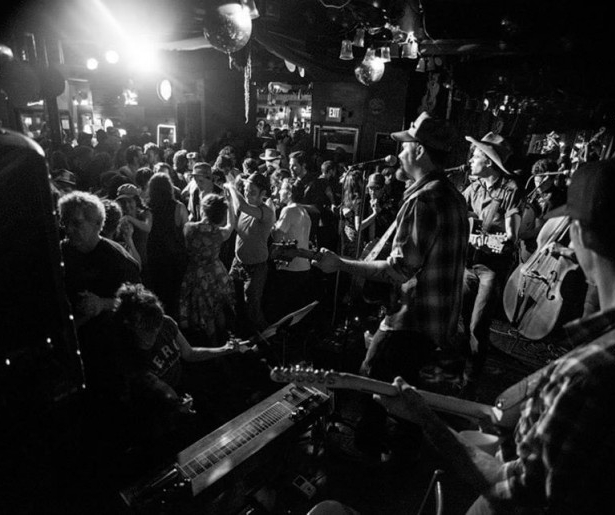 SHARE
"It's The All-Star Covered Dish Country Jamboree," says Joy Patterson, the ebullient red-headed singer for The Wasted Lives, who runs the whole kit and kaboodle every Tuesday night at Mag's 940.
It may seem like a nitpicky point. But like everything else about the weekly Nashville-meets-Austin-in-a-West-Virginia-Holler hoedown on Elysian Fields, the definite article that precedes the Jamboree's down-homey monicker is steeped in history.
"The reason why it's such an ostentatious name," explains Patterson, "is because lots of the old shows used to have crazy names like that. We try to structure the show around the old country radio shows, like Louisiana Hayride and the Grand Ole Opry, where in between the music we have other kinds of entertainment."
Since the Jamboree launched five years ago, I've seen everything from Hee-Haw staples like joke-telling contests and pie auctions to ventriloquist acts, rope tricks and fire-eating cowboys.
Covered dishes brought by home cooks are always on the menu (and get you a $2 discount off the $5 cover), as are the weekly dance lessons that warm up newbies for the main event.
But the Jamboree's throbbing heart is the music: classic Americana in all its many permutations, played by a fast-growing number of honky-tonk, bluegrass, rockabilly, country folk, western swing and other old-timey bands on the local music scene.
There's also an endless parade of visiting musicians from as far away as Alaska, England, Germany and Australia, including the Four Prophet String Band, who bicycled all the way from Philadelphia with their instruments on their backs to play at the Jamboree.
"I believe everyone who comes and plays here is a star," says Patterson, whose own band, The Wasted Lives, anchors every Jamboree with high-wattage honk-a-billy that gets the boots a-stompin' and the skirts a-twirlin'.
"Everybody brings their heart to the show, they bring their best," she adds. "A number of bands got their start with us, and it's become important for the community to grow as musicians."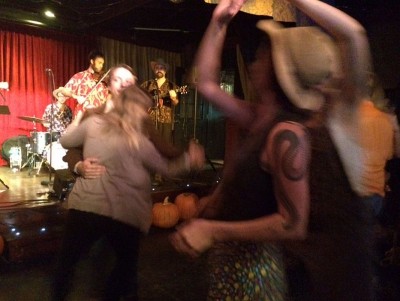 Hot young bands who cut their teeth at the Jamboree include Lost in the Holler, the Good Gollys and the Carondolets, an all-girl doo-wop band. But Hurray for the Riff Raff and The Deslondes, who released their New West debut album this year, are probably the biggest stars to emerge from the scene, which is rooted in fertile soil.
The current Jamboree was seeded by Sundown Songs, a short-lived but seminal acoustic band that included (among others) a pre-Deslondes Sam Doores; a pre-Wasted Lives Matt Bell; and Hurray for the Riff Raff's Alynda Lee. After recording one now-classic album, that tight-knit group of artists launched Classic Country Nights at the now-defunct Desperados Pizza on Frenchmen Street.
"Which lasted about two months," Patterson recalls, with a laugh. "But it was really, really obvious that this show needed to exist. So when Sam left town to go on tour, I decided to take the reins."
With Patterson in the saddle, the newly-minted Jamboree initially rode into the Allways Lounge on St. Claude Avenue. Former site of Cowpokes, the city's only country-and-western gay dance bar, Allways boasted what every urban hoedown needs: a big wooden dance floor .
"That was one of the main reasons we picked it," recalls Patterson. "We have a huge dance scene, which has become a big part of the community."
That scene became even bigger about a year and a half ago, when the Jamboree moved to its new, more spacious home at Mag's, 940, where the former Cowpokes dancers had migrated.
"When Cowpokes closed, this whole group of line dancers – straight, gay and transsexuals – really had nowhere to go," says Mag's 940 owner Paul Chiriaco. "So we picked them up, and they were so happy to have us."
Ultimately, the Cowpokes line dancers and Jamboree bluegrass buffs merged into one big blended family at Mag's. "There was a little bit of a conversion issue," admits Chiriaco. But far from splintering into factions, the alliance made the whole community stronger.
"[The Cowpokes dancers] really made it possible for us to transition into this space," says Patterson. And the torch has been passed; many Jamboree fans new to the scene come early to take square-dance, two-step and line-dance lessons from the oldtimers.
Tonight, as on every Tuesday, Jamboree dancers are in full swing. As soon as the fiddles tune up, the upright bass kicks in and the banjos get to strumming, the floor at Mag's fills up with a crazy quilt of couples of every age, shape, demographic group and sexual orientation.
Some flaunt tribal tattoos or sport vintage rockabilly styles, while others go low-profile in t-shirts and jeans (with the requisite cowboy boots). But whatever they're wearing, it all becomes a blur as they fly around the floor executing fancy footwork punctuated by dips, swings and dizzying turns.
The action is just as lively between sets, when John Calhoun, host of Spotlight New Orleans, plays auctioneer. Tonight's auction benefits the Red Flame Hunters All Youth Indian Tribe, and bidding gets especially heated over a fresh satsuma pie.
When Calhoun finally shouts "sold!," the pie goes for $30 to singer-songwriter Gina Forsyth, a Jamboree regular and frequent joke contest winner – who, as it happens, is the baker of said pie. Her reward? Seeing her money go to a worthy cause, while her super-yummy pie gets devoured by those of us lucky enough to snag a piece.
That kind of open-heartedness isn't just good old country hospitality. It's the Jamboree way.
"The whole reason it exists is the community," says Patterson. "This is a community-driven show."
The All-Star Covered Dish Country Jamboree happens every Tuesday night at Mag's 940, 940 Elysian Fields Avenue. More Reverb and Woody Pines join The Wasted Lives on Tuesday, December 8 at 10pm. Check the Jamboree website for more information._
Main image: jamboree attendees dance to The Deslondes, by Tamara Grayson. Middle image by Cree McCree.