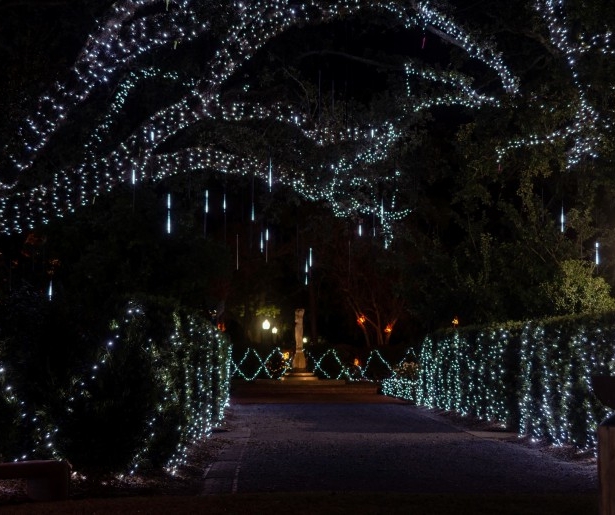 Andy Williams was pretty clear on his calendar priorities: Christmas is the most wonderful time of the year. That sentiment rings true in New Orleans, too. For children, adults, and families alike, the Crescent offers a variety of activities to add a little magic to your holiday season.
Celebration in the Oaks (Dec 3-Jan 2)
City Park's Celebration in the Oaks is one of the most beloved holiday traditions in the New Orleans area. Twinkling lights adorn the park's majestic oaks, accompanied by rides and other displays. The event spans 25 acres of City Park, including the Botanical Garden, Storyland, and Carousel Gardens.
Fan favorites (and with an average of over 165,000 people visiting each year, there are lots of fans) include the train ride through the park, the animated Cajun Night Before Christmas display, and the Christmas trees decorated by local students.
The carousel (or "flying horses" if you're old school) is a must for the young and the young-at-heart. It's enough to warm the hearts of all but the grumpiest Scrooges (and even then, it'll probably win a few of them over).
If you're averse to crowds, visit on weeknights. Hours are 6-10pm Sun-Thu and 6-11pm Fri & Sat. The Celebration is closed on Christmas Eve and New Year's Eve. $8 per person. Children under 3 and Friends of City Park enter for free.
Festival of the Bonfires (Dec 11-13)
If you're willing to go farther afield, travel to Lutcher Recreational Park for the 25th Festival of the Bonfires. There's food, live entertainment, a gingerbread house contest, crafts, Santa's Very Merry Forest, and carnival rides. Each night is highlighted by a single bonfire lighting.
The festival is a prelude to the Christmas Eve lighting of the bonfires on the levee in St. James Parish to light the way for Papa Noel (Santa Claus). The fires are lit at 7 p.m and it's recommended all visitors arrive before 6 p.m.
It's $4 admission to the festival. Kids under 10 and adults over 62 get in free, check Festival of the Bonfires for more information.
Running of the Santas (Dec 12)
For a more adult-oriented event, put on your best St. Nick gear for the Running of the Santas, a festival and pub crawl starting at 11am at the Rusty Nail (1100 Constance St.) in the Warehouse District.
There's a dance party at 2pm. The "run" (it's a run in the same way the Red Dress Run involves running) starts at 5:45pm and is just a few blocks from the Rusty Nail to Generations Hall, where there will be $3 beers, $5 drinks, and a best costume contest. General admission is $15 (for a limited time, may get more expensive closer to the date), VIP admission is $75. 0
Caroling in Jackson Square (Dec 20)
Jackson Square is such an iconic New Orleans landmark that it's easy to take for granted. See it in a new light (literally) as it's filled with candlelit faces singing Christmas classics. Gates open at 6:30pm Candles and song sheets are provided, and the caroling is free and open to the public; more details here.
The Roosevelt New Orleans' Lobby Lights (Dec 1-early January)
Whether you're a tourist staying in a French Quarter or CBD hotel, or an office worker looking to bring a little Christmas cheer into your lunch hour, The Roosevelt New Orleans (130 Roosevelt Way, just off Canal St.) has one of the city's most elegant Christmas displays in its lobby. It's worth a few moments of your time if you're Downtown in December.
Holiday in the Park (Dec 4-Jan 1)
Lafreniere Park (3000 Downs Blvd., Metairie) hosts this annual lights display. Entry is $5 per vehicle, regardless of size, and driving and walking tours are available. One of this year's new features is a 50 ft. long and 40 ft. high pirate ship in the park's lagoon. Entertainment will be provided by local school bands
Admission will be free on Christmas Eve, Christmas Day, and New Year's Day. On Saturday, Dec. 12th, there will be a "snow day" open to the public featuring over 50,000 lbs. of artificial snow for children to enjoy. More information here.
NOLA ChristmasFest (Dec 18-27)
In its third year, NOLA ChristmasFest turns the Convention Center's Hall B into a winter wonderland for children. There's a maze, a carousel, crafts, inflatables, and holiday characters including Santa, Rudolph, and Frosty. The festival also features an indoor ice skating rink, something New Orleanians haven't seen since the glory days of the Lake Forest Plaza in New Orleans East.
Single day tickets are $20. For students K-12, tickets are $15. Groups of 10 or more can get in at $15 each. Season passes for the entire festival are $75.
Holiday Movies at the Prytania (Dec 2, 6, 9, 12, 13, 16, 21 & 22)
New Orleans' venerable Prytania Theatre once again blends Christmas movies with its normal programming. All holiday screenings are at 10am. On Dec 6 & 9 is White Christmas. Frosty the Snowman and Rudolph the Red-Nosed Reindeer play for kids and families on Dec 12, 21, & 22. Last but not least, Frank Capra's timeless It's a Wonderful Life plays on Dec 13 & 16.
Krewe of Jingle (Dec 5)
If you need a parade fix before Mardi Gras season starts again, check out the Krewe of Jingle. It starts at 1pm at Lee Circle, proceeds down St. Charles to Canal, then Baronne before ending at Howard Ave. There will be authentic floats, marching bands, stilt walkers, and Christmas characters, among other surprises.
Image courtesy of Celebration in the Oaks via Facebook.