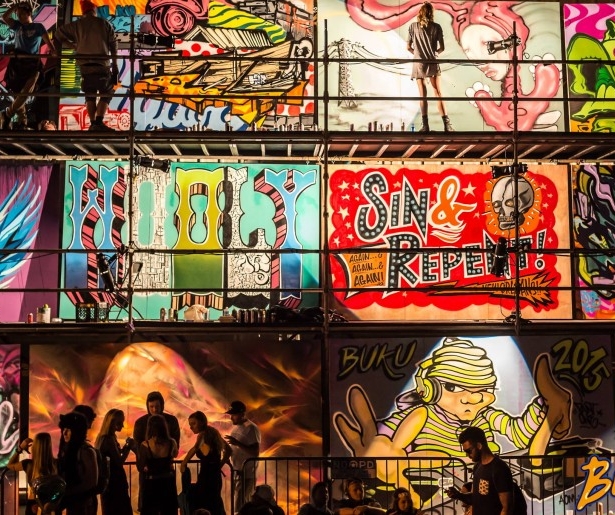 SHARE
The BUKU Music & Art Project, otherwise known as BUKU Fest, returns to New Orleans on March 11 and 12, and tickets go on sale on December 3. If you need to convince yourself that it's a good idea to attend, the event lineup is now available online, and includes Pretty Lights and Kid Cudi as headliners. This author is pumped for Scottish trio CHVRCHES, as well as a solid lineup of local artists, including Fro-Yo Ma, Mystikal, Fly Boi Keno, DJ Soul Sister and Juvenile.
Over the past three years, the BUKU festival has positioned itself to become a mainstay in the crowded New Orleans festival scene.
That's no small feat for an event that was founded in 2012, especially when you consider the name brand recognition other New Orleans music festivals command. In fact, the entire affair is a bit of a coup for the Crescent City; in a city that prides itself on musical traditions and a general sense of 'old school,' BUKU is evidence that new Orleans knows how to apply neon face paint, a henna tattoo and whatever festival wear is de rigeur at the moment.
The festival's success derives from a few factors, two of which immediately come to mind. First, BUKU's focus on EDM, electronica, indie, hip-hop and art installations – in other words, creating a thumping, neon-accented, surreal aesthetic that is immensely popular with the younger, festival-prone crowd. Second: BUKU's widely lauded efforts to fashion itself as a niche event, rather than an everything-for-everyone festival.
BUKU takes place at Mardi Gras World, and in my experience, even if you don't go see the spectacle, there's a decent chance you'll hear it if you're wandering by the river. Get your tickets starting at 11am on December 3 here.
Image by BUKU Music & Arts Project, via Facebook.