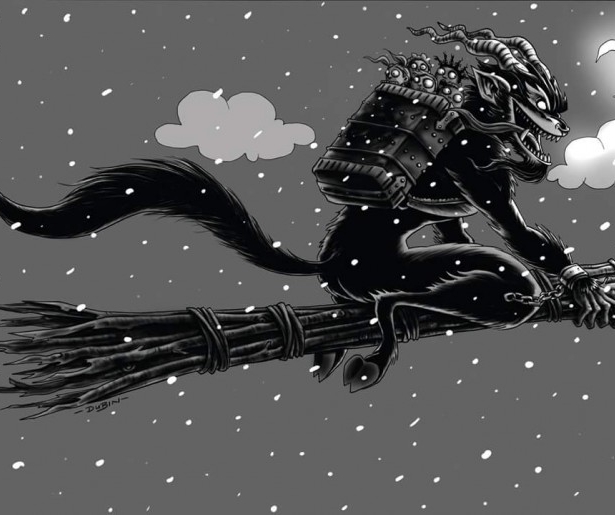 During the holiday season, what is more terrifying than Elf on the Shelf? Well, nothing, really.
But Krampus comes close.
Deriving from pre-Germanic Pagan folklore, Krampus is the dark answer to Santa: A horned devil beast, Krampus appears on December 5, the night before Saint Nick puts oranges and other treats into children's socks.
But whereas the jolly man rewards good children, Krampus beats naughty ones with a rod and drags them in a sack back to his lair.
Local costume maker and ghost-tour guide Elizabeth Zibilich loves this kind of creepy stuff — so much so that she will, for the third year running, host her own Krampus Gras in New Orleans.
"I have always been interested in spooky things," Zibilich admits. "Growing up in NOLA there's the air of spooky here, with voodoo, ghosts, just the whole history. I have always gravitated to it."
In Eastern and Central Europe — particularly in Graz, Austria and the Alpine regions — mortal men have dressed as Krampus, gotten liquored up, and frightened children on the "Krampusnacht" holiday for centuries, chasing kids down the streets with sticks.
The cultural aspects of Krampus interested Zibilich just as much as the creepy ones. "Krampus is prevalent in Croatian culture, which is what my background is," she says. "So it was interesting to me, what my ancestry might have celebrated. And of course I just love costuming, being a costume designer myself."
"I wanted to bring Krampus to New Orleans but put that NOLA flare on it," she adds. "There are traditional costumes for the Krampus holiday but I want to see people's spins on it. There's so much creativity in this town; I want to see what others come up with."
At this year's Krampus Gras, Zibilich has been told to expect a "hillbilly version of Krampus" and a "Barbie version" among others. Partygoers are also invited to dress as naughty children—which lends itself to many dynamic interpretations.
Zibilich is not the only American fascinated with Krampus. "I feel like I had a little jump on the game right before it started getting popular, but it has certainly, in the last two years, become more prevalent in American culture," she admits.
"There have been Christmas events that had incorporated Krampus for a while now, the biggest being in Bloomington, Indiana. But there's been one in Dallas, another in Los Angeles—some of those have been going on for years beyond what we've been doing."
She also points to the episode of Seth McFarlane's cartoon "American Dad," spoofing the yuletide monster, the new Don't Cuddle the Krampus monster doll from the designer of the 80s phenomenon "My Pet Monster," and of course the new Krampus horror movie, out this holiday season.
This year's local Krampus Gras had been scaled back as Zibilich recovers from injuries incurred after being hit by a car while walking in the French Quarter. Zibilich still promises a "spanking area" for naughty boys and girls. "I don't want to advertise the spankers' names, but they are "people I trust with that duty," she giggles.
Food will be provided by Holly's Tamale's food truck. But instead of the usual host of live bands, DJ Andy Average will spin punk rock, lounge and rhythm and blues records. As a result the cost has also been cut to $5 for those in costume, $10 for those without costumes, with a portion of the proceeds going to benefit Planned Parenthood.
One of the night's most popular attractions occurs before the event proper, with 25 or so costumed Krampus-goers riding to Krampus Gras on the Gator 1 Premier Party Fire Engine. "Between 8 and 10pm you will see about 25 people dressed up on the fire engine driving around [through the French Quarter, Marigny and Bywater] waving hooting hollering, having a good time before being dropped off at the party," says Zibilich, who adds that tickets for the ride sold out quickly.
"We see party buses around town, and they're very fun—this is a spin on that. Just like how Santa comes on a jingling sleigh, when Krampus is coming you traditionally hear bells and whistles and noise."
And then you get the stick.
Have you been naughty? Krampus Gras takes place Saturday, Dec. 5 at 10 p.m. at the Voodoo Lounge on 718 N. Rampart St.
Artwork by Shawn Dubin.