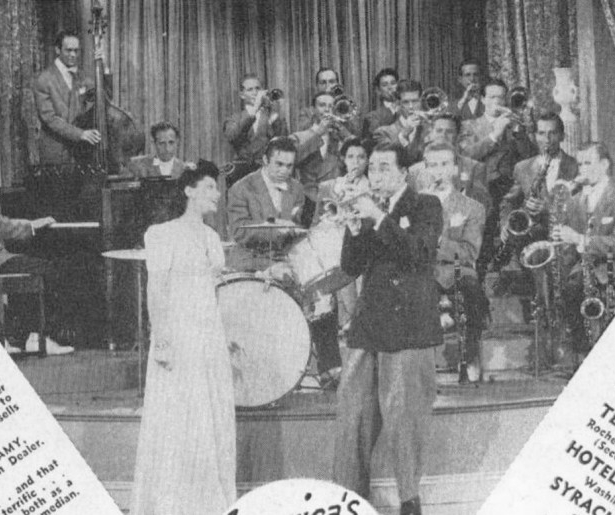 SHARE
With apologies, we'd like to shoot a belated happy birthday to Louis Prima, born on Dec 7, 1910. The Sicilian American crooner spent his childhood growing up on the streets of the French Quarter, where he was surrounded by the sonic landscape of the formative years of New Orleans jazz. By the time he had turned 14, Prima dropped out of Jesuit High School to pursue a full time musical career.
If you'll permit us to indulge in some lazy cliches, Prima embodied the intersection of the energy and flair for performance people have ascribed to both Italian Americans and New Orleans. Indeed, in a city with no small Italian American community, Prima is perhaps the most recognizable name outside of the parish lines. He's certainly the most recognizable voice.
If you're an Old, like myself, you may remember the 1998 Gap khaki commercial that featured Prima's rendition of "Jump, Jive & Wail"; that spot was a sort of crest of the wave of swing music that re-surged in the late '90s. In other words, guys, you have Louis Prima to partly thank for those Big Bag Voodoo Daddy-accompanied dance lessons you probably had to take way back when.

Prima was an icon of the Big Band Era, but ironically, much of his reputation was cemented in the 1950s following the Big Band decline, when began working the lounge at the Sahara Hotel in Las Vegas for two weeks. it was likely a humbling experience for a man used to playing enormous concert halls, but via the funky arrangements of New Orleans saxophonist Sam Butera, and the stage chops of his fourth wife, signer Keely Smith (born Dorothy Keely), Prima created one of the classic grand dame shows of Vegas nightlife.
Keely and Louis were a team for the ages, famous for their riffing duets. She would play the straight man, staring aheadand singing with a near poker face, while Prima adopted a caricature-worthy persona that was grounded in the hustle of a Sicilian kid from the Quarter: growling scat, shuffling dance moves, rapid fire improvisation.

There's much more to the Louis Prima story, some of it funny, much of it painful; go to the library or a book store and get yourself a copy of Garry Boulard's 1989 "Just a Gigolo-The Life and Times of Louis Prima" (University of Southwestern Louisiana), or the paperback Louis Prima, which I have used to source much of this article. In the meantime, buono sera, and good night.

Image courtesy of Wikipedia.