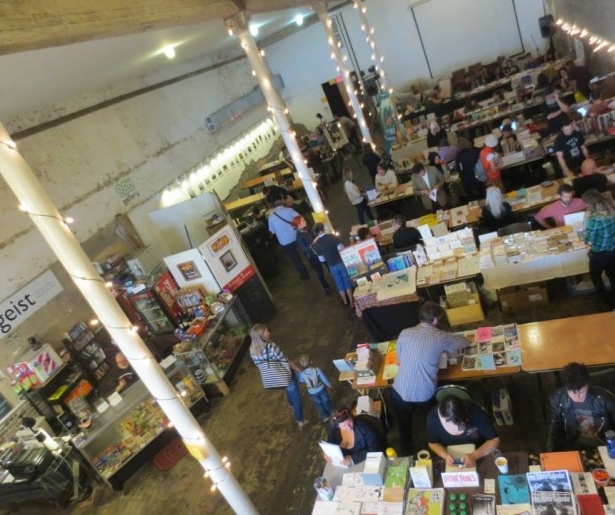 SHARE
No southern city in America can rival the New Orleans literary scene. The Tennessee Williams Festival is becoming one of the premiere literary festivals in the country, and a wide variety of independent book shops (Octavia, Blue Cypress, Garden District Book Shop and Tubby & Coo's, to name a few) host readings from both local and nationally-renown authors on a weekly basis.
And with the holiday season comes another fast-growing event: The New Orleans Bookfair which takes place on Saturday, December 12th from 11am to 5pm at Clouet Gardens (707 Clouet St) in the Bywater.
The bookfair, now in its 14th year, will be outdoors for the first time in several years. It originally took place on Frenchmen Street. "We're excited to be back outside," said one of the event's organizers, Sarah Holtz. "It's like going back to our roots."
The free event helps independent, global, and local booksellers, publishers, and writers sell their work in a friendly, arts market-esque environment. Vendors include the Iron Rail Book Collective, Anti-Gravity Magazine, Community Records, the New Orleans Review, and many more.
"We've also made a push to make the event more family friendly this year," said Ms. Holtz. Bookfair coordinators have organized kid-centric arts activities and entertainment. There's also free food, and pets are welcome.
The idea is to provide New Orleanians with an array of unique holiday shopping opportunities, while also embedding the event more into the literary community with panels and readings. This year's panels include a wide variety of literary, social, and political topics, such as psychogeography, midwifery, and harm reduction. Each panel includes lectures and Q&A's with various experts and activists.
Of course, it wouldn't be a literary event without a few readings. Critically-acclaimed poet Jose Torres-Tama author of Immigrant Dreams and Alien Nightmares, will read on Saturday afternoon, as will DIY punk musician, record label owner, and writer Chris Clavin of Plan-It-X Records.
For more information about the New Orleans Bookfair, including volunteer opportunties and how to become a vendor, check out their website, and follow them on Twitter and Facebook.
Above image courtesy of the New Orleans Bookfair via Facebook.