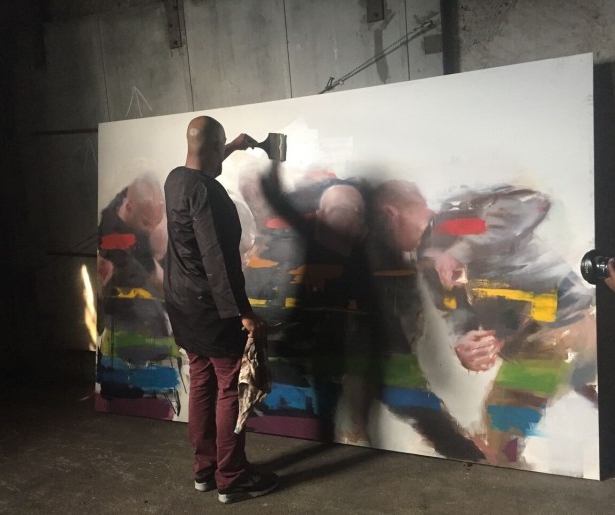 SHARE
On Saturday, December 12th, visual artists from around the world will come together for the inaugural Art for Rights event in New Orleans. Murals and creative installations from a dozen artists will call attention to specific human rights cases in honor of International Human Rights Day (Dec 10).
The show will take place at StudioBE (2925-2999 Royal Street), a large warehouse in the Bywater.
The event is an extension of the Art for Amnesty's yearly "Write For Rights" campaign, which is a massive, grassroots effort to inform and affect change on a variety of human rights issues through letter writing. This year, the organization partnered with local artist Brandan 'BMike' Odums to bring together twelve artists from all over the country and world.
Each artist has created a piece that represents a case chosen for the "Write for Rights" campaign. Some of these topics focus on issues such as torture, forced marriage, forced eviction, LGBTI rights, solitary confinement, and more.
"The idea behind 'Art For Rights' is to shed a spotlight on a community with both a strong arts background, and a place where people are grappling with social issues," said local arts advocate Rob Lalka.
New Orleans was chosen to host the event not only because of its thriving artistic community, but also because of Louisiana's incarceration system – according to organizers, the state imprisons more of its people, per head, than any other state in the nation.
Other incidents explored at Art For Rights include the imprisonment of Danilo Maldonado Machado, a Cuban graffiti artist who produces satiric artwork, and Lunar, a Malaysian political cartoonist facing persecution for tweets criticizing the Malaysian government.
Throughout the free event, both activists and artists will give short talks beside their murals as a way to discuss their work, the social issue it was inspired by, and the global impact of art on human rights activism. Organizers recently announced that R&B singer Usher will make an appearance and speak.
Art For Rights is a collaboration between Art For Amnesty and Brandan "BMike" Odums. It takes place on Saturday, December 12th at StudioBE (2925-2999 Royal St) from 10am-6pm. For more information, click here.
image courtesy of Art for Rights.