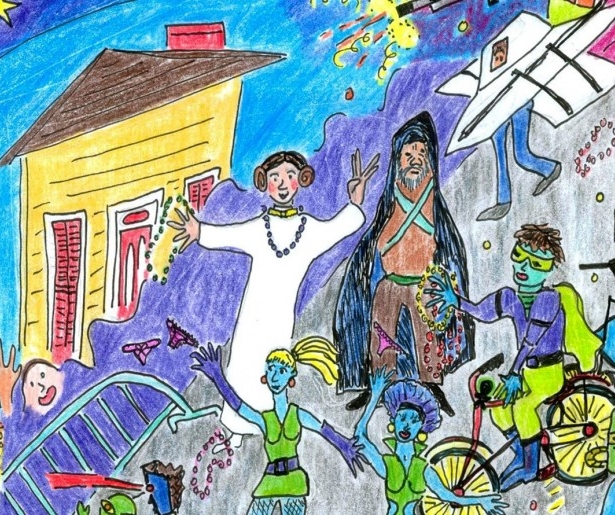 The day is almost upon us! In less than a week, we will finally be able to see Star Wars Episode VII: The Force Awakens. Diehard fans have been waiting for more than three years, since LucasFilm sold the franchise rights to Disney, to see if the new film would stack up.
A big shadow was cast by the beloved original trilogy with Mark Hamill, Harrison Ford, and Carrie Fish, first released in 1977. And most fans wouldn't mind if the new film overshadowed that "other" trilogy from the 90s, starring Natalie Portman and Ewan McGregor.
With this new, J.J. Abrams-helmed feature just days from release, the excitement has never been greater. While the new cast members Daisy Ridley, John Boyega, and Adam Driver are surely partying things up at the Force Awakens Los Angeles premiere this week, we figured you might to attend something festive a little closer to your galaxy.
Here are some fun Star Wars events going on in New Orleans leading up to the big day. rest assured that members of the Intergalactic Krewe Of Chewbacchus also have some parties in store for the premier.
The Build-Up
If you've been eyeing that Chewie onesie, now is the perfect time to get it. You'll get plenty of mileage of out of it at all of these events.
Wednesday, Dec. 16
Star Wars Movie Marathon Pajama Party, hosted by Nerd Love NOLA
Castillo Blanco, 4321 St. Claude Ave
Speaking of Chewie onesies, wear them and come to Castillo Blanco for a screening of the original trilogy, the theatrical releases, the night before the premiere of Force Awakens.
Be sure to bring a chair, blanket, or sleeping bag, as seating will be limited. This viewing will be "sleepover style," so you can watch A New Hope, Empire Strikes Back, and Revenge of the Sith almost like you would at home.
Star Wars Marathon in 3D
AMC Elmwood Palace 20, 1200 Elmwood Park Blvd (Harrahan)
For those of us who are just that crazy, AMC Elmwood Palace is doing a marathon of all six Star Wars movies in prequel order, starting at noon. Costumes are welcome, but AMC asks guests not to bring weapons (except for lightsabers) nor to wear masks. Trade in your Darth Vader mask for some Leia buns and dig in for this 17 hour marathon.
Included in the price of the marathon is a ticket to the 7pm showing of the Force Awakens. You don't even have to switch theaters!
The Big Day (Dec 17)
Although the release date is officially Friday, December 18th, local theaters are following a new trend and releasing the film at 7pm on Thursday, December 17th. AMCs Clearview, Elmwood, and Westbank, as well as the Prytania Theater, will all be opening their doors for 7pm screenings. The Theatres at Canal Place will have their first screening at 7:15pm.
In addition, these local theaters will all be playing midnight showings of Force Awakens. Costumes are welcome.
If you can't make one of these showings, or perhaps don't want to fight the crowds, there will be plenty of other opportunities to see the movies. All of these theaters have screenings throughout the weekend. And, with the popularity of the first six movies, it is bound to be screening well into the New Year.
No matter, when or how you choose to watch the new movie, may the Force be with you.
Image courtesy of Chewbacchus, via Facebook.