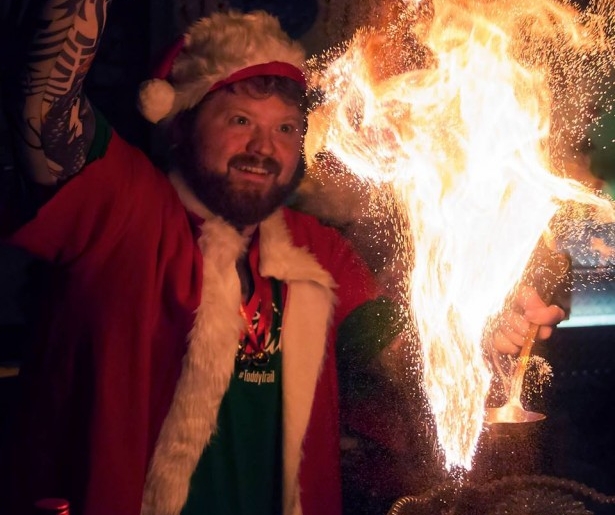 The holiday season brings the slightest possibility of winter temperatures and a definite amount of cheer. It's is a special time of year for cocktail-lovers, as a bevy of heartwarming beverages replaces the frosted mint juleps that refresh in the summer (and spring and fall) heat.
In true New Orleans style, these warming libations will be celebrated by the New Orleans Culinary and Cultural Preservation Society (NOCCPS) in their annual event, Tales of the Toddy.
Hosted at the Hyatt Regency New Orleans, the Tales of the Toddy returns for its 10th anniversary celebration of holiday spirits on December 17, 2015 with 52 of the city's top bartenders teaming up to take the crown for best cocktail, as voted on by an expert panel of judges.
The event is a costumed affair and guests are encouraged to put on their best holiday ensemble (Did someone say Krampus) and sip cocktails while enjoying the holiday tunes of the all-female electric string quartet, Virtuosa.
This annual holiday party is more than just a competition; it is a gathering of talented industry friends that know how to have fun. Small bites will be provided by local favorites like Bacchanal, Electric Eggroll, The PDR, Purloo, MoPho and others to fuel the party-goers throughout the evening.
Don't miss the chance to see your favorite bartenders doing what they love – drinking, having fun and of course, making some great, creative concoctions. Regular priced tickets are $49 per person for the fete lasting from 6:30pm – 9pm. A check for $2000 from the evening's proceeds will benefit the New Orleans chapter of the United States Bartenders Guild.
Mid-City's own T. Cole Newton, owner of Twelve Mile Limit, took the title in the 2012 and 2013 competitions before taking on the role of judge in last year's event.
"After the second win," explains Newton, "I was promoted to judge, which is a job I expect to have indefinitely and is a role I take very seriously." Newtown, along with an all-star judging panel including Marvin Allen, bartender at the Carousel Bar at the Hotel Monteleone, Gray Chapman, Editor of TalesoftheCocktail.com and John Keife, owner of Kiefe and Co. will taste and rate the drinks to determine this year's winner.
"The judging process is more elaborate than most people imagine," says Newtown. "We meet in advance to set criteria, weight different categories, decide on infractions for participants who miss deadlines. As a contestant, nothing is more frustrating than competing in a poorly organized contest with a judging process that seems capricious or arbitrary."
After winning the 2012 Tales of the Toddy, Newton kicked off a period where he entered and did really well in a bunch of cocktail contests.
"I don't know if I would have competed internationally, which I did last year, if it hadn't been for the boost I got from that first Toddy win," says Newton, "The second win was just gravy – and it won me a trip to France."
In honor of the 10th anniversary, you too can drink like a judge. The Hot Toddy Package ($75 plus ticket fee) gives early access to the event so you can sample before the crowds, plus free parking and a special limited-edition gift to commemorate the affair.
Ticket spaces at this level are limited and can be purchased online at Tales of the Cocktail":http://TalesoftheCocktail.com. Industry folks: check your email because all Tales 365 members and 2014 attendees were sent an email with a 20% discount code to be used at checkout.
For Newton, judging is closer to the experience of being a guest than it is being a competitor. "You get to try all of the drinks, instead of just the ones near your station. You get everyone at their best, which is fun after having been on the other side of it for so many years, but with greater access and line-cutting privileges."
Bartenders each have their own spin on it, but if you find Cole behind the bar at Twelve Mile Limit, he'll mix this signature Hot Toddy for you:
1.5 oz. bourbon
.75 oz. honey syrup (2 parts high quality honey cut with 1 part hot water)
.5 oz. lemon juice
2 dashes of Angostura bitters
With approximately 3 oz. of hot water
'Tis the season, so get out your hot glue gun and make yourself one at home while you put together that winning costume.
10th Anniversary Tales of the Toddy
HYATT Regency, 601 Loyola Ave.
Hot Toddy Package: 5:30-6:30pm
General Admission: 6:30 – 9pm
Get tickets here.
Image courtesy of Tales of the Toddy via Facebook.