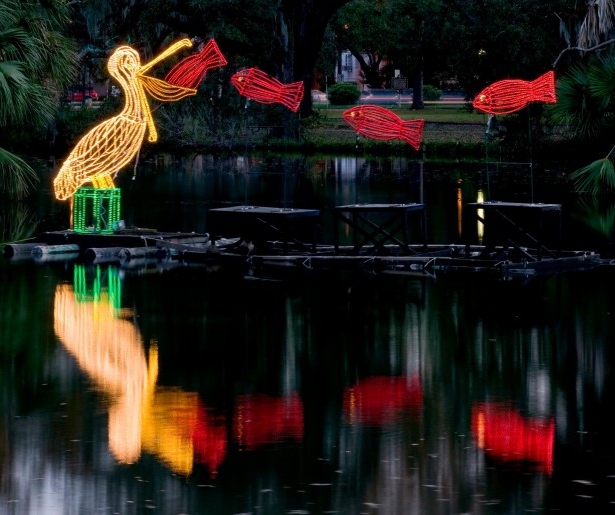 SHARE
Hey, the weather outside is kind of frightful! About as frightful as it gets down here anyways (also, note that next week temperatures will be back in the '70s; on Christmas day I believe the high will edge just under 80, so don't get too comfortable in your winter jackets).
Still, with it actually being kind of sort of cold and the holidays being just around the corner, we'd be remiss not to include a list of some of our favorite New Orleans and Louisiana holiday music. Enjoy!
Dr John, Leon Redbone & Ken Peplowski, Christmas Ball Blues

I'm a sucker for slow Christmas songs, and while the lyrics to Christmas Ball Blues' aren't sad, the arrangement, with its jazzy clarinet accents, has a wintry, wistful feel that implies the singer is starting at the detritus of a ball where he's the last one left at the party.
Dukes of Dixeland, Holiday Time in New Orleans

If there is a venn diagram where one side is 'Dixieland jazz' and the other is 'Christmas music,' this track sits dead center.
Harry Fontenot, Silent Night

'Silent Night' is a fine song, but throw in an accordion and Cajun French lyrics and you've got a zydeco-esque cover for the ages.
Fats Domino, I'll Be Home for Christmas

I'll be honest – I'm not an enormous fan of this cover. 'I'll Be Home' should be a mournful ballad, one that drips with longing and homesickness. But then again, it's Fats Domino, and sometimes you just gotta let Fats be Fats.
Kermit Ruffins, Crazy Cool Christmas

"I'm stuffing that turkey, turkey. My baby gonna make it pretty. Make macaroni and cheese y'all. So good it gonna make you lazy." There aren't many holiday lyrics that make me laugh out loud, and then Kermit cracks me up. Nice.
Leon Redbone And Dr. John, Frosty The Snowman

From the Night Tracks intro that seems to distill and regurgitate everything that was both awful and awesome about the late '80s, to vocals that sound like they were born and raised in Chalmette, this one is as Yat-y as Christmas music gets.
Michael Doucet, Trinquez Trinquez

From the classic Christmas Bayou album (1986), 'Trinquez Trinquez' (Raise a glass, raise a glass) is a slow, intimate acapella arrangement from Acadiana; you can practically smell the wood smoke at a Eunice bonfire.
Helen Gillet, French Holiday Concert at St. Louis Cathedral

The preternaturally talented cellist Helen Gillet presents a holiday concert that is equal parts ethereal, nostalgic and heartfelt. It makes snowflakes fall across my mind, and it's a lovely sonic interlude on a dark, December night (or anytime, really).
Image courtesy of Celebration in the Oaks.