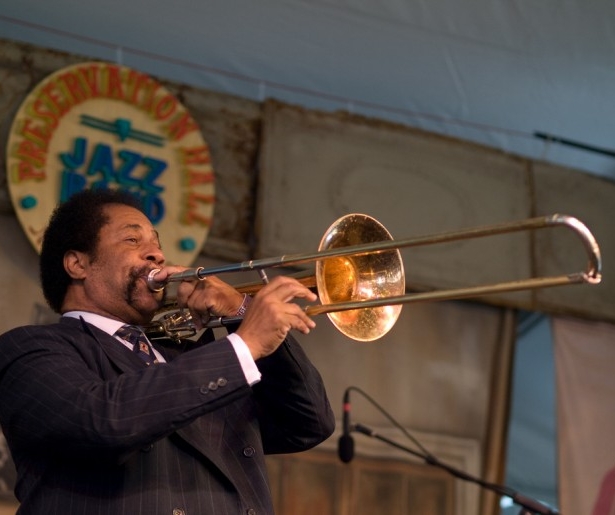 SHARE
If you're bandying about talk of New Orleans institutions, they don't come more iconic than the Preservation Hall Jazz Band. It's written into their very name, for starters. Call yourself 'Preservation' anything and you've got at least a partway claim to being the flagship of tradition and authenticity right there.
You'd almost forgive PHJB if they decided to let the paint crumble around them in their St Peter Street home, blowing dust around with their horns as they trundle through a tourist-soothing repertoire of familiarity. After all, the line sretches around the block every night for the PHJB gig. It's fair to say the Hall plays the most consistently attended live music gig in New Orleans, and maybe America. Those are big laurels, and plenty of people would rest on them.
Thank God the PHJB doesn't. Instead, they've made it their mission to channel the essence of New Orleans jazz while moving ever forwards. And this week's sign of said movement drops tomorrow (July 9): the release of Preservation Hall Jazz Band's latest album. Entitled That's It! the release marks a landmark recording for PHJB: the first album of entirely original material the band has produced in their half-century history.
Think about how impressive this feat is. The Hall has figured out a way to be global ambassadors for the city's music – what it means and where it comes from – while remaining locally relevant and constantly edging out towards progress and innovation.
"New Orleans has always been the perfect balance of the past, present and future," says Ben Jaffe, talismanic PHJB member and son of the co-founders of Preservation Hall, Allan and Sandra Jaffe. "We're so far behind we're ahead. It's important to understand and embrace your community's past. Our past happens to be exceptionally amazing."
Few who have ever heard Pres Hall play would disagree. About that innovation, though? Well, they're an old school jazz band at heart, and they're not suddenly going to turn out an album of reworked Skrillex B-sides, but as far as maintaining their heart in addition to exploring their interests, they're doing a fine job.
The album comes at you right out of the gate like a showboating prize fighter. From the title track's opening drum salvo, the band is spinning around you as it unleashes relentless rhythmic prowess, horns and tuba throwing musical rabbit punches. If your impression of this band is doddery jazz relics churning out comforting standards, 'That's It!' will energetically and happily disabuse you of this notion.
While the freedom to compose and perform original material has obviously been energizing, Jaffe hands at least some credit to the producer, Jim James of Louisville indie heroes, My Morning Jacket.
"We met Jim in 2009," says Jaffe. "He immediately got us. And that's not easy. Over the years, our understanding of each other as artists, musicians and humans has evolved. I couldn't imagine making this record without him. He's our silent Beatle."
'That's It!' runs the gamut of PHJB's impressive talent roster. Members step up to vocal duties with aplomb, and the versatility of the band's instrumental arrangements conjures styles and atmospherics from all angles, from familiar New Orleans love songs to slick, 60s-style hip, urban noodlings.
It's this quiver full of musical arrows that Preservation Hall can draw from that makes them one of the most formidable musical talents in the city. You could easily think of them collaborating with any contemporary musical performer without breaking a sweat.
I ask Jaffe if they have any dream collaborations in mind. Kanye? Daft Punk? Radiohead? "We never pursue a collaboration for the sake of the collaboration," Jaffe says. "It has to make sense to us musically. There has to be an organic relationship there, otherwise, it won't work and it sounds and feels like it came out of a laboratory. But yes, we do have our dream collaborations." Pause for a smile. "We just don't know what they are yet."
If all Preservation Hall wanted to do was wallow in that warm, comfortable but cloying syrup of New Orleans tradition, then they wouldn't charge $20 for playing 'When the Saints Go Marching In' at their nightly shows. After this album, I think they should raise that price to at least $50, just so that we can hear whatever they want to be playing right now. 'That's It!' seems to be whatever they want to be playing right now, and we should all be OK with that.
Above photo courtesy of Joshua Brasted