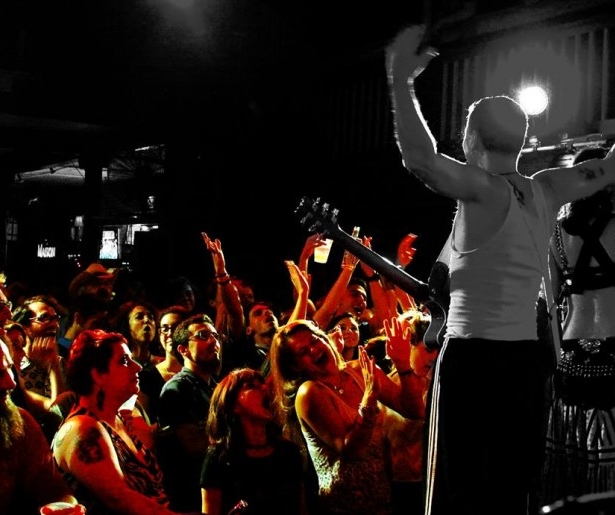 SHARE
New Year's Eve in New Orleans will serve up an expected heaping of food, music and partying, although it's important to stress: you don't have to get wild to usher in 2016. We've noticed that visitors in New Orleans at this time of year tend to have an attitude along the lines of, "Well, we're in New Orleans. We have to get a little crazy, right?"
Nah. That's the thing about this town – we're a city that likes to celebrate at any time of year, be it the end of an old year, the beginning of a new one, or really, any month you choose.
That said, if you are in the market to get crunk on NYE, here are some of our recommended parties.
A Truly Funky Affair
If you're looking for the quintessential Crescent City music experience this New Year's, I'm not sure you can do better than A Truly Funky Affair at the Joy Theater, put on by Winter Circle Productions and Joy Productions.
To messily paraphrase the late, great Allen Toussaint, everything about this show gonna be funky. Some of the city's best funk masters are uniting for the gig – Zigaboo Modeliste and George Porter Jr of the Original Meters are set to close out the night as Foundation of Funk, and Cyril Neville is making a guest appearance.
Get debauched with Debauche
For a tattooed, St Claude-esque entrance into 2016, look no further than the Hi Ho Lounge, which is hosting Russian-Roma-Klezmer-Folk-Kitchen-Sink wildmen Debauche (pictured above, courtesy of Facebook) and the sensual output of Slow Burn burleqsue. Doors open at 9pm.
Social Ride to the Fireworks
If you'd like to close out the year on two wheels, meet up with the folks at NOLA Social Ride at the French Market at 7pm; at 8pm, a parade of light-bedecked cyclists will take off for a ride around townn, culminating in midnight fireworks at Crescent Park.
Sing us a song, Piano Man
There's all sorts of music going on New Year's Eve, but you can't go wrong with pianist David Torkanowsky, who is playing at Le Petit Theater starting at 9:30pm. He'll be joined by the New Orleans All Stars, and the concert ends in time for attendees to make their way to the riverfront for the fireworks.
The Jackson Square Standby
The city's official NYE celebration takes place in Jackson Square from 9pm-1am. Cyril Neville's Swamp Funk band will play with Big Chief Monk Boudreaux before the midnight fleur de lis drop from the Jax Brewery and fireworks over the Mississippi.
Kids' Countdown
If you've got little ones in tow, consider the Kids' Countdown to Noon, held at the Louisiana Children's Museum from 9:30am-2:30pm. Ten bucks for non-members gets you crafts, noisemakers, the Red Hot Brass Band and a noon-time balloon release and confetti toss.
Happy Zoo Year
The other big family friendly option is Zoo Year's Eve, held at the Audubon Zoo from 10:30am-12:30pm. Regular zoo admission gets you a grab bag of music, dancing, party hats and costumed characters, plus all the animals of the zoo itself, natch.
Pray at the Night Church
Fancy a laugh on the last night of the year? Hit up the Night Church, a recurring stand up showcase at the ever awesome Sidney's Saloon on St Bernard Ave. Free comedy, free ice cream, free food and drinks you have to pay for – three out of four ain't bad, OK?
Raising the Roof in Mid-City
The Cannery is hosting a rooftop compelte with buffet, music by The Benchwarmers and a second line to the roof of the venue, where guests will watch the fireworks. Advance tickets are $125.
Go Gatsby
If you want to release your inner flapper, head to Mag's 940 for this 1920-'s themed speakeasy party, which begins at 8:30pm and features a little bit of burlesque, and whole lotta libations. Tickets are $21.50.