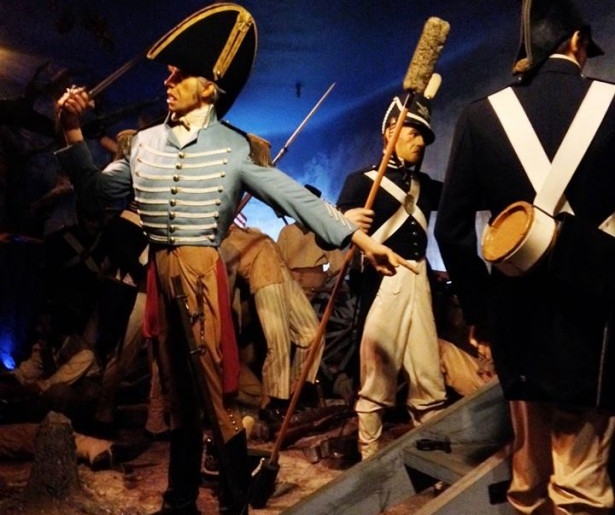 The figures in the Musee Conti Wax Museum — Louisiana icons from clarinetist Pete Fontain to Napoleon himself — seemed like they would stand still there in the French Quarter forever. But this January 31, the wax museum closes, to be turned into 16 new, high-end condominiums.
When asked why the family-owned museum, purchased in 1958 and opened as Musee Conti (917 Conti St) in 1961, was put up for sale back in 2012, previous co-owner Sandra Weil admits, "Because we're all old and nobody wanted the business. We tried to find someone who'd want to keep the exhibits but…" The fate of the museum's wax figures — which all now belong to Weber construction — remains to be determined. "I am very sorry it is closing," Weil adds. "We did what we could."
Sandra Weil began working at the museum in 1958, but for last 15 to 20 years focused on giving its famous tour, written by cartoonist and author John Churchill Chase. "[The rest of the family] handled the business end and I did what I wanted to do, which was give the tours and tell the stories," she says. "It's a very good exhibit for school kids. It had to have been good; we had children and grandchildren coming back for generations. We've recently had a lot of people call and tell us they were sorry it's closing. We've received letters from schoolchildren telling us they loved it and are sad."
"A lot of people have come in to tell me stories recently, and to see it one last time," says Alex Key, who worked as the wax museum's director for the last five years. "Someone just came in and told me how they first came in as a school kid in 1972, and how great it was that their own kids got to go there as kids."
Key also helped rent out the rustic upstairs venue for dinners and weddings — like that of former New Orleans schoolteacher Jeremy Johnson, who fell so in love with the wax museum on several student field trips that he got married there in 2008.
"We just wanted to do something that was really unique, a unique New Orleans experience in an interesting and strange place, so we rented out the whole top floor. The guests had access to all the exhibits for two hours before the event. The place was so dressed up already that just the people filling the room was all it needed in terms of decorations," Johnson recalls.
"The most memorable thing for me that night… I remember seeing signs of pure bliss on the guests faces — or else absolute shock. Some people were even disgusted," he laughs. "But seeing this wide range of facial expressions was great, and having people tell us, 'This is the strangest coolest wedding I have ever been to.'"
Alex Key explains how original owners Ben Weil and Isador Lazarus first conceptualized the wax museum.
"A group of wives had traveled to Europe and had realized upon visiting Madame Tussauds wax museum in Paris that NOLA didn't have that," says Key. "The original owners touted it as the first family attraction in New Orleans, definitely the first in the French Quarter."
The Musee Conti came to hold an extra special place in the city once the Ripley's Believe It Or Not Museum closed just after Katrina. "Ours was the only wax museum in the area — definitely the only one that wasn't just celebrities and famous people," says Key. "Ours told you a story of our city, instead of just 'Hey I'm gonna take a picture with Shaquille O'Neal or Angelina Jolie.'"
Despite these outpourings of love and nostalgia, selling the building as a wax museum proved much harder than Weil assumed it might be.
Not wanting to speak for others, Key is vague about the museum's future. "They're still working on some things, perhaps reopening the museum somewhere else, perhaps not in the French Quarter. They have some proposals and things that they are working on." He is sure of one thing: "I do hope that we can reopen it, and that things will work out and I will be a part of it. It's definitely been a major part of my life and I'd like continue to share it with people, and with a newer generation."
Key adds, "I will miss the wax statues…even though they are lifeless I will miss them. When you walk around in there alone yourself so much like I have, you have a tendency to talk to them, and while I haven't had any talk back to me, the museum is just a unique way to present history, passed down like that by New Orleanians for generations."
When asked if she planned to have any sort of goodbye for the museum herself, either public or private, Sandra Weil sighs, "It's not mine to have."
Image via the Musee Conti via Facebook.