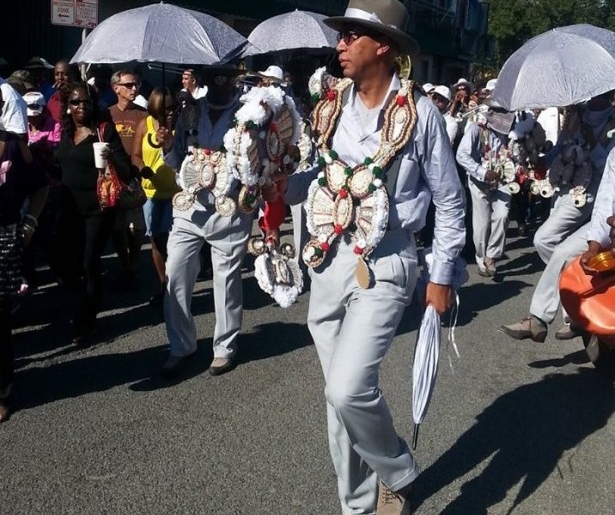 SHARE
As we say goodbye to 2015, here are some of the most memorable moments from a year packed with music, food, good times and fellowship. Happy New Year, New Orleans.
The Museum of the American Cocktail re-opens
There's plenty of arguments over where the cocktail was invented, but it's indisputable that New Orleans and mixed drinks have a long and productive relationship. As such, it made sense that the Southern Food & Beverage Museum first 2015 addition was the Museum of the American Cocktail, a collection that celebrates the history and traditions of spirited tipples throughout the ages.
A shoe-in of a throw
There are many coveted throws tossed to the crowds during Carnival season, but the Muses shoe stands above the rest (wait, can a shoe be above something? Never mind), and we got to get a sneak peak at their creation back in February. Glitter, crafts and some fine footwear ensued.
When jesters have their day
Yes, Rex is technically the King of Carnival, but this little essay reveals how the holiday inverts the social order, briefly giving the city over to its street culture and many storied eccentrics.
Shotgun stories
When the Preservation Resource Center held Shotgun House Month, we published this piece, which delves into the history and imagery associated with this iconic piece of New Orleans architecture. Be it ever so humble, there's no place like our thin, corridor-less homes (OK, we see you over there, side-hall houses).
Gentilly lace
We finished our Neighborhood profiles this year, and while we're proud of all of them, it's worth highlighting one area that is New Orleans at her most pleasantly residential – Gentilly. It may not have any major tourism attractions, but it has warmth, neighborliness and a high degree of diversity, and you should know more about this lovely part of town.
Purchased Lives at THNOC
We clearly love New Orleans, but we recognize her history is often steeped in tragedy. The Historic New Orleans Collection delved into the evils of the domestic slave trade, largely based out of the port of New Orleans, with the exceedingly powerful Purchased Lives exhibition.
Melodies at the Music Box
New Orleans did not lack for cool public art installations this year, but we'd say the most memorable was the Music Box, which turned a small section of City Park into a surreal, delightful interactive instrument in the midst of early spring.
Birdfoot Festival
This is a city of music and music festivals, but one of the most unique events within our sonic calendar is Birdfoot, which celebrates classical chamber music and mixes those sounds with poetry and fine art.
Here Come the Girls
We like to highlight all of the funky patches that form the New Orleans quilt. Here's a review of one particularly awesome regularly occurring event: the monthly drag show at Vaughan's.
NOLA by two wheels
There are plenty of great ways to see New Orleans, but in this flat town, where the architecture is best appreciated at a slow pace, we love doing by bicycle. So do the folks at Confederacy of Cruisers; we review their bike tour of town here.
All about Indywood
There are a ton of scrappy businesses in this town that are bringing culture, art and all the good things in life to our citizens on a shoestring. One such endeavor is Indywood, the independent movie theater that is bringing film of all flavors down river.
Take a trip and a dip
Let' be honest: this summer was pretty miserable, even by New Orleans standards. To help our readers shake off some of the cloying heat, we put together this list of some of the town's best pools.
Escape from LA!
Let's just say this: in a city full of weird stuff, Escape My Room is one of the most unique activities you can do. Just read about it and thank us later.
Gon' fishin'
We don't limit our content to New Orleans. South Louisiana is a playground of wetlands, bayou and dark forests. Back in the muggy heart of August, we took a trip to Grand Isle for the Ride the Bull fishing tournament.
'Ten Years Gone'
The scrutiny of the national press during the ten-year anniversary of Hurricane Katrina was a bit much, and by the end of August, most residents seemed glad to be rid of remembrance activities. That didn't mean various individuals and institutions did not commeorate the event in their own complex ways; one of the more poignant exhibitions was held at the New Orleans Museum of Art
Roots, rock, New Orleans
Another one of our favorite musical festivals is the Ponderosa Stomp, an event dedicated to the musicians who crafted the traditions so much of the New Orleans sounds is built upon.
Halloween and haunted houses
Louisiana has an intimidating number of ridiculously scary, over the top haunted houses. We visited a few and gave a breakdown of the best in the area.
Tandoori times
We gave a scrappy little pop-up restaurant and its mobile Indian oven a little multimedia love with our story on Bird by Bird. Read on, and if you're ever hungry on St Bernard on a weekend night, just follow your nose to the naan bread…
Education via "Cuttin' Class"
New Orleans music is not a fly in amber – yes, it's built on tradition, but those traditions require both education and innovation if they're going to survive. The folks at WWOZ recognize this, and have been helping train generations of local students via their Cuttin' Class program.
Trinquez, trinquez!
This year, Christmas in New Orleans felt like it hit in late May, but we hope you got the cozy, fire-in-a-hearth feeling via our breakdown of the best New Orleans and Louisiana Holiday Music.