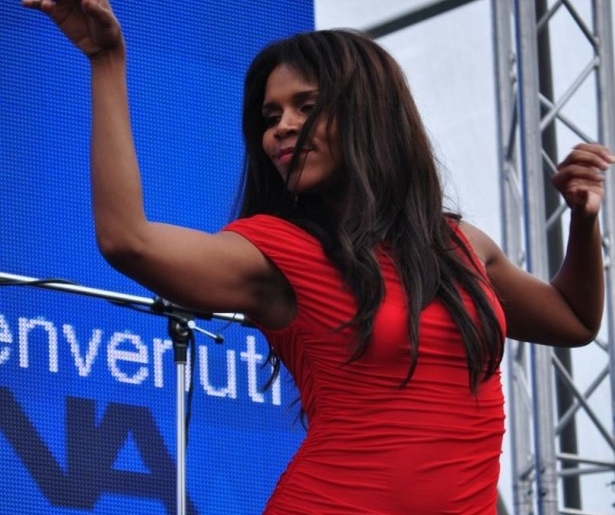 When the Rock and Roll Hall of Fame inducted Donna Summer in 2013, Anais St. John watched from her New Orleans kitchen. As Summer's family accepted the honor, she recalled her grief at the news of the artist's 2012 death and felt motivated to celebrate the Queen of Disco with a tribute.
"This is the next show I needed to do," she says. St. John's one-night-only event "Last Dance" begins at 8pm on January 8 at the Joy Theater and features special guest DJ Soul Sister, known for her extensive collection of rare groove, funk, and disco vinyl.
"Donna Summer is an inspiration and the voice of a generation," says St. John, a performer and music teacher at Trinity Episcopal School. Anais's style combines elements of jazz, opera, and cabaret, which she brings to Summer's hits. Summer's most memorable singles came at the height of disco fever, a genre St. John describes as "something no one does anymore, but everyone remembers."
Like Donna Summer, St. John began singing in church, later studying music at Xavier University and vocal performance at the University of New Orleans. Following in the footsteps of her father, avant-garde saxophonist Marion Brown, St. John experiments in many musical genres, allowing her to combine classical training and pop performance in unique ways.
"Last Dance" features a seven-piece band with three backing vocalists and go-go dancers and encourages attendees to dress in costume and be ready to dance and sing along.
St. John's voice changes Summer's music. Her deeper pitch and jazz influenced smoothness sometimes stands in contrast to Summer's airy lilt. Donna Summer had an extensive range, but she typically sang a bit higher than St. John. Anais's lower voice, combined with the integration of classical elements also essential to her style, gives the songs a new feel.
Prior to St. John's performance, DJ Soul Sister will feature songs from her remarkable collection of disco. Also a New Orleans Native, Soul Sister's self-described goal is to, "always spread positive soulful vibrations through the music that has given me joy for so many years. I use my sets to honor the musicians, singers, and artists who have come before us and have shared their gifts for the world to enjoy."
Soul Sister's weekly Saturday night dance party, set to a soundtrack of her well-curated grooves, began at Leo's in the Bywater and later migrated to Mimi's in the Marigny and finally, the Hi-Ho Lounge, where she has remained since 2004. In a neighborhood known for its hipster enclaves, her set is the opposite of pretension. Underground disco, rare groove, old school, boogie, hip hop, bounce, and jazz; her style glides across genres and decades with ease.
In addition to her live sets, Soul Sister hosts a weekly radio show, "Soul Power" on WWOZ, the longest running rare groove radio show in the country, furthering her reputation as a tastemaker. She began hunting vinyl at age six, following the accidental purchase of a cut out Kool and the Gang's Music is the Message LP. Her love for funk and reputation as a crate digger grew out of this experience, leading her to rare albums and virtually unknown artists which she shares with other music lovers.
Soul Sister's knowledge of seventies musical genre runs deep, with her set standing as an interesting counterpoint to the tried and true hits of Summer. Soul Sister plays known and unknown acts alike – but attendees will undoubtedly hear something new before Anais begins her tribute.
Both Soul Sister and St. John have performed at Jazz Fest, and shared the stage with myriad noteworthy acts. St. John sings weekly at the Windsor Court on Fridays and Saturdays in the cocktail lounge. The singer formerly worked as a cocktail waitress, sitting in on jazz trios occasionally, and singing standards.
Eventually she began performing solo at festivals around the world and respected venues in the city. For a classically trained performer, Summer represents "a fun and exciting opportunity to explore modern music," says St. John. The performance isn't just for fans of disco, or fans of St. John; the combination of her style with Summer's hits creates something new and unique to New Orleans.
"If you don't love disco, come to my show, because I'm going to change your mind," she says.
'Last Dance: A Tribute to Donna Summer,' shows at 8pm on Jan 8 at the Joy Theater (1200 Canal St). Click here for tickets ($25-40).
Image of Anais St John courtesy of Facebook.