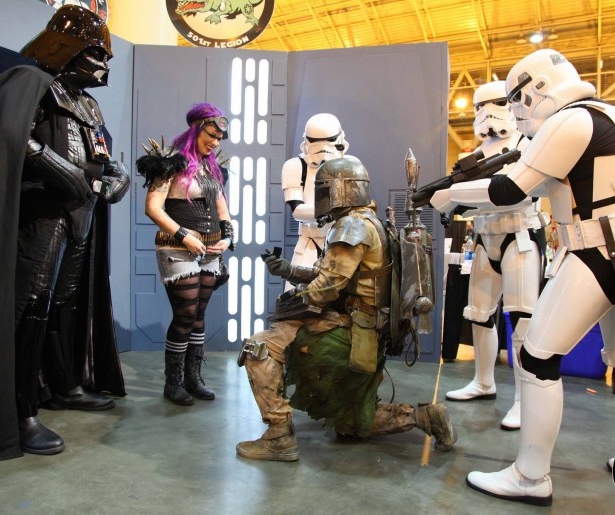 If the recent release of Star Wars VII: The Force Awakens has awakened your inner nerd, then you're in luck: Wizard World Comic Con New Orleans is just around the corner, happening January 7-9, 2016, inside the Ernest J. Morial Convention Center.
Don't worry – despite its name, Wizard World Comic Con New Orleans is not a convention for wizards (although all magic-folk are welcome). It IS a celebration of everything nerdy. Whether you're fandom is Star Wars, Star Trek, Doctor Who, Cowboy Bepop, Minecraft, Harry Potter, etc., the convention has something up its sleeve (or tentacle, whatever) for you.
This year, Wizard World Comic Con New Orleans (also known as Wizard Con or Wizard World NOLA) is six years. A sixth anniversary isn't normally one you would really celebrate, but Wizard Con apparently didn't get the notice. There's an impressive lineup of celebrity guest appearances, artists, and vendors.
Captain America stars Chris Evans, Anthony Mackie, and Jeremy Renner, recent Doctor Who alums Matt Smith and Karen Gillan, The Walking Dead fan favorites Norman Reedus and Stephen Yeun, and all-around cool guys Bruce Campbell and William Shatner will be making appearances and signing autographs. For an extra fee, fans can also get their hands on Wizard World's VIP Passes, which include a meeting with these stars and special photo opportunities.
In addition to all of the big names and guest appearances, Wizard Con continues to showcase comic art and artists. And one of those artists is half of the team behind the Eisner-award-winning comic book Chew, Rob Guillory.
Guillory is a local – he studied art and drawing at the University of Lafayette at Louisiana, and he still lives in and works out of his home in Lafayette. In 2010, he teamed up with John Layman to create the comic series Chew.
Chew follows the trials and a tribulations of Asian-American Tony Chu, a former Philadelphia PD cop and a cibiopath, which is kind of like a food telepath, as he works for the Food and Drug Administration solving crimes. One of the coolest aspects of the series is how the writers incorporate food and food culture into Chu's fictional world.
"Chew's been great," says Guillory. "[John Layman and I] originally set out to do a 5 issue series, not really thinking it would be successful. That ended up turning into a 60-issue run that we're both very proud of."
After Layman writes the script for each comic, Guillory pens, inks, and colors every issue of Chew, a process that takes more than four weeks. "It's an intense schedule," he says, "but it's the most efficient one I've been able to come up with so far."
This is Guillory's second year at Wizard World NOLA. Like many comic artists, he enjoys coming to cons.
"Touching base with the fans is always the best part," he says. "Making comics can be a fairly lonely job, and creators usually end up locked in their offices for more hours than they'd like. Getting out and hearing directly from the folks we make the work for is such a crucial part of this industry."
Chew is set to conclude in its 60th issue out later this year. Rob Guillory he has something new that should be coming in 2017. Until then, we will have to read old Chew issues and enjoy Wizard Con.
In addition to Guillory, Wizard Con has a well-rounded lineup with some amazing comic artists, illustrators, and animators: Andrew Day from The Walking Dead, Eisner-winner Gene Ha from the Justice League, Peter Kuper of Spy vs. Spy and World War III, and Meredith McLaren of Adventure Time. You can see all of these artists and more on the floor of the Convention Center.
Longtime fans of the convention today might not know that the parent company, Wizard, started off as a small-time magazine publisher. Their self-titled Wizard magazine was first released in 1991. It gave '90s readers the scoop on the latest comic books and action figure collectibles, with a pricing guide included in the back few pages.
Wizard began expanding in the late 90s by buying Chicago's Comic Con and in the early '00s by adding Big Apple Conventions. The conventions brought the Wizard fan base in closer contact with the products the magazine was advertising. Wizard, now Wizard World, has continued to expand in the last few years, with our own Wizard World Comic Con New Orleans being added to the roster in 2010.
Find more information about the artists, celebrities, cosplayers, and vendors at Wizard World Comic Con New Orleans by visiting the Con's official website.
Image courtesy of Wizard World via Facebook.