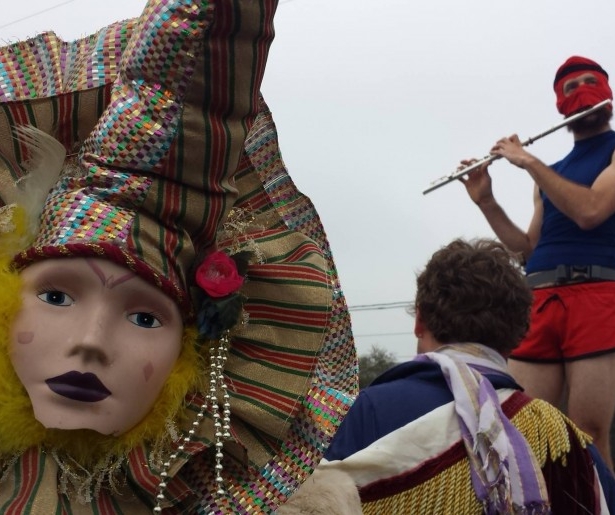 SHARE
It's…Carnival Time. Wait. It is?
[Checks the date]
It is. Wow.
Today, or more accurately, tonight, marks Twelfth Night and the official beginning of Carnival season. Sheesh. I think I know people who are still sleeping off New Year's Eve…

We hear you, Al! The rest of you, take note: there are only 33 days until Mardi Gras (February 9). Cue the wild rush for spare feathers and glitter, because this year, the gap between the new year and Fat Tuesday is one of those little pits Mario could clear with a light tap of the 'a' button. I have a feeling my costume is going to be (more) slapdash then usual.
If you're curious and/or want to impress someone with a little trivia, Mardi Gras will not come this early until 2027, when it hits on February 9 (again). Fat Tuesday won't happen earlier then that date until 2035, when it falls on February 6. So mark your calendars and your to-do list: buy warm weather costume in about two decades.
(Oh, and if you're wondering where to find this information, thank the Interfaith Airport Chapels of Chicago).
For those who are new to New Orleans or need a refresher on some terminology: Mardi Gras is Fat Tuesday, which hits before Ash Wednesday, which is the beginning of Catholic Lent. That period of fasting is precluded by a few weeks of gluttony, otherwise known as Carnival. There are lots of Carnival festivals around the world, even in non-Catholic communities (Buddhists also observe a kind of Lent, and enjoy a similar wild period of revelry before the fasting season begins), but the New Orleans Carnival is by far the most famous in the USA.
Carnival concludes with the madness of Mardi Gras day, but before that day, parades begin rolling and the city sort of stirs itself into a fever pitch. To be fair, many people consider the Krewe du Vieux parade the 'real' beginning of the run up to Mardi Gras, but officially, this is the first night of Carnival.
And there's plenty happening around town to mark the date. For the 35th year running, the Phunny Phorty Phellows will glam up in boas and masks, pack into a streetcar and roll down St Charles Avenue accompanied by the Storyville Stompers. The streetcar takes off from the Willow Street Car Barn, in between Jeanette and Willow St in Carrollton, at 7pm.
Meanwhile, in the French Quarter, the Joan of Arc parade celebrates the 'Maid of Orleans' with a walking procession that begins at 7pm at the Jax Brewery. Expect lots of medieval pageantry and a family friendly atmosphere.
Plus: a Twelfth Night costume party at Vaughan's. A Carnival kick-off at Dat Dog. And the annual Return of the King Cake to the shelves of bakeries and grocery stores.
It's Carnival Time. Hope you're rested up.