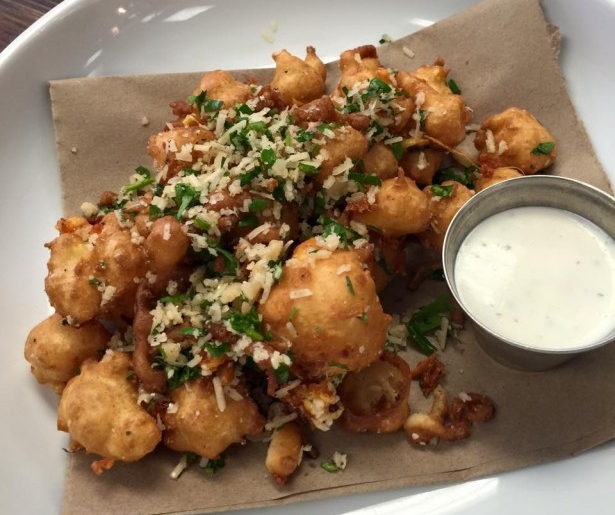 The restaurant action on St. Claude Ave continues to grow with the opening of much-anticipated casual dining and grocery spot, The Cheezy Cajun.
From longtime Bywater residents Michael Ducote and Doug Minch, formerly of Mona Lisa, this renovation marks another milestone in local efforts to bring business to the historic Bywater neighborhood.
Located at 3325 St. Claude Ave in the former St. Claude Community Hardware Store, The Cheezy Cajun is a true marriage of its founders roots, with food offerings reflecting both Wisconsin and Acadiana. Patrons will find traditional crispy cheese curds alongside house-made boudin, head cheese, jams and jellies.
Within the Bywater milieu, the Cheezy Cajun joins the ranks of established wine bistro Bacchanal and long-standing late-night bars like Saturn Bar (across the street) while complimenting the growing gastro-pub scene with accessible food for dine-in or take-away.
Joining Ducote and Minch at the helm is Chef Maryjane Rosas, who earned a stellar reputation during her tenure running the kitchen at The Country Club. Also on board are friends and thrice-coworkers Jena Newton (sous chef) and Peter-John Hanne (jack-of-all-trades). The dynamic team will continue to grow the menu and offerings as regular business builds and they get a feel for the space.
"The most fun part about this project is the people; PJ, Jenna and I, this is our third job together," explains Rosas, "Everyone I surround myself with – friends and family – that is the feeling you get when you come here."
The self-proclaimed "lover of gravy" is working with her team to expand the restaurant's offerings, including the addition of a brunch menu to be served on the weekends beginning early in 2016. There are also whisperings of house-made ice cream to join the growing list of savory treats.
"I always want to learn and do more as we expand," says Chef Rosas, "but breakfast is always my forte, so I'm excited to bring that skill to this new project."
Other Chef's selections include chicken pot pies available from a premade case. Cracklins are incredibly popular, as well as the illusive Wisconsin crispy cheese curd, served with ranch dressing.
The Carr Valley Garlic "Bread" Cheese has no bread whatsoever, and that is no loss. The resulting hot and delicious square of salty cheese is baked to perfection in a cast iron skillet, topped with a refreshing pickled vegetable and cherry tomato salad. From the sandwich menu, the standouts seem to be the Hot Roast Beef served with Kaise Meister Ghost Pepper Cheese Sauce. Napkins definitely required.
Sous chef Newton is perfecting a head cheese that packs a ginger-infused punch, along with some other new twists. Head cheese, along with house made salami, rillete and rillons, round out the growing list of house-made meatery.
Booze is also on the menu, with signature cocktails such as the Wisconsin Old Fashioned, a concoction of "brandy, bubbles, orange and cherry." Also making the cut is a Pisco Sour with La Caravedo Pisco, egg, citrus and bitters, a Bloody Jane with beer, lime tomato and salt, along with a traditional Bloody Mary accented with housemade pickles.
The restaurant doubles as a store that sells signature jelly and jams available. A meat case stocked with stuffed poultry, pork chops and boudin stuffed peppers are available for home-cooking. For the cheese-lover, shelves are also stocked with artisan cheese imported from Wisconsin.
Only good things can come of the collaboration of talented people and good friends,and The Cheezy Cajun is no exception. Stay tuned for more to come.
"Slowly but surely," says Rosas, "We are really excited." And if their shirts tell you anything (they do), 'Everything is better wrapped in bacon and stuffed with cheese.' The Cheezy Cajun is currently open every day except for Wednesday, check them out online at their website.
Image courtesy of The Cheezy Cajun via Facebook.