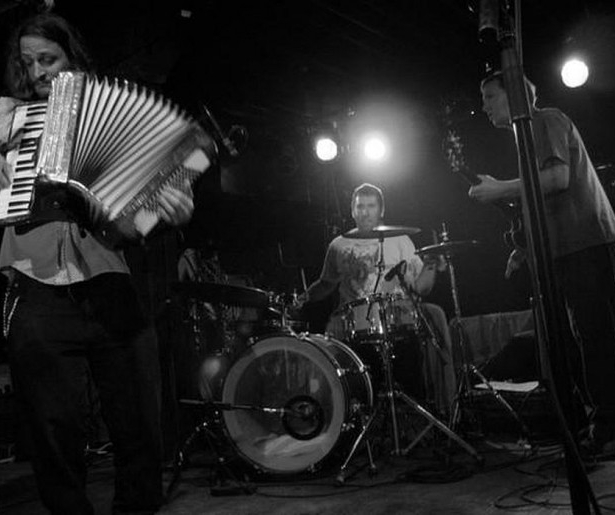 Musician Greg Schatz doesn't hop from genre to genre. His music is simply a relief depiction of a unique New Orleans musical personality.
"People used to peg me with the word 'eclectic,'" Schatz laughs. "But eclectic doesn't really describe the music much. Especially my stuff with accordion, it has so many flavors; accordion conjures up swamp pop, and gypsy European music—but then its all original tunes, so that ads to the stylistic confusion. I do think of my music as a very particular sound."
Schatz says his newer songs fit a little more easily into the category of roots rock, or Americana. "When I switched from the accordion and started playing piano, my music took more New Orleans R&B into it. In some ways it's got an even wider pallet of influences now, but you could probably just call it folk rock, or plain old rock n' roll."
Whatever his music is, the man who once called himself and his band Schatzy, but now goes by Greg Schatz, has recorded five solo albums of it. The Ogden Museum of Southern Art will celebrate Schatz's fifth album, "Everything That You Wanted," this Thursday night at its Ogden After Hours music series.
Schatz hosts the evening joined by his regular all-star band The Friggin' Geniuses, featuring guitarists Alex McMurray (Tin Men, Royal Fingerbowl) and Dave James (Gal Holiday), plus drummer Doug Garrison (The Iguanas, Panorama Jazz Band) and bassist Dave Stover.
Schatz says the evening will focus on his previous album, "Where the River Meets the Railroad Tracks," as well as the newest album, which features guest spots by local luminaries John Boutte, Susan Cowsill, Jason Mingledorff, Tiffany Pollack, Helen Gillet, Eric Lucero, and Charlie Halloran.

Along with making his own original art, Schatz is also a working musician. When you play as many instruments as Schatz, you come in handy in New Orleans. For several years Schatz has led bands at the Crazy Lobster restaurant on the Riverwalk: "There were a whole host of musicians that played the Crazy Lobster," he says, "like I think Billy Ding—rest in peace—was playing there before Katrina. I lead different bands there, a bunch of guys all switch leader duties. I don't play much of my music there, maybe break in a new song there since I can do what I want to, but otherwise at that gig three days a week we play anything from blues to classic New Orleans R&B tunes—whatever we feel like learning and bringing in.
"I like to lean heavily on New Orleans repertoire," adds Schatz, "just so I can learn the New Orleans repertoire. I love the excuse to listen to radio and say 'Oh, I'd like to learn that song.' Whereas in my other band I focus on my originals."
A New Orleans resident since 1995, Schatz cut his teeth playing bass for Jeremy Lyons and the Deltabilly Boys. After Katrina he bounced between New Orleans and New York, mostly on road gigs with his own band.
In 2007, Schatz landed a regular gig playing bass in the band at the Bustout Burlesque show at House of Blues (including this Saturday night). "The girls pick out their own music, very specific version of songs, so that's a lot of chart readings: heavily arranged charts, Ellington charts, big band charts, stuff by Arty Shaw, Jellyroll Morton, Sidney Bechet. It keeps my reading chops going!" says Schatz, sounding genuinely glad.
But no matter where the music takes him, around 7am each morning Schatz wakes for his day job at French Quarter Festivals International, where he's worked for seven years. Currently he books musicians and coordinates beaucoup other details for not just the FQF, but Satchmo SummerFest and the Christmas-season concert series at St. Louis Cathedral.
"Technically I am 30 hours a week but between January and FQF it's a fulltime job. I am there pretty much every day doing the production end of things, coordinating music on all of the stages, handling contracting and technical stuff with the sound companies, making sure the right gear gets on the right stages." He doesn't sound regretful when he admits, "The day job has made me far less likely to take a late night gig playing music till 2am on a weeknight."
Schatz will showcase "Everything You Ever Wanted" at the Ogden Museum at a nice respectable hour: 6 to 8pm, Thursday the 14th; 925 Camp St.
image courtesy of Schatzy Music.