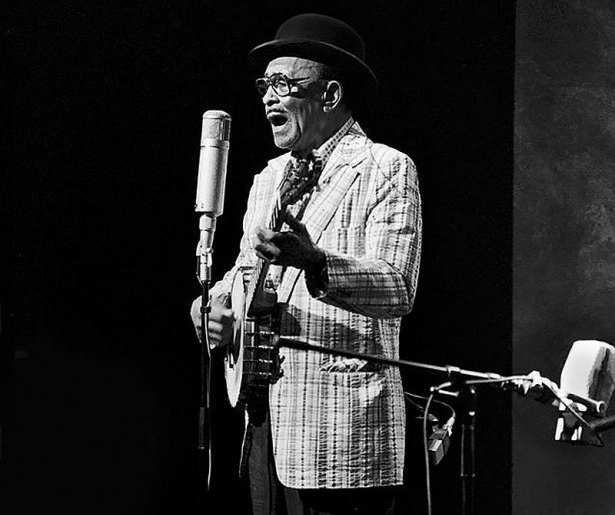 SHARE
Casual visitors to New Orleans and lovers of music often presume 'jazz' music must be played on brass or woodwind instruments. With the exception of the drums and piano, the cliche holds that the sonic vehicle for jazz takes the form of trumpets, saxophones, trombones and clarinets.
It's not an unreasonable assumption when you check off a list of the iconic names of the jazz universe: Miles Davis and Louis Armstrong (trumpet), John Coltrane (saxophone), Kid Ory (trombone), Benny Goodman (clarinet). But have a listen here:

That's jazz as conveyed by the guitar, and there was perhaps no greater master of string-instrumentation jazz than Danny Barker, who could rock out on six strings as well he could strum a banjo or ukulele.
Barker will be honored this week at the second annual Danny Barker Banjo & Guitar Festival. For four days, a who's-who of New Orleans music names are presenting panel discussions, meet and greets and of course, concerts; you can check the full schedule here. Note that the final grand finale takes place at Bullets on Jan 17 from 2-7pm; there's a pretty fantastic line-up of artists on tap, and tickets are only $10.
Needless to say, you should make an effort to catch at least some of the festival; it's not hyperbolic to say that the world's best assemblage of string jazz players is gathering for Barker Fest. And if you're wondering why everyone from Kermit Ruffins to Leroy Jones (both trumpet players) is honoring Barker, understand that while the man was a virtuoso on the strings, Barker was ever an advocate for the totality of New Orleans music traditions.
He helped form The Fairview Baptist Church Jazz Band, an institution that has been crucial in passing on jazz traditions to successive generations of the city's musicians. That band has evolved into the Dirty Dozen Brass Band, and some have gone as far to say that Danny Barker, who never met a string instrument he couldn't master, was the man responsible for preserving the New Orleans brass band tradition.
The 2nd Annual Danny Barker Banjo & Guitar Festival takes place across multiple venues from Jan 14-17. Tickets for events range from $10-25.
Image via Facebook.