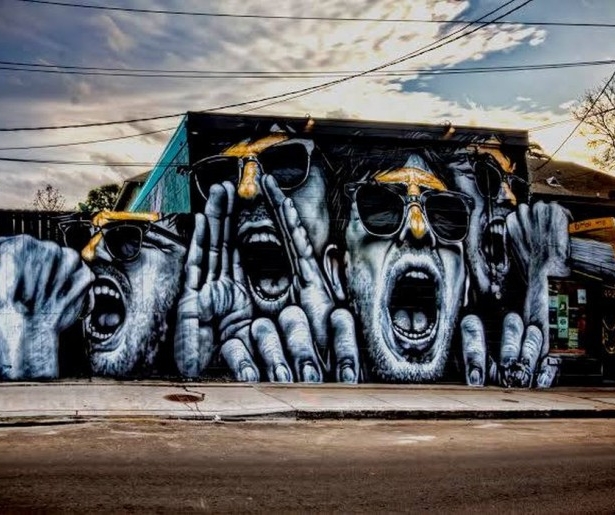 There has been on an ongoing, years-long musical debate between Amahl Abdul-Khaliq (aka AF the Naysayer) and fellow local electronic artist Quickie Mart (aka not the store from The Simpsons) over an important question: What is the electronic sound of New Orleans?
By the end of our interview, AF the Naysayer hasn't resolved the issue — though the artful electronic music showcase he has put together for January 14th (this evening) at Gasa Gasa (pictured above), titled, appropriately enough, The Electric Sound of New Orleans, sounds fresh and ripe with possibilities.
Here's a little breakdown of what's on tap, and who is defining electronic music in contemporary New Orleans. First, local artist Froyo Ma, whom AF considers, "the future of New Orleans electronic music." No Smoking Media said of Froyo Ma's EP pants that it "has everything from mellow clicky hip-hop verses to emphatically emotional instrumental synth arrangements." AF says, "[Froyo Ma's] music is just very soulful, with so much jazz and soul influence. He's still young and he's starting to mess with singing. He already played Buku Fest this past year."
Analog artist Oscillation Communication is one of the city's few electronic instrument repairman. "He repairs a lot of my stuff," says AF. "We met at the Merge Music when it was at Dragon's Den. His music now is a sort of homage to 90s to 2000s electronic music: it's very house music inspired, drum-n-bass influenced, it encompasses a very wide range of genres. It's impressive."
The electronic duo of Computa Games is a side project of musician/DJ Quickie Mart and his partner Chris Arenas, the bassist for Eric Lindell. Quickie describes Computa Games as a straight up "'80s boogie funk throwback." The pair's new 45 record, "Do Your Thing," is out now on the Austin Boogie Crew records.

AF the Naysayer says of his own stage name, "It comes from my punk rock roots. I consider a 'naysayer' to be someone who stands up for themselves whatever the consequences; you're speaking up for yourself, and you're saying no. My music comes from that energy. AF just stands Abstruse Function—it's like an organic math problem."
He moved to New Orleans around 2000, after attending college in Lake Charles. "I am originally from Los Angeles," he says, "But these days it's easier for me to identify being South Louisiana."
AF came up using the computer music program Frooty Loops, on which he still relies. "At first I was producing for a hip-hop group, Suggy Watts," AF recalls. "I used that as a way to just start playing shows. The music I was making for the rap group was very basic boom-bap style rap, like People Under the Stairs.
"From there it became a matter of me not hiding in front of a vocalist but just doing instrumental music in front of a crowd," he adds. These days, AF's music blends laid back, downtempo electronic hip-hop. He cites g-funk producer DJ Battlecat and video game composer Yuji Takenouchi as influences, which is apparent on his debut EP, the Autodidact Instrumentals Vol. 1.

For almost three years now, AF has also curated and hosted the Dolo Jazz Suite showcase, a recurring event that sits at an intersection of electronica, a bit of hip-hop, and New Orleans' most well-known musical product: jazz.
Af calls Dolo, "My brainchild. My baby. It's a producer showcase geared toward electronic music that's more jazz influenced. All original music, no DJs, just producers. We used to do it monthly in four different cities. Now we just do it at monthly house shows in New Orleans — it used to be in venues but we're just over that, we wanted it under our control."
With so few local venues for original electronic music, AF says the Dolo Jazz Suite had to grow beyond electro jazz: "It evolved into a night for people making music that don't have a home to play. A lot of people who make this music, I find, they tend to be more introverted and it's already hard going out and figuring out where to play if there's no home for you. A lot of people who play Dolo Jazz Suite, it's their first show, ever."
The Electronic Sound of New Orleans night at Gasa Gasa will feature an even broader variety of genres via and top-shelf electronic musicians. "This might be a one off show," says AF, who adds, "Or this might become a series."
The Electronic Sound of New Orleans goes off on January 14th, 9pm at Gasa Gasa, 4920 Freret St. Cover is $10.
Image courtesy of Gasa Gasa via Facebook.