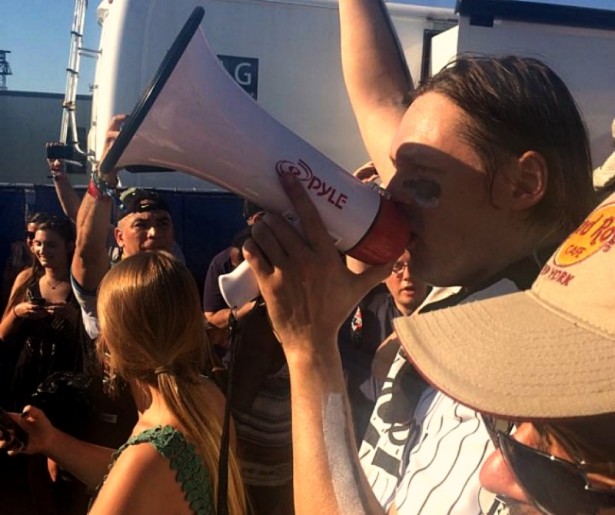 SHARE
Arcade Fire and The Preservation Hall Jazz Band will lead a second line in honor of David Bowie this weekend that will inevitably be smeared in stardust and glam.
The second line – if you're from out of town, that means a marching parade – rolls from Preservation Hall (726 St Peter St) at 4pm on Saturday, Jan 16. Arcade Fire was heavily influenced by Bowie, who passed away on Sunday, Jan 10, two days after his 69th birthday and the release of his acclaimed 26th album, Blackstar.
The band, which hails from Montreal, is recording their newest album in New Orleans. In a statement on Bowie's death, Arcade Fire said, "A true artist even in his passing, the world is more bright and mysterious because of him and we will continue to shout prayers into the atmosphere he created."
The band and Bowie famously collaborated on several projects together; most pertinently for New Orleans, money raised from the EP of their 2005 performance at Fashion Rocks was sent to Hurricane Katrina relief organizations.

Based off a quick glance at social media, roughly a billion people will be at the second line. Oh, we kid, but expect a big crowd. Costumes are certainly encouraged. If you'd prefer a second line sans Arcade Fire and the French Quarter, a 3pm Bowie send off will proceed from the 'Rusty Rainbow' bridge that leads into Crescent Park (at Piety & Chartres St) to 'The End of the World' at the very edge of the Bywater. This second line will likely attract the bohemian set from the St Roch/Bywater area; more information here.
Above image: Arcade Fire leading a second line at Jazz Fest. Photo by Bernard Fruge III.