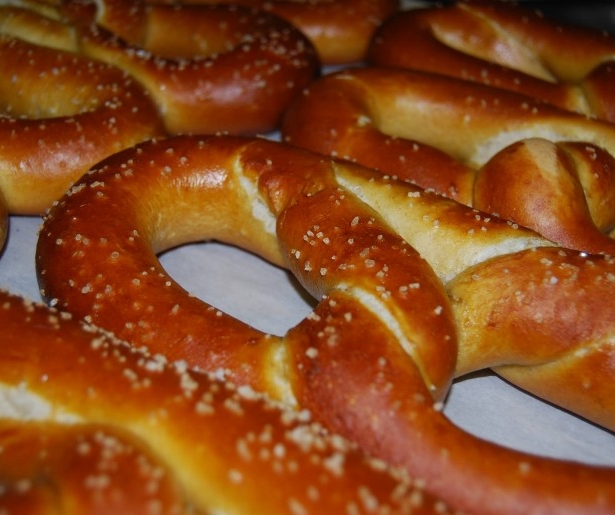 Gazing at his large, warehouse-esque business space, ASAP Pretzels co-owner Wayne Weidig tells a tale of bringing Bavaria to the Bywater.
"New Orleans isn't known for pretzels, so initially I had my doubts," says the New Orleans native. But for all those past concerns, today he is confident that, "we have the capacity to make more pretzels than anyone beneath the Mason Dixon line."
Weidig co-owns ASAP (that would be A Soft Awesome Pretzel) with Tom Rakocy, a Pennsylvania native who came to the Gulf Coast after Katrina to work in the construction and demolition industries. The two men met in Pennsylvania, where Wayne spent 25 years selling ingredients to major snack manufacturers like Utz and Cargill.
"I always knew I wanted to come back to New Orleans after I retired," says Weidig. "I met Tom at a Farmer's Market in Harrisburg and he pitched his idea to me. His passion made the business happen."
Rakocy spent a year looking for a space before settling on Piety Street in May 2014. ASAP Pretzels shares a building with Pizza Delicious (617 Piety St) – another Bywater startup with culinary offerings immigrants brought to the Northeast and later to the rest of the nation.
The Pennsylvania Dutch, also known as the Amish, brought soft Bavarian pretzels to Pennsylvania in the 19th century – continuing a baking tradition established in Germany centuries earlier. The pretzel belt developed from there – encompassing the Mid-Atlantic States where most pretzel aficionados reside. Pretzel mania never made it into the Deep South.
"Two companies, one in Texas and one in New Jersey, supply the majority of the pretzels in New Orleans. They're shipped frozen and baked here," says Weidig.
In a city known for its great German bakers, it's noteworthy that soft pretzels remain uncommon outside of concession stands. Liedenheimer baked using traditional German recipes early on, but became famous for French bread. Today many of the city's baguette bakers hail from Germany and Vietnam. Aside from an occasional pretzel during German American festivals and Oktoberfest, the delicacy never took hold. Weidig and Rakocy plan on changing that.
"Eighty percent of the people who come in want a traditional pretzel, served with mustard or beer cheese, and we offer both," says Weidig. "We also want to do more, though, and create dishes using our pretzel dough recipe that move beyond a traditional pretzel."
Being in the Bywater, where an eclectic set of residents actively seek out new and different foods, helps.
ASAP is open from 7am til 11pm, offering coffee and baked breakfast items in the morning like cinnamon pretzels as well as a variety of savory dishes throughout the day. Pretzel dogs, pretzel buns, pretzel po boys, pretzel bread bowls filled with red beans and rice. At Mirliton Festival, ASAP served an herbed flatbread topped with roasted vegetables, gulf shrimp, andouille, and mozzarella cheese.
"As a native, I want dishes that represent aspects of New Orleans cuisine. Tom appreciates that – but also stresses the beauty the original Bavarian pretzel," says Weidig. "We spent our first year in this space playing baker – testing recipes and shapes, like rods and figure eights, and figuring out what we wanted to do. We didn't perfect our recipe until we brought in Pablo. He had the expertise we needed."
Master baker Pablo Paz, a Guatemalan immigrant with decades of experience in pastries and breads, rounds out the team behind ASAP Pretzels. He hand twists almost every pretzel before it rests and bakes, and also brings part of his Guatemalan culinary heritage to the business with his flatbreads – which use the same dough base as the pretzels but feature fresh herbs, spices, garlic, and extra virgin olive oil.
And what about the pretzels? They're large – 7 inches in diameter and height, with a caramel colored, salt crusted, exterior. The design allows for a variety of textures – there's a delicious contrast between the slimmer, interior pieces and the larger, fluffier, outer rings.
Each pretzel comes with yellow and brown mustard – the yellow mustard's sweetness tones down the salt, while the coarse brown variety adds a slight spiciness. I like to use both. Other options like beer cheese or a chocolate dipping sauce provide additional flavor profiles.
In a city brimming with spice and flavor, this inauspicious baked good provides a sometimes needed simple respite. The pretzel is also an ode to our German immigrants, and the baking tradition for which they're famous.
"We're offering a traditional pretzel as well as other mainstays that connect to the region. We think that's the key," says Weidig.
Photo courtesy of ASAP Pretzels via Facebook.