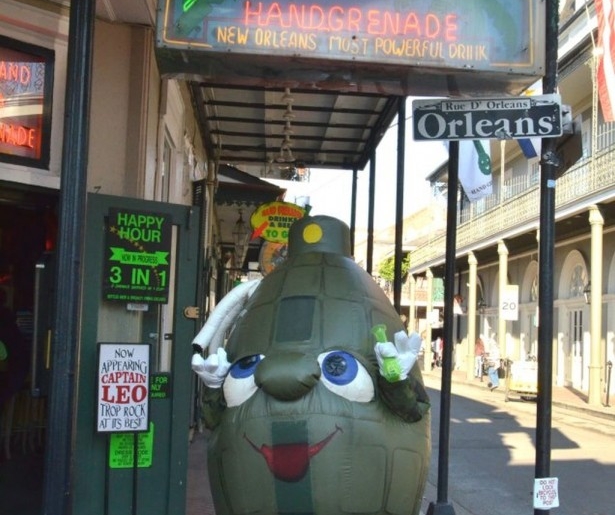 SHARE
That's the adorable Pam Fortner, of Tropical Isle fame – clutching her two poodles, for Cute's Sake – in a video on the origin of the Isle's signature drink: the Hand Grenade. Fortner, for the record, was comparing the confidential formula for Hand Grenades to the secret recipe for KFC. Apparently, the Hand Grenade mixture is now federally trademarked, because AMERICA.
In the course of the video, various happy customers provide their input on the Grenade's taste and alcohol qualities. Some gems:
"Melon flavored and strong."
"Midori, maybe some rum, maybe some vodka."
"It tastes like a Jolly Rancher."
All three descriptions are accurate, because at various stages, a Hand Grenade tastes like all of these things. When you first sip, you do in fact taste every variety of spirit ever because that's apparently what goes into one of these things. Then, as the Grenade works its magic, it tastes like candy. Then, your brain clouded by a veritable lake of alcohol (note: you have drank maybe 1/2 to 3/4 of the drink by now), the thing tastes vaguely melon flavored. Then it just tastes vague, and then it tastes like singing Love is a Battlefield at the Cat's Meow is a good idea rather than the picture in the dictionary next to the entry for Fiasco, and then it tastes like shame and the last, rum-sodden remnants of your dignity. But hey souvenir cups, right?
(Also, the staff at New Orleans & Me do not intend for that last paragraph to in any way be a dig at Tropical Isle or Hand Grenades. Those drinks were this author's introduction to the city way back when during freshman spring break, and while we may sip Sazeracs at Tonique these days, every now and then we have a Hand Grenade or three and enjoy the heck out of Bourbon Street).
Image courtesy of Tropical Isle