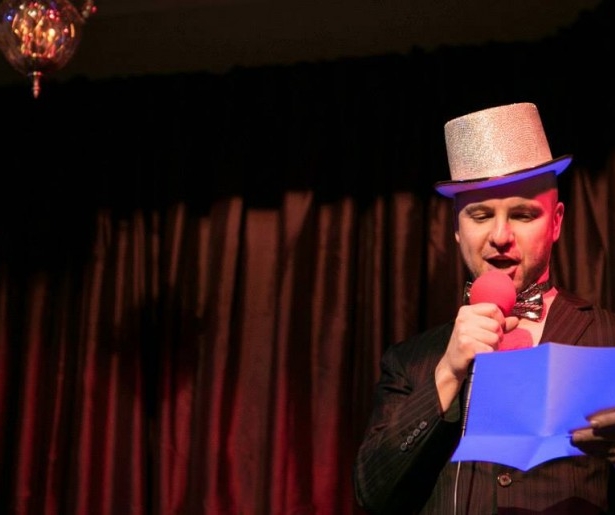 Among the many changes in our city in the years since Katrina, New Orleans has since become a mecca of comedy, from improvisation classes at the New Movement Theater, to traditional stand-up events seven nights a week. As a testament, ultra-popular comedians Louis CK and Hannibal Buress famously picked our newly comedy-rich environment to work out new material for their respective 2014 stand up specials.
But one of the more consistent and tenacious purveyors of open-mic comedy of late has been British ex-pat, author, travel journalist and comic, Paul Oswell, who began visiting New Orleans regularly starting in 2001 for work (and, full disclosure, has written for this website). "I finally moved here permanently in 2011," says Oswell. "Earlier in that same year I'd decided I had to do something that would scare me. So I decided to do a one-man show, 'An Englishman In New Orleans' at Fringe Festival. I figured that would terrify me."
At Byrdie's coffee shop on St Claude, Oswell did a six-show run as part of the original Fringe Fest's peripheral "Bring Your Own Venue" event. "I created a character, an exaggerated, upper-class Englishmen, the kind that doesn't exist anymore, like from the 1940s. The premise was he'd been stranded in New Orleans to do a sort of charm offensive after the BP oil spill, and he had to come to grips with the animosity toward Brits. It was a sort of self-deprecating cabaret piece with a strong standup element."
"Out of that, I started doing two or three more long form Fringe shows, and a couple at Mid-City Theatre," recalls Oswell. "I liked the freedom those gave me. And it was after that, about two and a half years ago, that I started going to open-mic comedy events."
Since most of the best open-mic comedy nights happen on weekdays (in bars, since New Orleans still lacks a proper comedy club), Oswell says he had a hard time making it out to a lot of them. "And there was nothing happening at the time on a Saturday, which is the day I wanted to go up," he says, admitting, "I also couldn't get booked on many shows either, because I wasn't well known. So, starting my own comedy night seemed like a good way to get booked."
The result was Oswell's Local Uproar night, which will turn three years old this May. "Comedian Tory Gordon was interested in starting it with me, and AllWays Lounge had nothing going on from seven to nine o'clock on Saturday nights, so they were totally open to it," says Oswell. "Tory and I alternated hosting duties and promotion so we wouldn't get burnt out—being part of a team really helped us get through a tough first year—until Tory quit doing standup for whatever reason, and Benjamin Hoffman came on board and split duties with me." Oswell and Hoffman have co-managed Local Uproar ever since.
Local Uproar has always taken a different approach. The weekly event is sponsored by New Orleans Ice Cream Company, meaning free ice cream for attendees and participants—along with the free curry and other food Oswell himself cooks and brings to the show.
The event has also evolved as its grown in popularity. "It used to be a just an open-mic, and then we started having a 15-minute headline act, which no one else in town was really doing. By now we've changed it to be a booked open-mic—meaning almost any comic can sign up, but they have to let us know in advance.
"Comics seem to like the way we run things," he continues. "We get a lot of compliments on how we run the nights. As a result, in the last year, we've started to get bigger names coming through like Ted Alexandro, Louis Katz—they were both touring and they approached us."
To fill the demand, Oswell and Benjamin have recently begun hosting a second comedy event each Thursday at Sidney's Saloon, called Night Church.
"Thursday is just a booked show with five or six featured comics," Oswell stipulates. "A lot of regulars come to both nights. We call it Night Church because all of Sydney's seats are church pews.
"We've come to be a good and vital part of a vibrant comedy scene where there are a lot of good open-mics," Oswell says proudly. "Some of them have been around longer, and the attract bigger names. But Local Uproar is definitely a respected element now."
Image of Paul Oswell courtesy of Facebook