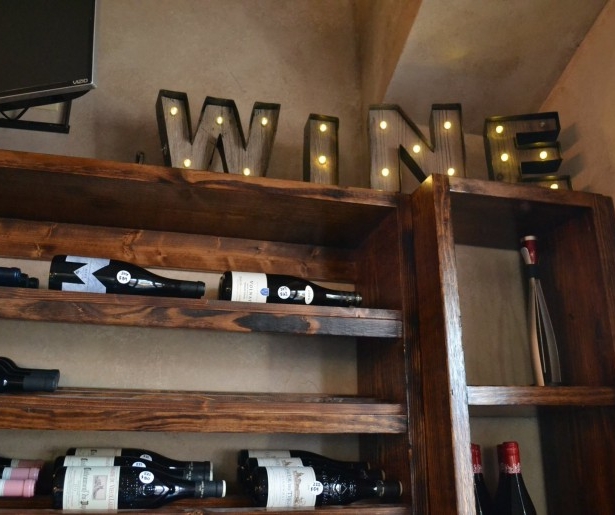 If the city of New Orleans sat down for a game of cards with other big name food and beverage metropolises like New York and San Francisco, her hand just got a little better as a new bar expands the wine on tap scene in the Crescent City. Enter (this Saturday!) the highly anticipated Bayou Wine Garden.
Husband and wife duo David and Virginia Demarest, partnering with Dean Disalvo and Fiona Delargy, co-owners of the popular Bayou Beer Garden, plan to bring a neighborhood wine bar and kitchen to Mid-City.
Bayou Wine Garden adds the first full wine on tap bar in New Orleans. Part old world deli and part neighborhood wine bar, the odds are in favor of both a bustling lunch crowd as well as a friendly, intimate nighttime scene – Bayou Wine Garden, appropriately enough, will share a patio with Bayou Beer Garden.
Whether on tap wine is a mere passing trend or a sensible green option that is here to stay is still to be seen, but the team at the Wine Garden is putting it all on the table with an array of house made cured meats, imported cheese led by Chef Virginia Demarest, and an innovative craft cocktail menu to fill the gap in the well-established, vibrant neighborhood restaurant and bar culture of Mid-City.
"Mid-City needed a wine bar," says David Demarest. "With wine on tap on the upswing and many wineries starting to keg their wine, it seemed like a natural growth for the neighborhood."
Bayou Wine Garden mirrors the current set up at Bayou Beer Garden with a robust selection of drinks on tap, including a selection of 24 wines served by the glass or carafe by way of kegged wine, as well as over 100 traditionally bottled vintages.
"The space has an old world deli type style," explains Demarest, "My wife has been a chef for many years and is a huge fan of charcuterie and butchery."
The aesthetic will be rustic industrial, catering to both dine-in and take away deli crowds..
"Mid-City is run by bars with a family aspect, you can really get fed," says David. "At the Wine Garden, you can come and enjoy a fantastic meal, or, you can walk out with a half a pound of coppa."
Maintaining the casual vibe of Bayou Beer Garden, Bayou Wine Garden will feature counter ordering with food delivered to tables by a number system.
"The best part," says David, "is that if your friend or significant other is craving a burger and a beer, Bayou Wine Garden and Bayou Beer Garden have a joined patio and patrons are invited to mix with each other so everyone is happy."
There you go. If you dearly want a glass of wine and a plate of cheese, your significant other doesn't need to stealthily check the score of the game on their mobile. Just pop next store and everything is copacetic.
Seasoned veterans Brian Bonner and Paige Chauvin are managing the wine and cocktail programs respectively. The rotation of both old and new world style wines promises an opportunity for established winos and novices to taste their way through a variety of styles poured fresh from a keg, one that insures freshness and allows for more by the glass options.
"The cocktail program is going to be more along the craft style, but very approachable for the Mid-City clientele," says Chauvin, "Basically what that means is we will have a nerdy side that isn't off-putting."
Think absinthe, but different brands and different styles, many of which those who don't have annual wrist bands to Tales of the Cocktail have neither seen nor heard of.
"Some of the absinthe will be aged in port wine barrels," explains Chauvin, "That adds a unique flavor that a lot of people haven't had but should definitely try."
Barrel aged cocktails will rotate seasonally, starting with the ever-popular Manhattan, featuring vermouth made by hand at Bayou Wine Garden. Also keep an eye out for their take on a margarita, which will feature a sherry syrup instead of the traditional agave as a sweetening agent, thus continuing the wine theme present in the cocktail selection.
The team at Bayou Wine Garden plans a weekday happy hour, from Monday through Thursday, so as not to compete with the Friday-Sunday crawfish boils at Bayou Beer Garden. Happy Hour features raw oysters and a selection of mignonettes, a $5 sandwich as well as drink specials. Live music in the courtyard rounds out their offerings.
Image courtesy of Bayou Wine Garden on Facebook. Bayou Wine Garden opens on Saturday, Jan 23, at 315 N Rendon St._