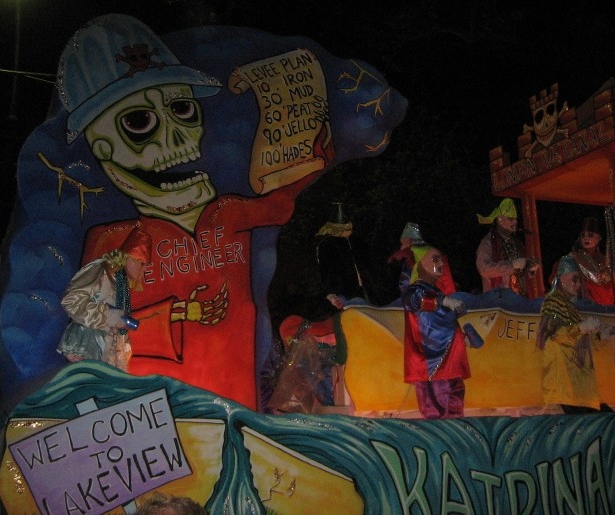 Mardi Gras season is here. The fun couldn't happen without the thousands of men and women who ride in the parades. It's a thrilling experience, albeit one that comes with a physical toll and a financial cost. But when the ride's over, many are eager for it to begin again the following year.
How long of a day/night is it for you?
Moe Regnier (Nyx) It's about a 13-14 hour day…The pre-party starts around noon or 1…The longest part of the day is when all the floats are lined up waiting to roll. You aren't allowed to get off the float or do anything really, so the trick is having something to do while waiting (4-5 hours).
Seth Bosworth (Thoth) It normally starts around 7am. A few people typically meet at my house and we will consume some "breakfast" beverages. Around 7:30, a crew member will show up in his pickup truck and we will pile in construction crew-style…We get in our costumes around 8.
We are at the floats by roughly 10:30 but the parade does not start until noon, if it starts on time. Also, my float is one of the last floats…and Thoth is one of the longest parades. That means the float does not actually get moving until maybe 2, sometimes as late as 3. Depending on weather, the parade itself can take anywhere between 2.5-3.5 hours.
Renee Lindsey (Iris) I show up around 9am and finish probably around 2pm
Brandy Lane Gilly (Muses) Our float has a brunch together to get ready and pumped up for the ride. Then at 2, the CAC opens a pre-party just for riders…We've had very quick rides and we've also gotten off the float after midnight, almost completely missing the after-party.
Joe McManus (Endymion) To start the day, you have to pick up your costume from the [Super]dome. I get there between 9:30-10:30am…I'll get lunch with my family, then head out to the route at about 2pm…
Depending on stops and breakdowns, the ride can last about 5-6 hours. Once you get to the end, there can be a long wait. It is like a presentation line into the Dome. They stop each float, then they announce it, then you go in…I'll stay (at the extravaganza) until 1 or 2. So, from start to finish, getting on the float, then going home, it's about 11 hours.
How challenging is it physically? Are you sore after?
Lindsey Not really sore from throwing, but I'm most bruised from hitting the float from losing my balance and hitting the safety belt hook.
Bosworth My head is pretty sore for a couple of days after.
Lane Gilly I am pretty sore after. You are standing for hours and throwing constantly…I also try and throw to the balconies as hard as I can. I am usually unsuccessful; it's harder than you think.
McManus My legs are usually ready to fall off by the end of the night.
What's the most fun part of the experience for you?
Mcmanus Seeing friends and family. It's always crazy to hear a large group of people chanting your name.
Lane Gilly It's pretty exhilarating when you turn on to Magazine and see the crowds…You see a sign with your name or your friends and family screaming for you. You are a rock star for an evening.
Regnier Seeing the faces of everyone – they're all so excited!
Have crowd members ever done anything dangerous?
McManus People do constantly try to reach over on to the float and grab stuff. The sad thing is, it is mostly grown men.
Bosworth Not really. At most, people sitting on someone's shoulders will try and steal stuff. So the dangerous part is me throwing a squishy football at him/her from point blank range.
What's the biggest misconception you hear about the riding experience from those who haven't done it?
Regnier Boobs! I don't think I've ever seen anyone flashing on a parade route…The parades are so family-friendly and fun – it's an extended tailgating experience with crazy awesome music and gorgeous floats.
McManus Flashing for beads. It doesn't happen as often as you think.
What's the craziest thing you've ever witnessed from a float?
Regnier I wouldn't necessarily call it crazy…but a gentleman brought me a Bailey's and hot chocolate while our parade was stopped past Henry's!
Lindsey A man dropped his pants for some beads.
Bosworth Witnessing the bruise on my float lieutenant's rear end after he fell from the top of the float to the bottom level.
Do you need a day or two to recover from parades after? Are you able to go to parades again the next night or later that day?
Bosworth As far as I'm concerned, as soon as I step off the float, Mardi Gras is over.
McManus I sleep a couple of hours, and wake up early to head Uptown for Thoth Sunday. I'm still sore, but I get going because it is my favorite time of the year.
Lindsey I go to the Endymion ball that night or the parade.
Why is it so important to you to fly to New Orleans to participate?
Regnier (a Minnesota resident) It (riding) was definitely one of the top ten experiences of my life…I made the decision not to ride in 2015 due to financial reasons, and I was so sad I wasn't a part of it…So I signed up for the waiting list again and was so happy to be accepted…I swore I'd never miss it again. I'm counting the days until we ride this year.
Image courtesy of Wikipedia.