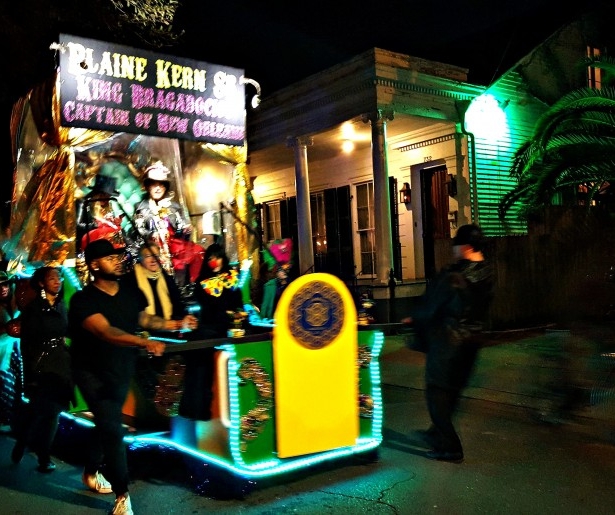 SHARE
This weekend's big event was the Krewe du Vieux parade, otherwise known as the march of papier maiche phallic satirical floats. Traditionally, Krewe du Vieux has assumed the role of High Jester of carnival, satirizing the powerful from business owners to government members, both local and federal.
It can be a fun parade, but it's also infamously raunchy. I'm the last person people would describe as a prudish pearl clutcher, but I also think the KDV approach to satire – basically, put a phallus on it – often leaves me shrugging my shoulders. Plus, I appreciate that there are parents who don't necessarily want to bring their kids to the show, although in my experience, younger children don't really get what's going on and older kids are usually just bored (my take away is people start 'getting' Krewe du Vieux when they're adolescent).
On the other hand, this year I gained a real appreciation for krewedelusion, which rolls right after Krewe du Vieux. Instead of trying to shock with genitals, delusion brings a panoply of New Orleans weird: light up noise machines, James Brown dance teams, lots of neon, costumes that mix up everything from Beetlejuice to the French Revolution and a general sense of playfulness. Everything is family friendly, yet also delightfully, ineffably idiosyncratic, in a very Only-New-Orleans way. The parade was satirical, smart and exceedingly clever, but it was also a straight up celebration of a lot of individual quirks, united by a shared sense of ritual and community.
Right; I've probably waxed rhapsodic about krewedelusion enough. Below is a clip of their parade. Enjoy, and happy Mardi Gras.