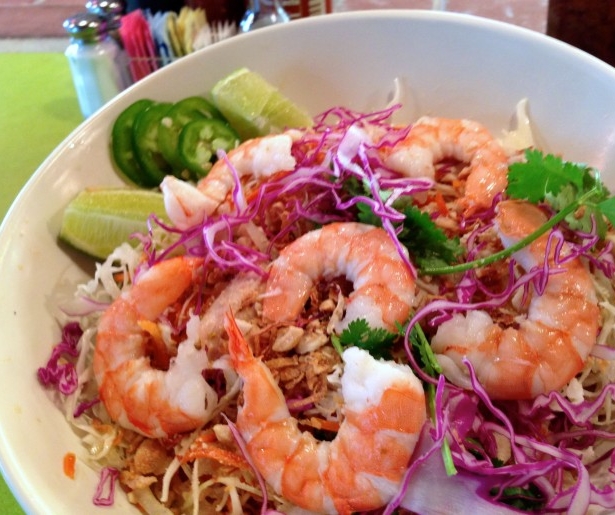 SHARE
With the summer solstice just past, blessed sunset is arriving earlier and earlier each day.
While the sun shines, though, it's way too hot to turn on the stove. It's salad season.
For me, the perfect salad is built around a vine-ripened tomato and a deviled egg. It's good to mix things up, though, so I've been prowling New Orleans for lunches that are not too hot, not too heavy, but substantial enough to carry you through until it's safe to fire up the grill.
The menu description of the jerk shrimp and mango salad at Juan's Flying Burrito lists "black bean quesadilla strips" last, but they were No. 1 in my appreciation of the dish. The quesadilla strips are good to dip in the chile-lime vinaigrette served on the side, or to balance the spice of the jerk shrimp morsels. And the four-strip portion is generous, comparable to the size of a basic sliced-bread sandwich.
The jerk shrimp and mango salad is built on a bed of spinach, a green that is more chewy than crunchy, so I wished for more crisp cucumber in my portion and was glad we ordered chips for the table. Overall, I got exciting flavors and a filling meal for $8.50.
In contrast, the pork, shrimp and veggie salad at the Pho Bistreaux is super-crunchy, built on a mound of fine shreds of cabbage and carrot so delicately thin that I spun my fork in them like angel hair pasta. The portion of meat doesn't look like much, but somehow there's enough chew to balance the crunch. Cilantro and peanuts are sprinkled on top, and a little cup of nuoc cham on the side serves as dressing.
I was delighted by the motherly management at Pho Bistreaux. A visitor behind the counter was greeted with a hug, and when a staff member noticed blood on my arm (from a mosquito bite I had idly scratched), she delivered a moist paper napkin, a tube of Neosporin and a Band-Aid. Even mamas like to be mothered sometimes!
Pho Bistreaux is at 1200 St. Carrollton Ave., on the corner with Oak. It is closed from 3 p.m. to 5 p.m. daily, on Sunday evenings, and on Mondays. The pork, shrimp and veggie salad was $8; sodas and tea are $2.50 with free refills.
For a kicked-up basic salad, consider the house salad at Katie's in Mid-City, at 3701 Iberville St. The greens are topped with the expected tomato, cucumber, onion and grated cheese. Then they add a dollop of their house-made olive salad. Dressings are house-made, too. I ordered an addition of fried chicken, which was so hot it melted the cheese it rested upon. The chicken was moist and delicious, in strips whose odd shapes proclaimed they were not a freezer product. The croutons were made of puffy poboy bread. The salad was a little pricier: $8.95, plus $4 for the chicken. That, plus $2.95 for a Diet Coke, made for a lunch that cost a bit more than I had expected.
Probably the oddest salad I ran across was at the Mellow Mushroom at 8227 Oak St., which has a "High on Thai" promotion. The quantities of "house-pickled red cabbage and onions" and cilantro in the Big Buddha Salad were too small to make much difference, especially in the face of the in-your-face spicy chipotle lime dressing. The creamy dressing was deliciously fiery, but exactly how is chipotle Thai?
So that left a routine salad of greens, tomatoes and shredded cheddar, plus alfalfa sprouts and sliced avocado. Thai recipes are more likely to use the heftier mung bean sprouts than grassy alfalfa sprouts; and avocados, native to central Mexico, are only a recent addition to Thai markets. Oh, and the salad was served with pita chips; delicious, but in no way Thai. My companion got a "Thai Mi Up" sandwich that was basically a Vietnamese bahn mi. Geography lessons seem to be called for.
The Big Buddha Salad cost $7.49, and adding chicken would have cost an eye-popping $4.95, so I passed on that. Instead, I spent the $5 on an order of fresh-made pretzels, which were an absolute treat, especially dipped in the chipotle dressing. So, I went looking for salad and left raving about pretzels, a nice reminder of the tasty rewards of keeping an open mind.