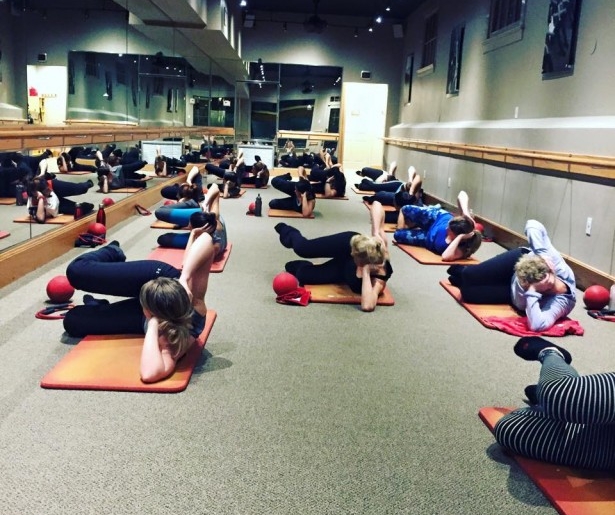 Unless you've been busy exploring the 9th planet, you are probably aware that it is Carnival. This year, on the coat tails of the Christmas season, marks a particularly hard time for New Orleanians to tone up as the flow of King Cakes closely follows the onslaught of holiday cookies.
With Twelfth Night now in the past, you might be looking down at your waistband and wondering, "How am I going to fit into my questionably glued (or expertly sewed) Mardi Gras creation?"
It isn't your fault. Multiple accounts of the caloric intake of one slice of King Cake mark each at about 240 calories, but anyone who ever free-poured a bowl of cereal and then compared that to a measured "one serving" as denoted by the box, knows that the pithy amount in the measured bowl is decidedly not what one eats when they sit down for a bowl of cereal. W
ith this logic in mind, let us agree to "one slice" of King Cake rounding out at about 400 calories, give or take. Less if you are the kind to take just a sliver. If you go for seconds, the math is on you.
Josh Pate, personal trainer and health professional/consultant at New Orleans Athletic Club advocates for high intensity interval training for fast results. If you are new to fitness, Pate explains interval training as a series of exercises in a circuit where each station is designed to spike your heart rate significantly, followed by a brief period of rest, before moving on to the next exercise.
"You can get a lot done in a short amount of time," says Pate.
His other pro-tip: watch what you eat. An apple a day may keep the doctor away but apparently, an apple at night is the Worst Thing Ever. (Aside from another slice of King Cake.) "Never at night," says Pate (about apples) "They are great for a mid-afternoon snack or right before a workout for a boost of carbs and glucose."
Why? Because in order for your body to burn fat at night while maintaining muscle, avoid the carbohydrates in the evening. Josh goes for a carrot at night. (He is very fit.)
Bananas get a bad rep. but they are full of potassium and are great for post-workout to balance your bodily functions.
"You've got to be mentally prepared for a workout," says Pate, "Most people have a hard time pushing themselves to the limit…especially with all of the distractions and social commitments." (Read: Drinking, watching football or blowing off your workout to meet friends for happy hour.)
If you don't have the time or finances to book a training session with Josh, here are a few other ways to burn off some of that holiday fluff:
Climb to New Heights Last spring, the New Orleans community welcomed New Orleans Boulder Lounge (1746 Tchoupitoulas St) to the scene with 2,500 square feet of climbing space and a mutli-use fitness center including $8 drop-in yoga classes. About an hour of climbing burns over 400 calories.
Hit up a Cycle Class Tour Cycle Studio Nola (860 Tchoupitoulas St) brings the first indoor, purely cycle studio to the crescent city; sessions burn between 400-600 calories for a full-body tone. Group classes include theme rides along with the usual bumping tunes.
Dance Like no one is watching. Groove in you house, at a show, or hop over to a second line. All you've got to do is move. Aerobic dancing cuts around 420 calories per hour so get your booty shaking in all the right places.
Take a Walk Don't say yawn. Walking is the easiest thing to incorporate into your day. Take a walk in the park, with your kids or the dog. Head out to the parade are make it a point to always take the stairs. You can even pace around your office. Whatever gets you going because at a standard speed you burn around 415 calories per hour.
Boot Camp Early birds, Salire Fitness Boot Camp in City Park is an hour you won't forget. Rise with the sun and feel the burn. Sessions daily.
Go for a Run An hours jog will cut around 400 calories per hour, more if your speed is closer to a run. Great for a solo activity or with friends. Looking for a team atmosphere? Happy's Running Club meets every Wednesday, rain or shine, at Happy's Irish Pub on Pydras. Membership is $35.
Rearrange your Living Space (Okay, to really achieve success you probably have to do a warm up – don't want to get hurt. And possibly move the couch more than once, but a change of space is both good for you mind and your body. An hour of manual labor will cut between 300-400 calories.
Barre You know, the other kind of bar. With studios like Pure Barre (3923 Magazine St. and 701 Metairie Rd) you can lift, tone and burn your way to lighter bottoms and thinner wastes. Research shows an hour at that barre burns around 500 calories. New cardio classes coming soon so stay tuned.
Yoga There are a ton of great yoga studios in the New Orleans area but at Higher Power NOLA (514 City Park Ave) owner Mark Berger shows you that it is possible to balance social lives and wellness with YAThletic Yoga – Monday nights at 6:45 p.m. Killer jams back up an hour an 15 minutes of yoga designed to build stamina and strength to bring out the athlete in all of us.
Image courtesy of Pure Barre New Orleans via Facebook.