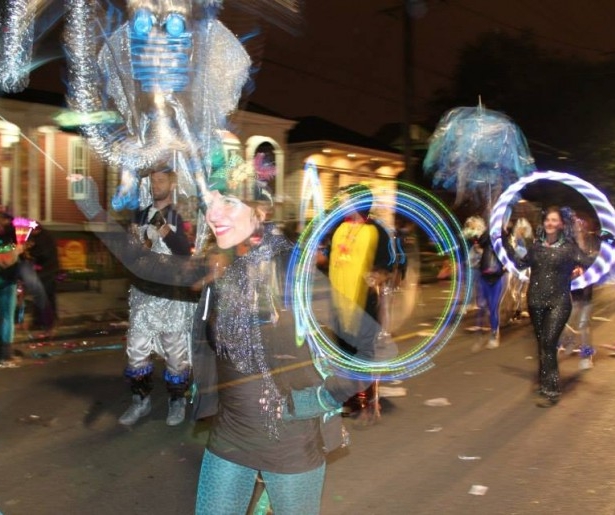 SHARE
For visitors who are new to carnival season in New Orleans, there are some expected elements of the season: double decker floats, throws, brass bands, a general sense of spectacle.
One element that folks tend to not expect are dance teams. The original marching dance troupes were often associated with local high schools, colleges and dance studios, and marched the parade routes in handsome, if not terribly flashy, uniforms. But in recent years, a new sort of dance team has taken to the Mardi Gras street.
These groups are often formed from networks of friends. They perform their dances almost non-stop along as much as some six miles of parade route, and they do so in costumes that are veritable explosions of glitter, sequins, and neon accouterments. While the dance crews are always a big hit with all ages on the parade routes, families included, their names are often sneaky innuendos – see, the Bearded Oysters (among others).
Below is video of the Star-Steppin' Cosmonaughties, the dance team of Krewe de Lune, a local walking krewe. The Cosmonaughties are known for tight arrangements and eye-catching dance moves, and march with revelers who bring enormous DIY art projects (pictured above) onto the local parade routes.

Photo courtesy of Krewe de Lune via Facebook.