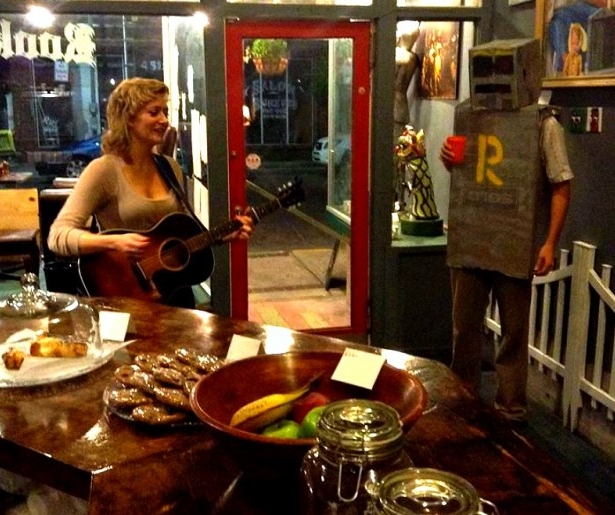 SHARE
The city of New Orleans has always caffeinated itself well; our Franco-Caribbean heritage lends itself to a love of good coffee. This is also a city of creatives and creative culture, and where said culture and coffee intersect, therein you will find the coffee shops were about to describe: those spots where you can sit down, pop open a notebook (or, let's be honest, a laptop), and get some work done. Or at least do enough mindless YouTube-ing that you feel guilty and then subsequently get some work done.
Z'otz
8210 Oak St
The most aggressively collegiate of the coffee shops we review, Z'otz feels like it was plucked out of an early '90s indie romantic comedy set somewhere in Seattle or San Francisco, then plucked into New Orleans. There's the requisite squishy couches and odd bric-a-brac and random art on the walls, plus pierced and tattooed barista staff. Prepare to rub elbows with an enormous chunk of the Tulane and Loyola campus population.'
Fair Grinds
3133 Ponce De Leon St
It can admittedly be tough to find an wall outlet at Fair Grinds, so if you're planning on being on your laptop for awhile, take note. Then again, being on a laptop for that long is a bit of an abuse of the unwritten rules of coffee shop patronage (my two cents: order something for every hour you're working). Anyways Fair Grinds is super cute, the owners are lovely, and it's located just off Esplanade in one of the most attractive parts of the city. My personal opinion is the St Claude location isn't as computer-work friendly, but it's still an awesome space, more oriented towards activism and art creation.
Orange Couch
2339 Royal St
This spare, minimalist cafe is nonetheless populated with warm, inviting staff. The coffee is made with care and attention, and the menu is more creative than your average espresso outpost; mochi ice cream sits aside a delicate, moist tea bread that makes for a fairly perfect light lunch.
Rue De La Course
1140 S Carrollton Ave
Rue is another Lo-lane (Loyola/Tulane) favorite, but the vibe isn't nearly so college bohemian. Where many of the cafes we describe are cozy and intimate to the point of being a little stuff, Rue is spacious, with high ceilings and big windows; it's like a cafe cathedral (Caf-edral? Maybe that's enough portmanteau for the day). The classic music that is often at blast is excellent; this may not be Central Perk a la Friends, but I find I can actually get some work done here.
Who Dat Coffee Cafe
2401 Burgundy St
There's not a ton of space to get work done in this little Marigny cafe, but if you can score a comfy seat in the little alcove room, you've got one of the best little workspaces in New Orleans (or if you're in a group, an excellent spot for a caffeine-fueled discussion). Bonus: the attached restaurant is pretty excellent; try the corn cakes.
Cafe Luna
802 Nashville Ave
Luna really sits at the center of an excellent cafe Venn diagram. You feel like you're sitting in someone's living room, but the space is also airy and well lit. I've never felt too crowded here; this is a perfect spot to read a chapter of a book or a section of the newspaper while sipping whatever. This place feels deliciously old school Uptown, all shady live oaks and intelligent conversation; it's hard not to love.
HiVolt Coffee
1829 Sophie Wright Pl
There's a case to be made that HiVolt is the most self-consciously contemporary cafe reviewed here. It's less bohemian basement, more modernist space enlivened by metallic furniture and chrome accents. Whatever else it is, HiVolt has some seriously excellent baked goods, and the coffee is excellent.
Flora Gallery & Cafe
2600 Royal St
Honestly, the food and coffee here is fine at best. That said, the atmosphere can't be beat. The overgrown lushness of the outside trees, fading paint and cracked walls are like the Platonic ideal of the sort of space where you'd expect to find a struggling musician or writer.
Rook Cafe
4516 Freret St
It's hard not to love the Rook. Besides the requisite good coffee and food, this spot, as evidenced by it's chess-referencing name, provides customers with board games and an enormous library – just the means to pass the time while sipping away that does not involve mindlessly banging away on your laptop. Along with a well-stocked library, the Rook's wide catalog of analogue distraction in a digital age is, as it turns out, an excellent means of getting your creative juices flowing.
Image of the Rook Cafe courtesy of Facebook.