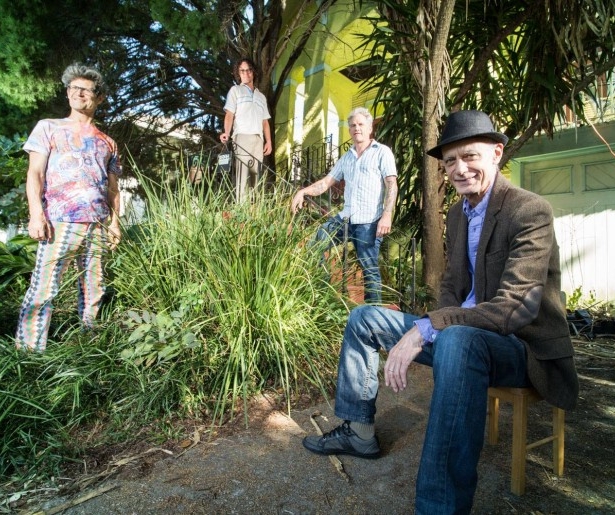 Most weeks, music fans can catch the members of new progressive jazz group Nolatet playing with any number of different bands throughout New Orleans. So busy are Johnny Vidacovich (drums), James Singleton (bass), Mike Dillon (vibes and percussion) and Brian Haas (piano) that their new supergroup has only played as a live unit for a small handful of shows so far — though that's about to change.
"'Dogs,' I have only played it four times!" laughs Singleton, referring to the title track of Nolatet's upcoming first album. Dogs, out February 26 via Royal Potato Family, was recorded last year at New Orleans' Esplanade Studios, just after the band played their first five shows together. Loosely reading musical charts of the "songs" while playing them, the group recorded the album in one day.

"Those recordings are all first or second takes," says Singleton. "There is something magical about documenting the first reading of a tune."
But Nolatet's members have all performed with one another around town and around the world for the past 20 years or more. Johnny Vidacovich boasts a resume that begins with backing legends like Professor Longhair and James Booker. He and Singleton have colluded as a rhythm section since 1977 and still perform together regularly in the jazz quartet Astral Project, originally founded with vocalist Bobby McFerrin in 1978.
Tattooed wildman Mike Dillon lends his vibes and percussion to Garage-A-Trois, Primus, Critters Buggin, as well as his own original jazz-punk band. "Dillon is a working punk rock bandleader," boasts Singleton, "just badass [pure] punk rock."
Pianist Brian Haas is best known for blending jazz, rock, and funk in the Jacob Fred Jazz Odyssey (JFJO). "[JFJO] doesn't really sound like jazz," laughs Singleton. "So between Haas and Dillon, those two are genre defiers — which, so are me and Johnny, but we also come from an older tradition."
Nolatet allows the individual personalities of its members to stand out: Singleton, who likes his jazz to rock, throws some distortion on his stand-up bass, while the usually hyper Mike Dillon shows off his classy jazz chops on the vibraphone. Johnny Vidacovich here sounds like he invented jazz drumming, while Haas provides many of the songs' lead melodies, in the form of rhythmic chords, or wild runs so ecstatic they trip over themselves.
Singleton credits Haas for bringing Nolatet together. "Me, Mike and Johnny had a band called DVS. Haas heard it," Singleton recalls, "and he had the budget and backers to record an album. Brian was very insistent this was a band, and that we would make a record and do something."
While known for their improvisation skills, the four members of Nolatet approached this new group via composition. "We are all composers in this group so we always start with the song," Singleton says. "I enjoy playing with people who have respect or real reverence for songwriting – or maybe they have the opposite of that. They tear the tunes apart and put them back together — what Vidacovich calls 'decomposing' the tunes."
Throughout March and April Nolatet will tour, something Singleton has avoided for a long time. "I am a 60 year old father of a 7-year-old, what am I going on the road for?" he wonders. "New Orleans is very special; I have a made a living and haven't had to be a road rat. I like to be able to drive 10 minutes to make my money and then go home to my house."
But lately Singleton has softened to the idea of touring while traveling outside of Louisiana to play shows every couple months with Galactic's drummer, Stanton Moore. "Stanton has taken us to Paris, Japan, New York. It's the most touring I have ever done. And now Haas has got us out all of March and most of April. This first time, I'll see what it is about, see what sacrifices will be made…and make some decisions."
Singleton says that what Nolatet have recorded so far, just as they have begun playing together, represents the iceberg's tip. "The gigs we played after we did the recording blew my mind," Singleton says. "The shows coming up are going to be amazing."
Image courtesy of Nolatet Facebook.