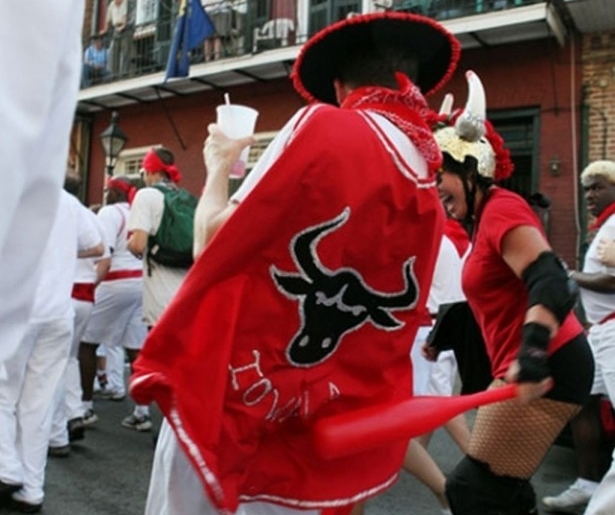 SHARE
It's a weekend for celebrating the Old World in the most European city in America.
This Saturday, head to Spain – albeit Spain put through our fair city's weird and wild ringer – at El Encierro, the New Orleans Running of the Bulls. Whereas in Pamplona, Spain, young men are chased by actual bovines and run the risk of getting gored, trampled and otherwise receiving general grievous bodily harm, here the 'bull's are the Big Easy Rollergirls (with horns, natch). They'll whack you on the butt with a plastic bat, but otherwise the big risk is getting tanked, as there is, of course, a huge after party for the event, which kicks off at the Sugar Mill bright and early. Anyone can show up and run, but you need to come dressed all in white and wear a red cloth around your neck and waist.
A procession will begin at the Sugar Mill (1021 Convention Center Boulevard)at 7:15am; the race starts at 8am. To attend the party you need to register at the Encierro website.
The event is part of San Fermin in Nueva Orleans, which celebrates Spanish culture throughout the weekend; don't miss the big El Txupinazo party tonight (flamenco! Sangria!), the Fiesta de Pantalones (pants party) at Maison on Saturday (4pm til whenever you drop) and Pobre de mi, also at Maison, also at 4pm, on Sunday. That last event includes the 4th Annual Ernest Hemingway Celebration & Talent Contest (put on in collaboration with the Tennessee Williams Literary Festival); expect readings, skits and a Hemingway look-alike contest.
It's also Bastille Day, otherwise known as French National Day, in the most French city in the country. There's a lot going on all weekend in celebration of the holiday.
On Saturday
On Sunday
French cooking demonstrations at the French Market on Sunday, from 11am-3pm
A food truck rally at 4pm at Washington Square Park next to Frenchman St.
And the French Quarter Bartenders and Waiters Race at the French Market, from 4-5pm.
And finally, outside the realm of European holidays – hooray for reading! The Hubbell Library is reopening this weekend in Algiers. The Hubbell, built in 1907, has been through some major repairs and renovations, but it is officially throwing its doors back open at its old location, 725 Pelican Ave. There will be a family friendly party from 10am-5pm, with puppets, story time and Poppy Tooker of Louisiana Eats!.
Images courtesy of nolabulls.com and French Quarter Inns