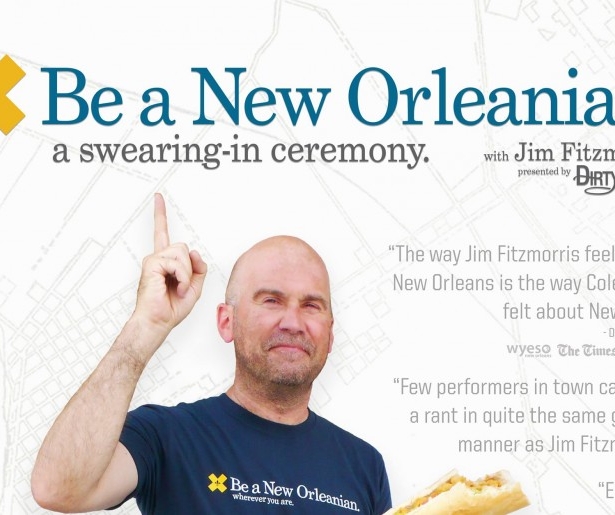 Jim Fitzmorris can talk. He can rattle off a witty litany of modifier-filled, freakily specific sentences. He uses words like "exegesis" and "apostasy." He can answer a quick question with a five-minute intertextual response, mixing literary and theological references with curse words. Fitzmorris can deliver a hell of a monologue, but he's equally gifted in actual discourse.
Fitzmorris, as a subject, is also the type of person who makes a writer double-check usage and origin of the words "litany" and "discourse."
In Be A New Orleanian: A Swearing-In Ceremony, on stage this month at the Theatre at St. Claude, Fitzmorris sets his considerable talents on answering the question: What does it mean to be a New Orleanian, and perhaps more importantly, how do we decide who gets to be one?
Fitzmorris actually cleverly eludes the second part of that question, because at the end of each performance of his one-man show, he – as the title indicates – swears in the audience as citizens of New Orleans, enshrined with the rights and responsibilities involved therewith.
Fitzmorris almost takes a God-like role in the production – after all, he's the one issuing the commandments (to be fair, he calls them "tips") and, since he's the one swearing people in, he acts as the final arbiter of who gets to be a citizen of the city. But Fitzmorris is holding open the door for so-called New New Orleanians.
"Be careful about who you decide who is and who isn't" a true New Orleanian, he says. "And so my big joke is, raise your right hand, you're all in. It's kind of putting an end to the Star-Belly Sneetches is the way I look at it, too," he adds, referencing the classic Dr. Seuss book about discrimination and group identity.
The swearing-in ceremony is a joyous capper to the rollicking, brisk show. Fitzmorris wisely structures the show to run about an hour, which he uses to lay out six tips for good citizenship
1) Don't live in 'N'Awlins', a cliche-dipped ode to excess which reduces the city to Sadsaxophoneville and Spookyvoodooland.
2) Smiling just might save your life.
3) Smiling is the penance we pay for the way we drive.
4) Support your local high school even if you didn't go there.
5) You gotta believe – both an appeal not to ignore or sneer at New Orleans' deeply religious roots, and a reminder to believe outlandish, too-good-to-be-true tales.
6) Indulge.
Lest you think that last tip somehow circles back to the pitfalls of N'Awlins-style cliche over-consumption, Fitzmorris actually turns his focus to the Gospel, telling a New Orleans version of the prodigal son. He encourages all New Orleanians to indulge in forgiveness that is, as the father's, "instantaneous, wild and mad."
"I just thought, God almighty, this damn story works perfectly in New Orleans for so many reasons," Fitzmorris said. A lifelong Catholic, graduate of Jesuit High School, and son of a theology teacher, Fitzmorris turns a faithful and critical eye to the text, exploring how the timeless parable can be applied to contemporary questions.
"What's really neat is way the breach is resolved is in the story is with a giant party. It isn't resolved with prayer or reflection or some kind of quiet apologies followed by loving hand-holding and simple gestures. The way story the concludes is with a mad party… with the breach being sealed by the outpouring of love from across towns and villages and counties."
Fitzmorris argues that such open-hearted forgiveness serves everyone. After all, the only way that transplants can understand the question "Where did you go to school?" is if someone explains it to them (luckily, if they happen to arrive in New Orleans after the end of the show's run, they can pick up a copy of Fitzmorris' companion book, printed and sold by Dirty Coast).
"I just love the idea of a lot of New Orleanians coming to peace with the idea of New New Orleanians," Fitzmorris said, "and rather than giving them litmus tests or brutal citizenship examinations, instead saying, look, come on over, have some red beans, have some king cake, have some crawfish, and let's talk about what it means to be here."
What stands out about Fitzmorris is his devotion – to faith, to New Orleans, to exact language and rigorous thought, and to other people. "Do you know why I stay a Catholic and why I stay a New Orleanian?" he asked. "Because I know what they both can be, and I still have hope."
Dirty Coast and Jim Fitzmorris present Be A New Orleanian: A Swearing-In Ceremony Thursdays, Fridays, Saturdays and Sundays through the end of February, with a special bonus performance on Monday, February 29th, at the Theatre at St. Claude, 2240 St. Claude Ave. Fitzmorris is also the artistic director of the theater.