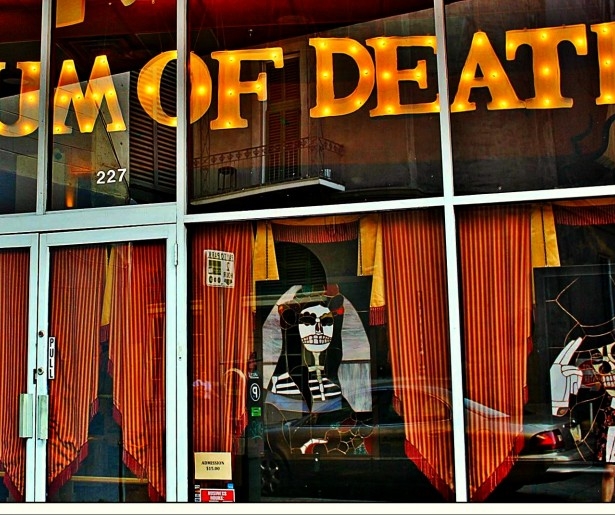 When visiting New Orleans, people are inclined to eat, to drink, to dance -effectively, to live life. Now, they can also think a lot about death. Because following 20-plus years of success on the West Coast (first in San Diego, now in Los Angeles) the Museum of Death opened its French Quarter location just this past year.
"The history of New Orleans is intriguing," explains the Museum of Death's manager, Scott Healy. "It's got a really rich past, and stories of people who were infamous murderers, killings that went on and so forth. We just fit in with the genre of the city."
New Orleans' Museum of Death displays a deep, rich collection of authentic seeming artifacts, all related to death. "It's not just about murderers or killers," explains Haley. "We have the Jack Kevorkian assisted suicide machine, the mortician area, we have bones and skeletons, an area on cannibalism."
Healey moved to New Orleans from Miami to help open the museum for his brother J.D. Healey and J.D.'s wife Cathee Schultz. "My brother and his wife have been doing [Museum of Death] for 25 years, but they've been collecting for as long as they've been married. They had an art gallery in San Diego and they moved it to LA as they expanded," says Healey.
"[Branching out to New Orleans] was for the expansion of a collection that was too big for that area. We also wanted to get people familiar with the Museum of Death closer to the East Coast," he adds.
Scott Healy was a tax agent in Florida before joining the family business. "My experience was in business and my brother's was in the artistic side of things," says Healey. "He and his wife had an interest in wanting to expand on the lack of knowledge of death in our society — as a society goes we're still fairly uneducated about death. He started exhibiting some of the pieces he'd collected and subsequently started to interview some of the [serial killers] back there with their art, to get some insight from them."
The Museum's New Orleans location is laid out differently than the original Museum of Death. "The one out in LA is an old recording studio," explains Healey, "so there are separate rooms you go into, and through, whereas this place is more like a traditional wraparound museum. Everything's open air."
The gift shop sells Pogo the Clown patches, and rare vinyl copies of one of Charles Manson's album.The first exhibit space contains bones from large mammals and lizards and other things you'd find at a Natural History Museum.
But soon you're on to artwork and original letters by murderers Henry Ray Memro, Son of Sam, Richard Ramierez, John Wayne Gacy and many many others. There are original court sketches from the Ted Bundy trial. A whole nook is dedicated to Manson. During the tour, televisions play serial killer documentaries and footage of morticians embalming cadavers.
Death masks line the ceilings, from Hitler to Dillinger. Near the Holocaust area is tacked a collection of matchbooks from dozens of funeral parlors, along with police homicide scene photos. An area dedicated to O.J. Simpson features Kato Kaelin's dog's actual dish.
Visitors are then welcome to sit on church pews in the sequestered Theatre of Death and watch films to a soundtrack of Dixieland brass music (which does make the gruesome footage easier to take). The way out then takes you past exhibits and artifacts from Kennedy's assassination, David Koresh, the 9/11 attacks and more contemporary tragedies.
The Museum of Death fits nicely into the same category as the recently departed Musee Conti Wax Museum (RIP) and the Ripley's Believe It or Not Museum, which closed in 2007.
"My brother wants the exhibits to be mostly about artifacts though," says Healey, differentiating the Museum of Death. "Ripley's was more into the oddity side than the artifact side. We don't want to be like Ripley's."
"And as you saw on your tour," Healey adds, "even though we're in New Orleans, we are not just voodoo and vampires."
The Museum of Death, 227 Dauphine Street, is open 10am to 7pm, seven days a week.
Image via Facebook.