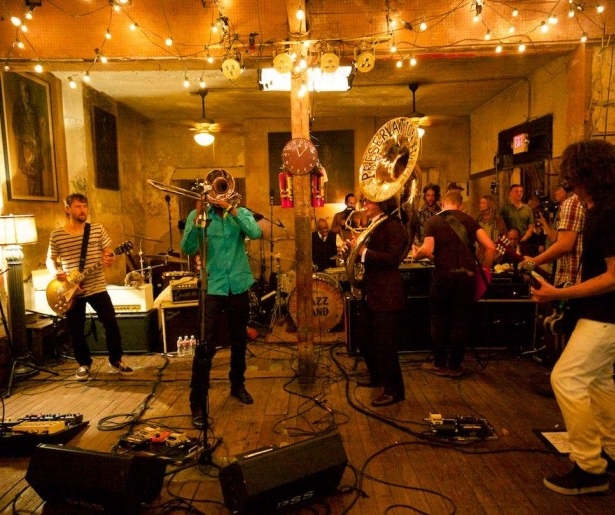 SHARE
ICYMI: In the annals of "fun video content," it doesn't get much more amusing than this – the Foo Fighters playing a set with the Preservation Hall Jazz Band in an elevator during the Grammy Awards.

Apparently the above was part of a pre-Grammy second line that involved Trombone Shorty and Preservation Hall. While I'm sure this was a planned event, I also get the sense from the video that there's enough chaotic New Orleans energy to impart a genuine sense of spontaneity, which must be a nice feeling at a ceremony that's as scripted as the Grammys.
If you're wondering what would bring the Foo Fighters – those kings of '90s alternative rock, '00's pop-punk and contemporary stadium shows – and the Preservation Hall Band – lords of trad jazz – together in the first place, the answer is HBO. Sort of; the Foos and Pres Hall collaborated a bunch on the show Sonic Highways, which incidentally led to some more random gig action accompanied by a few minutes of YouTube documentation.
Tl;dr – if you're going to get on an elevator during the Grammys, don't fight to cram in with Taylor and Kanye. Following Dave Grohl and Ben Jaffe will probably result in a better evening overall.
Image courtesy of Facebook.