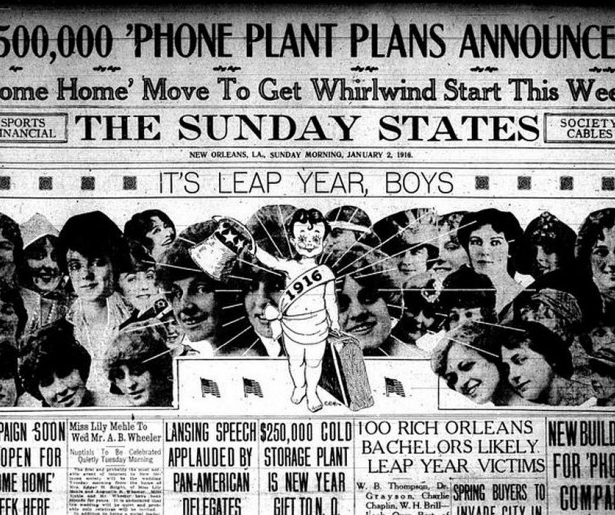 Thanks to the musings of Julius Caesar, later amended by Pope Gregory XIII, you can relish in the fact that we get a full extra day of 2016.
Trivia time: Did you know that in America, the leap year always coincides with an election year? Well, it does – giving you extra time to think long and hard about the importance of your vote.
Another fun fact? The leap day is also called an "intercalary day" but I've never heard that used in a sentence.
And, as an extra incentive to get out and enjoy this full – full – additional calendar day, local businesses around town are celebrating the sporadic February 29th, and you can too.
Early Celebration
Louisiana Children's Museum, 420 Julia Street, hosts a family-friendly Leap Year Celebration on February 27, 2016 from 11am – 3pm with games and activities celebrating the number four, jumping games, history lessons and an opportunity to create a signature Leap Day Frog Mascot. $8.50 entry, free for members.
February 29th Fun Leaps
The Melting Pot, 1820 St. Charles Ave, is offering a Leap Year Special from open until close, honoring the number 29 on the 29th; for $29, you get their Four Course Fondue Favorites. Is it your birthday? Bring a valid ID and a friend, because your Four Course Fondue Favorites dinner is free with the purchase of another Four Course Fondue Favorites special. I melt.
Octavia Books, 513 Octavia St, celebrates the extra day with a Leap into Thanksgiving on Leap Year book discussion and signing by author Mary R. Arno at 6pm. Her book Thanksgiving is a coming-of-age tale of four youths in New Orleans who come to terms with their experiences during the fateful summer of 1965.
Eiffel Society, 2040 St. Charles Ave, is partnering with Kids Rethink New Orleans to commemorate an extra-long Black History Month with a special Love Me Black Mixer. That means 20 percent off bar sales from 5:30pm-7:30pm, with proceeds donated to Kids Rethink.
Banks Street Bar, 4401 Banks St, hosts their weekly Red Beans & Rice Piano Night with two steamy pots of traditional red beans & rice for free, with no cover for entry. Plus: music from Lauren Strum & Friends, 7-9pm.
The Prytania Theatre, 5339 Prytania St, hosts a WTUL New Orleans fundraiser with a 10pm showing of the original Grease. For $11.50 you can watch Sandy and Danny groove on the big screen. Thank you, John Travolta. 91.5 FM spreads progressive/alternative tunes throughout the New Orleans area from their studio on the Tulane University campus.
R Bar, 1431 Royal St, brings you another Shot and a Haircut Monday night special. Greet March 1 a day late with a fresh 'do, which includes Legacy or any well liquor at 9pm. Or, get down with the everyday R Bar Special of a shot of Jameson and either a PBR Tallboy or a High Life bottle. If you're late to work on Tuesday, remind your employer you went out on a Monday to honor a day that only comes once every four years.
Above image: Leap Year from a century ago – the front page of theNew Orleans States newspaper for Sunday, 2 January 1916. Via Wikimedia Commons.