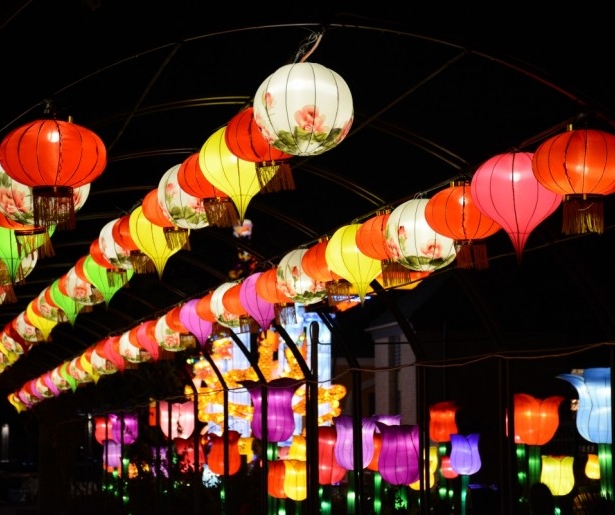 An exhibit of beautifully crafted silk sculptures arrived in City Park at the end of February via Zigong, China. China Lights tells stories of Chinese culture and heritage through large, silk covered structures in the park's botanical gardens as well as nightly entertainment and a menu fusing Chinese and local cuisine.
Manufacturing and design company Sichuan Tianyu produced the exhibit, which coincides with Zigong's Lantern Festival, celebrated through February and March since the Tang dynasty (618-907). According to Sichuan Tianyu, Chinese light celebrations began after an angry god threatened to set fire to Earth. One wise man's solution was to light lanterns and fireworks to convince the god that the world was already on fire.
Discounted tickets to the event are available during the day, but evening viewing includes performances and best showcase the brightly lit sculptures, which completely transform the face of the Botanical Gardens. A team of over 100 artisans and craftsmen created the displays, and they arrived in New Orleans via 16 shipping containers, along with a group of craftspeople to assemble the structures and entertainers for the event's nightly shows.
Finishing the sculptures required over four weeks of work. Over 30 large structures fill the botanical gardens, brilliantly colored silk decorated with elaborate patterns, wrapped around metal wire in myriad shapes.
Some Sichuan Tianyu employees live on the park's grounds in modular units, while others live off-site nearby. They'll be town until the exhibit's end, armed with replacement parts and ready to make repairs as needed (Heavy winds and rain delayed the exhibit's opening night, scheduled for February 23, and workers repaired minor damage the following morning).
The exhibit's entrance features flowing floral archways surrounding by delicate lanterns hanging from latticework. A large white tent houses dining options and nightly performances, which include acrobats, Chinese dance and clowns. It's geared towards everyone, but children seem particularly enthralled.
One man juggles an increasing number of rings thrown to him from another performer offstage. At one point seven are in the air, and he's catching them around his neck. Three women follow that up, dancing in unison and in costume. The headliner is a clown, balancing bottles on a sword and tripping up imaginary stairs. Under the big tent, it feels like a small, informal circus.
Menu items range from American classics to combinations of New Orleans and Chinese dishes like muffaletta egg rolls. The General Harry Lee's chicken pizza pays homage to the long time Jefferson Parish sheriff and son of Chinese immigrants of the same name.
Alcohol offerings include Lucky Buddha Beer – an Asian style lager with a clean finish, as well as Tsingtao, Kobai plum wine, along with domestic wine and beer.
The main exhibit consists of the silk-and-metal sculptures – the largest include a 160 foot long dragon and a three story pagoda. The pagoda has ties to Buddhist worship and religious ceremonies and is a traditional Asian architectural form. Flower pagodas date back to the 6th century, with upturned eaves to resemble a flower's stamen reaching high up into the air. The tops of lanterns in the display mimic the pagoda's steeple, the building's tallest point.
Dragons represent the Chinese people as well as national unity, and as a result figure prominently in the exhibit. The 160 foot dragon glows bright yellow – a revered color in traditional Chinese culture. Several smaller (still 7 or 8 feet high!) dragons illuminate various points throughout the gardens. Other animal sculptures include a gathering of penguins, an undersea world, butterflies and cranes.
Another impressive display is a giant red and blue carp, positioned under a large live oak. In Chinese culture, fish symbolize abundance, and typically they're eaten during New Year celebrations. Yet through perseverance, carp can become dragons; the allegory is a powerful symbol of growth and ambition in Chinese culture.
In this way the exhibit uses beauty and art to promote understanding of traditions unfamiliar to many Americans. Sichuan Tianyu builds China Lights around the globe to further this goal, in the belief that lantern shows improve communication between China and the world.
_China Lights will be on display until May 1, and tickets are available online or at the event entrance. Group and children's tickets cannot be purchased online. Daytime hours 10am-5pm, adult admission $12. $8 ages 3-12, and free for children under 3. Evening hours 6pm-10pm, adult admission $18. $12 ages 3-12, and free for children under 3. Live performances at 6:30pm and 8pm each day. _
Image courtesy of City Park and China Lights.