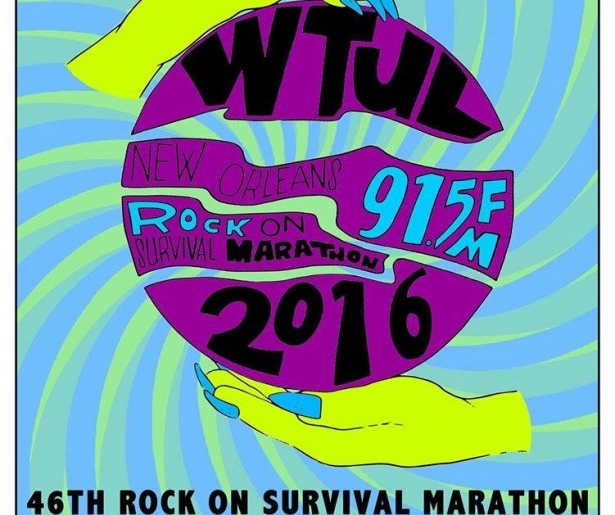 Listen up, fans of WTUL. The venerable Tulane University radio station's annual Rock On Survival Marathon is underway and continues until Monday.
The marathon, underway since February 22nd, has a variety of fun events for WTUL (91.5 FM) fans to enjoy, and it's all in the name of supporting college radio. On Thursday night at 8pm, there will be gong karaoke at Kajun's Pub (2256 St. Claude Ave.). Participants can sing karaoke, but there will be a gong master (WTUL DJ Hunter), and just like in the old TV program, if he hits the gong, the singer must leave the stage.
Here's the twist: audience members can bid to get someone off stage, and if that happens, the singer or their friends can counter-bid to keep them singing. There is no cover charge.
Starting Friday at noon, three sets of DJs will stay on the air for 24 hours until Monday. Remy Markovich, general manager and DJ for WTUL, said this portion of the marathon is where the station typically makes the most money. Listeners can pledge $25 (or more) to request a song.
Businesses will sponsor the event, so special prizes will be available to listeners who meet certain pledge requirements. Perks include gift cards from Bayou Kayak and the 14th annual WTUL compilation album, titled Songs from the Basement.
On Saturday night, WTUL will present their 10th annual Hootenanny, a folk/Americana/bluegrass showcase, at Chickie Wah Wah (2828 Canal St). Performers include the Thomas & Theresa Trio, Cactus Thief, and The 5am Rumble Strip. Doors open at 7pm and the music starts at 8pm. There is a $10 cover.
The pledge marathon is important to WTUL because it only receives 1/3 of its necessary operating budget from Tulane's student government. Additional funds are sorely need for upkeep and day-to-day expenses. The station plays an eclectic mix of music, from local bands to classical to jazz to rock to reggae, and features a news and views program.
"There's not many ways for people to get free-form radio…that's not picked by a computer or an algorithm," said Markovich.
The marathon ends March 7th at noon. Donations can be made by calling the station at (504)865-5885 or by visiting the station's website.
Image courtesy of WTUL via Facebook.