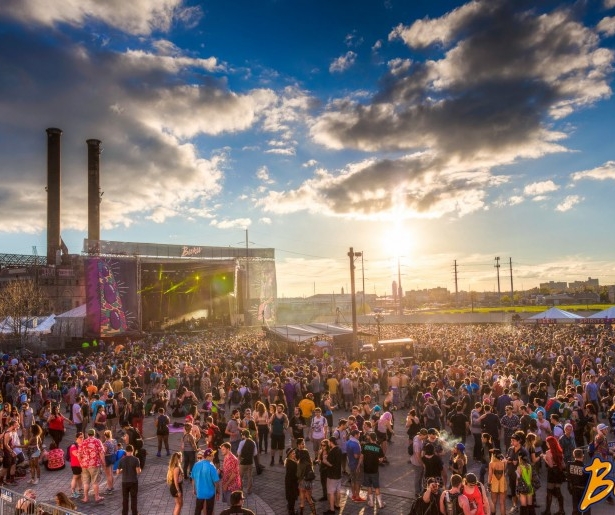 SHARE
The BUKU Music + Art Project returns to Mardi Gras World on March 11th and 12th. The festival, now in its 5th year, is known for its eclectic, genre-hopping lineups and gigantic, colorful live-art installations. Headliners this year include Fetty Wap, Kid Cudi, Pretty Lights, ASAP Ferg, and Future.
In 2015, AEG Live, the company that produces Coachella and co-produces Jazz Fest, acquired Winter Circle Productions, the New Orleans-born outfit that started BUKU in 2012. Though the festival primarily began as an EDM-centric event, recent lineups have included a wide assortment of on-the-rise hip-hop, pop, and indie rock groups.
BUKU prides itself on extracurricular festival activities, such as live-art installations (like their signature street art wall), and a host of non-traditional performers (fire-breathers, break dancers, etc) that roam the festival grounds.
This year, organizers have also commissioned six local collectives to curate musical showcases at the festival ground's "Front Yard" area. The six collectives include the Dolo Jazz Suite, Kompression, Obsession, the Upbeat Academy Foundation, Simple Play, and Big Freedia. There's also a late-night kickoff party on March 10th at Republic.
Here's a few artists you don't want to miss at this year's BUKU Festival:
Friday, March 11th
The Grammy Award winning Kid Cudi headlines Buku's main outdoor Power Plant stage on Friday night. Bolstered by his now classic 2008 mixtape A Kid Named Cudi, Kid Cudi ascended from the underground music industry blogosphere to international stardom, working with the likes of Jay-Z and Kanye West. This is his first time playing BUKU.
New Orleans' homegrown indie rock group Donovan Wolfington will also play at the Power Plant Stage early on Friday. The group is in the midst of a tour across the east coast, and will no doubt bring a ton of energy to this hometown gig.

Head to the Power Plant stage at 6pm for the pop-electronica of Chvrches, the Scottish trio that takes ethereal keyboard riffs and mashes them through _Blade Runner_-esque dark synthesizer hooks and electronic drops.
Fetty Wap, the wobbly-voiced New Jersey native, known for his hit Trap Queen makes his BUKU debut at the Float Den stage late Friday night.
Electronic noise pop mainstays Crystal Castles headline the nightclub-esque Ballroom venue. Be ready to dance at this one. The group is known for its sprawling, ornately produced live performances.
Saturday, March 12th
Longtime electronic dance artist Pretty Lights headlines the Power Plant stage on Saturday night, this year performing with a live band. Also on Saturday night: Future the Atlanta, Georgia rapper whose 2015 album DS2 topped the Billboard 200 and spawned four hit singles, including "Where Ya At," featuring Drake.
Across the festival grounds at the Ballroom Stage, Canadian electronic duo Purity Ring will perform after Los Angeles rapper Earl Sweatshirt from the Odd Future Collective.
The BUKU Music + Art Project goes off March 11th and 12th. For ticket information, check out their website.
Image courtesy of BUKU via Facebook.