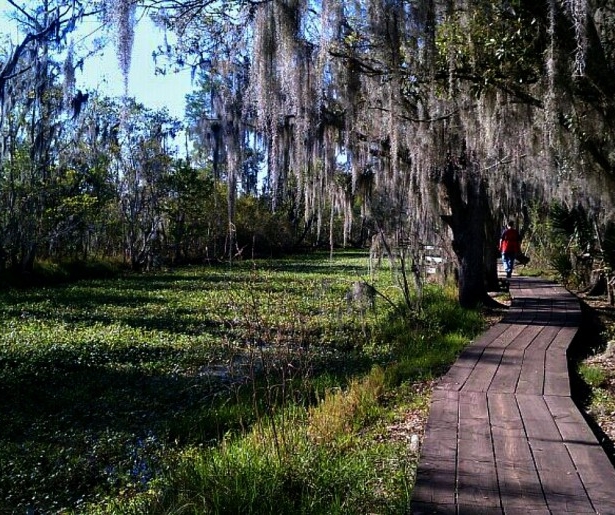 How do we make a new generation of Louisiana residents feel passionately about the wetlands, especially if they live in the cities? How can one feel passion for a place they've never been, never depended on?
With their newest collaborative book, Louisiana Swamps and Marshes: Easy-Access Hikes and Drives, photographer Henry Cancienne and writer Anne Butler aim to bring the marshlands to the reader — in hopes of bringing readers out to the marshlands, to see for themselves what they've been missing. Louisiana Swamps and Marshes includes directions and information for thirty-seven of Louisiana's easily accessible natural parks and wetlands.
"There is a need for this book," says Butler, the author of 20 books, many of them collaborations with Cancienne. "Henry and I have the dedication to preserve Louisiana's vanishing landscapes and cultures and architecture. This is our way of preserving these wildlife areas, coastal marshes and wetlands that are so fragile. We in the south have been so neglectful of our natural resources that we thought would last forever, but they don't, they can't…thanks to us."
A flip through the book proves the diversity of Louisiana's parks. "Some parks have waterfalls, some focus on birds, others on bears," says Butler, who herself lives on her family plantation in St. Francisville. "Some of these wildlife refuges are hundreds of thousands of acres. Then others are small and give you a direct introduction to swamp areas, a little taste of what you can see in other, farther areas."
Accessibility is the book's side theme. "As we get older, we want easy access," says Butler, who stresses that almost all of the trails offer raised boardwalks and well-maintained paths. "This book focuses on the parks that have hikes that are not only easy access for older people, but safer for people with small children, or people with physical limitations — all wonderful places that you don't have to take all day to hike through."
The two collaborators began the project with their own personal favorite parks. "Two of mine and Henry's favorites are both in Jean Lafitte: the National Historical Park and Preserve there is amazing. Then there's a wonderful city swamp in the middle of Jean Lafitte Nature Study Park, with a boardwalk you can walk and see all the irises in bloom, plus pavilions for nature studies."
"My other personal favorite park is Lake Martin," Butler continues. "It has absolutely the best birding, between Breaux Bridge and Lafayette. There's a visitor center, a huge rookery, and Lake Martin Island Cypress Preserve, with thousands of egrets and roseate spoonbills."
The two collaborators first met when thrown together on assignment. Cancienne, a Vietnam Veteran and current police officer from Lafourche Parish, has had his work exhibited in many libraries, national parks and plantation homes throughout Louisiana, as well as in over 20 books and magazines.
Still, "He never would have gotten published if he was on his own," says Butler, who has become her collaborator's de facto spokesperson. "Henry is a wonderful photographer who has loved the swamps and marshes for more than 60 years and knows all of these places like the back of his hand," she explains.
"As a child they were his refuge from an unhappy home life; he'd go into the marshes for a couple days. So he's more comfortable with alligators, lizards and snakes than he is with people," she laughs. "Which is why he uses me as a foil between him and the publishing industry."
Of their many books for University of Louisiana at Lafayette Press and Gretna's Pelican Press, the two artistic partners are best known for Louisiana Highway 1 (UL Press).
"That book takes you up the state's first interstate highway, which has a huge variety of landscapes and cultures along it," says Butler proudly. "We went up and down it and got about everything there is. People on the southern end sometimes don't even know there's a north end! That's just one of our books, but it shows our talents and how they work together."
Butler describes their books as true collaborations: "Some are more photography books, while some are more text," she acknowledges. "Sometimes he get the ideas and then takes the photos, and then I write something for them. Other times I write the text and then he goes and takes the photos. He often goes out on his own and gets the shots, and sometimes we go out there together." Butler ads, "I have great respect for his talent and we've done some very good books."
Butler will lead a slideshow presentation, discussion and Q&A about Louisiana Swamps and Marshes: Easy-Access Hikes and Drives at the State Capitol Park Museum in Baton Rouge at noon on March 9. Call 225-342-5428 for more information.