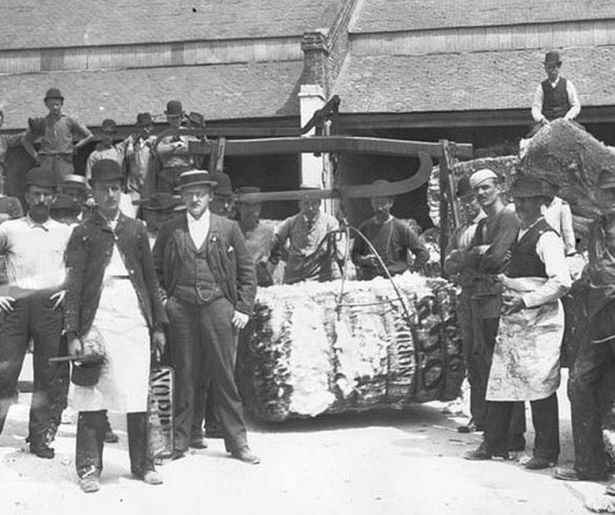 It seems that all of the world's nationalities have played some part in building New Orleans. And most of them have in turn created their own New Orleans version of their homeland's biggest celebrations. Our local St. Patrick's Day, for instance – one of our biggesr cultural homages – seems to last for weeks, whether you're Irish or not.
There's Molly's at the Market's Irish Parade (Fri. March 11, 6pm), Tracey's huge St. Paddy's party (Sat March 12 & Thu, March 17, 11am till), Parasol's longstanding Irish Block Party (Sat March 12 & Thurs. March 17, 11am till), the Irish Channel Parade (Sat. March 12, 1pm), Metairie's own St. Patrick's Day parade (Sun. March 13, noon) and the Downtown Irish Club Parade (Thu, March 17, 6pm). After St Patrick's Day, there's the Louisiana Irish-Italian Parade (March 20, noon) and the St Bernard Irish Italian Islenos Parade (April 16, noon).
This year we add to that calendar Dr. Laura Kelley's lecture at the New Orleans Mint on March 10th, entitled Saints and Sinners, Rebels and Patriots: Celebrating St. Patrick's Day in New Orleans.
"I've become a one woman mission to make New Orleanians and Southerners aware of this other dynamic aspect of the community — the Irish dimension," says Dr. Kelley. "When you say New Orleans, people know French and Spanish and Creole, but not the many different ethnic groups that contributed to its nature, including and especially the Irish."
A Tulane professor who teaches the course The Irish in New Orleans, Dr. Kelley also wrote and published an award-winning book of the same name, and is currently completing her second Irish-themed manuscript, The Greening of New Orleans.
"When the Irish left their country to escape persecution by the British, they migrated to Catholic areas that were enemies of England. Those who could afford it fled to France and Spain, the traditional enemies of England, and there they'd either join the military…So many came to New Orleans for the first time with the French military, looking for opportunities. One of our most famous Irish, Alejandro O'Reilly, came here with Spain's Irish military, sent here to help put down the Rebellion of 1768 — and he succeeded."
But Dr. Kelley interests herself most with the Irish as a community in New Orleans. "As historians we look for different markers to determine when a group of individuals really became a true community, and one of them is: When did they have that first public celebration of the religious holiday associated with that group?"
Sje goes on, "The Irish are often accused of being clannish, which is another term for community and supporting your fellow Irish man or woman, which the Irish did very well, helping each other in jobs and hard times — and St. Patrick's Day was a way to reach out to other Irish who might need assistance "
On St Patrick's Day in modern New Orleans, college students dye their hair green and drink green beer, and parading drunk men trade synthetic green and white flowers for kisses from maidens accessorized with shamrocks.
For now, our Irish float riders are still allowed to throw big heavy cabbage, carrots and other ingredients needed for a good Irish stew. But despite our propensity as a city and as a nation to put aside time to catch a beer buzz on March 17th, Dr. Kelley says not many people know the real story of St. Patrick's Day.
An Evangelist who converted thousands to Catholicism, St. Patrick is famous for having driven the allegorical "snakes" out of Ireland — meaning the pagans, particularly Celts. In the early 17th century the Irish began celebrating the day St Patrick died by temporarily lifting Lenten restrictions.
"So far, the earliest New Orleans celebration we've found was in 1806, shortly after the Louisiana Purchase in 1803. All the politicians were present then, and they all did the 17 traditional St. Patrick's toasts, all of which are reproduced in my book. At the talk coming up, we'll discuss what those different toasts say and mean."
Almost magically, Kelley first decided to focus her academic work on the thus far blurry history of New Orleans's Irish within her first hour of visiting the city in 1994.
"I'd planned to come to New Orleans to do my PhD planning focusing on the city's Colonial Period, but I hadn't narrowed my focus. I flew into town and took a taxi Uptown, and along the way I heard the driver's New York accent and I asked, 'When did you move to New Orleans from?' He said, 'I've never left New Orleans! I'm from the Irish Channel.'
"He told me all about Irish coming here, and I'd never heard about that. I decided right then and there that New Orleans's Irish would be my PhD focus." She adds, "I haven't left New Orleans since, and I don't plan to."
How the Irish Channel was named though, she says, remains up for debate. "There's a huge debate about how it got its name, and what comprises the Irish Channel. The first time it's used in print is 1893, and the author is using it as if it's a term that been around for a long time. He refers to it as being…the two blocks of Adele Street pretty much where Wal-Mart is today."
As time went on, the National Historic Register extended the borders of the neighborhood from Jackson to Louisiana Streets, "which doesn't even include the original area," says Kelley.
Kelley promises that her talk, which emphasizes the politics and religion of St Patrick's day and the unique way in which New Orleans celebrates the holiday, will be both entertaining and surprising, but she won't give away her whole pot of gold (groan). "To find out the most unique and interesting things about the history of St. Patrick's Day, you're gonna have to come to the talk."
The Friends of the Cabildo 2nd Thursday Lecture this month is Saints and Sinners, Rebels and Patriots: Celebrating St. Patrick's Day in New Orleans with Laura D. Kelley, Ph.D. Admission is free and open to the public! 504.568.2123.
Image: a cotton press in the Irish Channel, circa 1880s, courtesy of Wikimedia Commons.