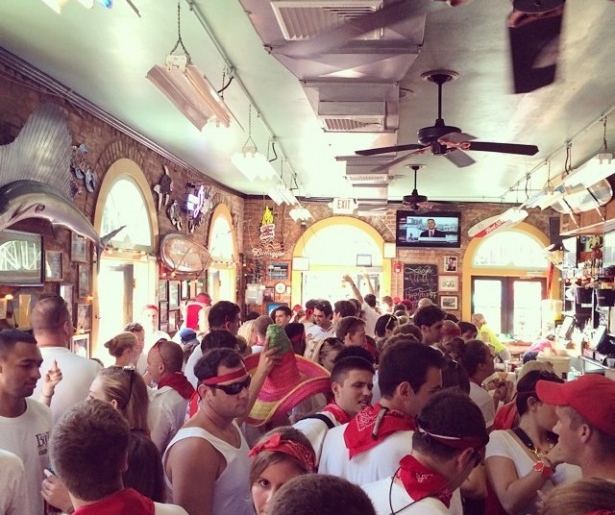 SHARE
There are a ton of bars in the New Orleans CBD, but sometimes, it can be tough finding a spot that feels like the sort of spot where everyone knows your name. That's not unique to our city's downtown – CBD areas tend to be heavy on corporatized drinking spots where the bars are fashioned to appeal to a huge demographic that encompasses conventioneers and tourists – but it's an oddity in New Orleans, a city that has nearly perfected the neighborhood watering hole.
Sadly, the drinking scene in the CBD took a major hit in January with the closing of Lucy's Retired Surfer's Bar & Restaurant, the rare joint that is about as beloved by locals as it is by tourists. But the news arrived yesterday: Lucy's is back, sandals and surfboards and all.
I don't want to get too deep into the weeds of history here, but long story short: back in January, a legal dispute between the bar's founder and operator led to a federal court ruling and the end – or so it seemed at the time – of Lucy's. The doors were shuttered. The surfboards rode off into the sunset.
Then Kirkendoll Management secured a 100-year lease on the property and decided to re-open it. Under the adage of 'if it ain't broke,' they're holding on to the surfing theme and iconic, catch-a-wave ambiance. What will be different is the food; customers have been promised a surfer chic menu inspired by cuisine from surf spots around the world.
That's all well and good, but for those of us who were sad to see the old Lucy's go, the re-opening of the place means a lot more than the potential of downtown fish tacos (not that we have a problem with downtown fish tacos).
Lucy's is where plenty of local comedians got their first gigs and office employees could kick back with a Corona. It's one of the iconic drinking spots on the many races that traverse downtown New Orleans, from the Red Dress Run to the Running of the Bulls (pictured above, courtesy of Facebook).
They had inflatable pools and pool parties in the summer. The World Cup was shown there, which always attracted a good crowd of international tourists, business people and local soccer fans. The Scorpion shots…well, they did the job, if I can recall (I do, but it's blurry).
I was here a few days after the Saints won the Superbowl. The city was still reeling in a state of post-Lombardi bliss when Garrett Hartley, Drew Brees and Jeremy Shockey walked in. I saw a tourist from Ohio chat with Shockey without knowing who he was (other than a 6'5 wall of muscles and tattoos). I think, at that moment, Brees could have told the bar that he had just intentionally run over a puppy, and everyone would have still bought him a beer.
Those are the memories folks make at Lucy's. We're glad it's back. Ride on, Retired Surfers Bar.