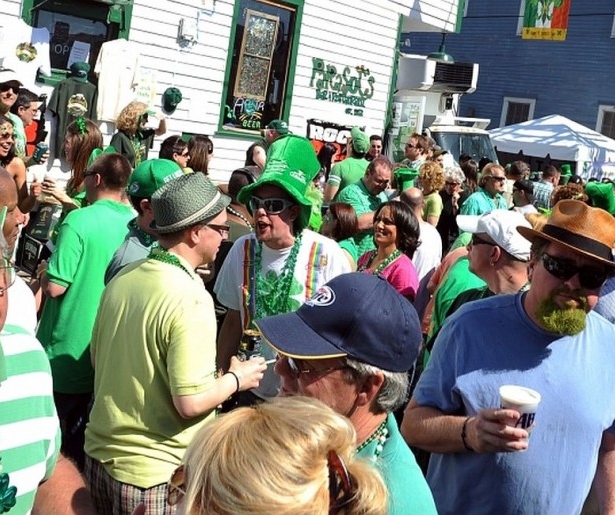 Celebrate your Irish heritage — or that buddy of yours who always talks about their Irish heritage (we all have one) — with a good old-fashioned Gaelic pub crawl at some of our favorite Irish pubs in Orleans Parish.
Parasol's 2533 Constance St
Parasol's can be considered an Irish pub by dint of its reputation, its shamrocks, its roast beef, its importance to local St Patrick's Day celebrations and its location within the Irish Channel. With that said, with its cast of regulars from around the way, scuffed floors and dim lighting, this bar is more of a quintessential New Orleans neighborhood dive than a traditional Irish pub. We're not complaining.
Erin Rose 811 Conti St
The Rose doesn't wear its Irish pub qualities on its sleeve, which is exactly why it's an authentic Irish pub (when you go out drinking in Ireland, most bars are just, well, bars after all). In any case, Erin Rose is a great bar: It's a cozy, intimate dive — ironically, just off one of the loudest sections of Bourbon St. — where the bartenders don't take attitude and the regulars are mainly service industry folks and hospitality industry employees. That means they know how to have a good time. The frozen Irish coffees help, in this regard.
Tracey's 2604 Magazine St
Not all Irish pubs are dark little hideaways where you clutch your Guinness in one hand and a Jameson in the other. Don't get me wrong, you can clutch both at Tracey's, but this modern, airy sports bar is the Irish pub 2.0: flat-screen TVs, modern amenities, clean floors, and a general sense of newness.
Fahy's 540 Burgundy St
Fahy's is a simple spot: Pool, darts, service industry folks kicking off a shift. If you think there are no neighborhood bars in the Quarter, come to Fahy's and get pleasantly surprised.
Molly's at the Market 1107 Decatur St
Molly's is simply one of the city's great bars, one of those magical joints that manages to attract a ton of tourists and locals while retaining the elusive quality of "realness" — a description I am loathe to define, but will still stand by. It just feels right here, and maybe that's the sort of vibe a better writer than myself can capture in words. Bonus: The old owner's ashes are stored in the urn that sits above the bar.
Finn McCool's 3701 Banks St
There's a certain set of qualities that you expect out of a good Irish pub. It can't be a cheesy set of "Faith & Begorrah" clichés, all leprechauns and shamrock chic; on the other hand, it can't just be any old bar in a dirty old town. On that note, if The Pogues were going to drink anywhere in New Orleans, it'd be… well, it'd be anywhere, let's be honest, but I think they'd love Finn's. It's got the right mix of grit, old Eire knick-knacks and maps, soccer on the television, and bartenders who exert a fair mix of wry humor and warmth. New Orleans can never be Ireland — it's too hot, even if it is similarly green and wet — but this is as close as we get.
Image by Cheryl Gerber.