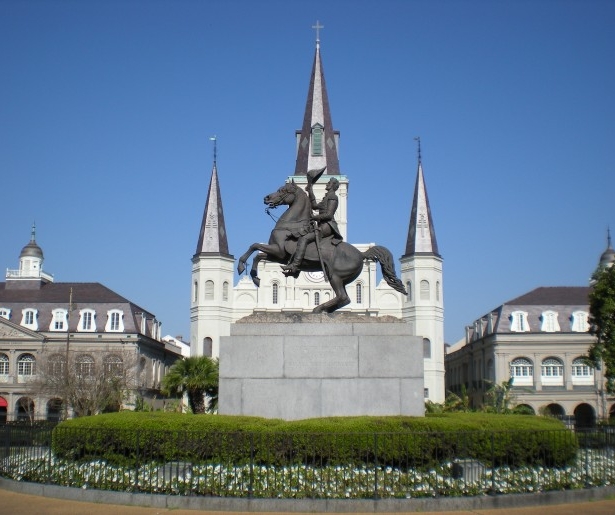 The War of 1812 was technically over when Major Andrew Jackson and his army prevented the British from seizing New Orleans on January 8th, 1815. Still, his after-the-fact victory launched Jackson on a trajectory that would later win him the presidency and land him on our $20 bill. As such, Louisiana at one time annually celebrated January 8 as L'anniversaire de Huit Janvier.
"Charles Gayarre, he became the grandfather of Louisiana history, and wrote the first true history of Louisiana," explains author Rien Fertel, author of Imagining the Creole City (LSU Press, 2014), "and on [L'anniversaire de Huit Janvier] in 1815 he gave great romantic speeches at St Louis Cathedral in both English and French, about the creation of Louisiana, and Jackson's defense of the city, and thanking Jackson and God for saving the city."
Gayarre led a Te Deum (hymn of praise) at the St. Louis Cathedral that for many in the city marked the birth of an independent state, or what the French Creole community called un etat independent, within the American union.
Henceforth, the holiday became focused on Andrew Jackson, the man at the heart of New Orleans's victory, and thus its independence. For the next hundred years, Louisiana would celebrate Jackson Day on January 8th.
Fertel is one of four scholars who, on March 24, will participate in the talk, Celebrating Jackson Day: A Francophone Perspective on the War of 1812. The discussion will not necessarily focus on Jackson per say, but on the meaning of Jackson Day in antebellum New Orleans, the role of free people of color, the Catholic landscape of the city, and the resultant names of certain local streets and landmarks.
New Orleans still today hosts the Jackson Day Race, a marathon that often runs from the Old Spanish Fort (corner of Robert E. Lee and Wisner) to Jackson Square: the same route supposedly taken in 1815 by Jean Lafitte's pirates as they rushed to join forces with Jackson's armies in their defeat of the British. But otherwise, as of about a century ago, Jackson Day seemingly evaporated.
"It was such a major event for the city and then it just majorly disappeared," says Fertel. "Today we know of the guys who go reenact the battle stuff out in Chalmette. That was not a thing in the 19th century. But Jackson Day was."
Of course, in recent years, some governments and organizations have distanced themselves from the name the seventh U.S. President, who famously owned slaves, and headed up the murder and displacement of many Native Americans.
"But he wasn't a controversial figure a century ago when this holiday started disappearing," says Fertel, who has a theory: "Mardi Gras was in such close proximity to Jackson Day. Carnival was really becoming a big thing then, more entrenched, and I think it replaced Jackson Day. I mean, who wants to celebrate war? And we already have so many president holidays already. And since New Orleans is a Catholic City, I think Mardi Gras won that battle."
For Eli Haddow of the Historic New Orleans Collection, the French angle will be of particular interest to Louisiana residents. "When we agreed to host this event about Jackson Day," explains Haddow, "we also agreed to use some experts of our own to shed light on it. And they wanted to focus on the Francophone perspective in antebellum New Orleans, and how the distinct Creole community celebrated Jackson Day as a patriotic holiday, but then the local French community celebrated it with French poems and hymns, which is kind of different because it would normally be an expression of American patriotism and an expression of American identity." Haddow promises a live reading of a dialog poem about the victory in the Battle of New Orleans, read by two of the Historic Collection's French interns.
Fertel considers Jackson Day an event "celebrating the New Orleansness of New Orleans." A high school teacher at Bard Early College, Fertel has written mostly about food for Edible, Garden and Gun and The Pacific Standard, and recent book essays in the Wall Street Journal. His new book, The One True Barbecue (Touchstone Books) is out in May.
"This Jackson Day talk came out of the dissertation I wrote at Tulane a few years ago," Fertel explains. "It was about 1840s literature coming out of the city: lit that distinguished itself as of this place. In that way it's also a history of specifically 'White Creole' literature. And one thing those Creole loved to claim, was a lineage to Andrew Jackson. Charles Gayarre liked to claim that Creoles were fundamental in winning the War of 1812, which is debatable."
Fertel will be joined at the talk by by Jay Gitlin, author of The Bourgeois Frontier (Yale University Press, 2010) and 30-year veteran of the history department at Yale; Andrew Wegmann, assistant professor of history at Delta State University in Mississippi; and Jason Wiese, associate director of the Williams Research Center at The Historic New Orleans Collection.
Celebrating Jackson Day: A Francophone Perspective on the War of 1812. Thursday, March 24, 1 to 4:30 p.m., Williams Research Center, 410 Chartres Street. The event is free and open to the public. Reservations are encouraged; (504) 523-4662 or wrc@hnoc.org.
Image courtesy of Wiki Commons.