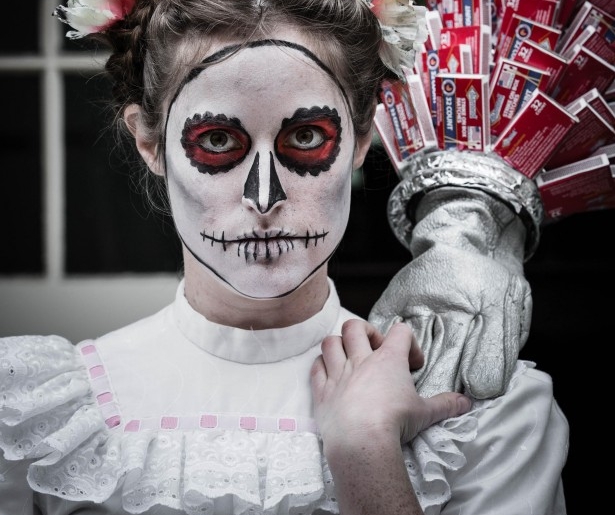 SHARE
If Tennessee Williams designed the ideal rehearsal space for three of his most fantastical one-act plays, he might well have conjured up the den of the Krewe of Armeinius, where visitors are greeted by a huge hairy spider, a purple octopus and the leering grins of Carnival gods.
In the den's back room, flanked by a giant diamond ring, the cast of Tennessee Williams: Weird Tales is hard at work rehearsing the show, which opens on April 1 as part of the 30th Annual Tennessee Williams/New Orleans Literary Festival.
The space where the plays will ultimately be performed – Metropolitan Community Church on St. Charles Avenue – is ostensibly less surreal. But all three one-acts are decidedly Weird Tales, and the staging that frames them is fiendishly clever.
"The night is connected through the lens of one young boy's imagination," says Nick Shackleford, co-artistic director of the Tennessee Williams Theatre Company of New Orleans, which developed the show for the 2016 festival.
Played by Andrew King, 'The Boy' stokes his imagination by reading stories from Weird Tales, named for the horror-sci fi pulp 'zine that ran Williams' first published story. And as he reads, explains Shackleford, "his imagination envelops the audience and the stage, setting the scene for the plays that unfold before the viewers."
First up in tonight's run-through: Steps Must Be Gentle.
Attacking his role as The Boy with gusto, King leads us to the "decaying body of Hart Crane" at the bottom of the Gulf of Mexico, where the suicidal poet has been peacefully moldering for 15 years. Crane's rest is shattered when he's rudely awakened by the nagging ghost of his dead mother, who tracks him down via smartphone (a nice directorial touch).
The Boy's a little leerier about Weird Tale #2, Ivan's Widow, which he deems "adult and creepy." In this dark pas de deux, a tortured young widow visits a therapist with dubious credentials (and intentions). She then stubbornly insists her husband is not, in fact, dead. "Is she or isn't she Ivan's widow?" asks The Boy. Only Williams knows for sure.
Then it's all hands on deck for The Strange Play, Weird Tale #3, when the spooks and ghosts come out to play. It's the witching hour in a French Quarter courtyard, where a spectral woman watches her entire life unfold in a flash and continue beyond the grave, haunted by a macabre trio of hags who serve as a Greek chorus of Fates.
It's a boffo finale to a evening of theatre that would never have existed without the diligent spadework of Shackleford and TWTC co-artistic director Augustin Corerro.
Working in conjunction with the Williams estate and New Directions publishing, the team helped unearth long-buried manuscripts from the Williams archive for Now the Cats with Jeweled Claws, a New Directions collection of rare one-acts, out this July.
"We looked at six plays and helped transcribe drafts written by Tennessee," says Corerro. "And, thanks to the Williams estate, we're premiering two of those plays at the festival."
For the first time ever, audiences will be able to see freshly recovered one-acts that bookend Williams' career: The Strange Play (1939) written before The Glass Menagerie; and Ivan's Widow (1982), written the year before his death.
Steps Must Be Gentle (1980), though not a premiere, also marks a highly personal Williams benchmark. Hart Crane's postmortem conversation with his mother, written the year Williams' own mother died, reflects their equally problematic relationship, as well as the playwright's lifelong obsession with Crane's flamboyant suicide.
"We chose these three plays because they have throughlines of time passing by, of loss, of people here one moment and gone the next," says Corerro. "They're also uniquely bizarre and fanciful."
That's par for the course for late Williams plays, many of which veer into more experimental turf. But the weirdest tale of all is one of his earliest works. The Strange Play was written shortly after Williams spent his first Bohemian year in the French Quarter, which clearly had the playwright in its thrall.
"It was fresh on his mind, and mystical elements of the Quarter permeate every brick and cobblestone." says Correro. "There are echoes of old Quarter characters like Ruthie the Duck Girl. Ephemeral characters that are always there, but not really part of the action."
All three plays also evoke elements of Williams better-known dramas. Hart Crane's mother, Grace, for instance, is cut from the same jib as Amanda Wingfield in Glass Menagerie and Violet Venable in Suddenly Last Summer.
"You'll find notes of all the great plays, that echo earlier works or foreshadow future works," says Correro. "They also show a darker, weirder side of Tennessee Williams that's more fanciful and more outrageous."
How outrageous? Correo offers an apt analogy.
"If Streetcar and Menagerie are Monday through Friday New Orleans, Weird Tales is the weekend. This is Mardi Gras, where the costumes come out and the wild celebrations begin."
'Tennessee Williams: Weird Tales' runs Friday-Sunday, April 1-17, at 8pm at Metropolitan Community Church, 6200 St. Charles Avenue. General admission tickets, available here, are $25 or $20 for students and seniors. Opening Night (April 1) tickets are $50 or $35 for students and seniors, and include a champagne toast and signed poster. Half of ticket proceeds from opening night benefit the Tennessee Williams/New Orleans Literary Festival.
Image: Emily Russell as Isabel, in The Strange Play by Tennessee Williams. Photo by James Kelley.